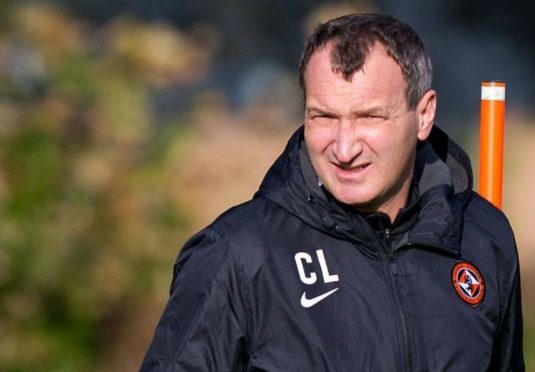 Dundee United manager Csaba Laszlo has revealed he has been working as a "psychologist" as he tries to halt his team's slump.
The Tangerines suffered another dismal defeat up at Inverness on Tuesday night and have won only one of their last eight matches.
In order to reverse what has been a dramatic decline since the turn of the year, Laszlo has been taking players for individual chats or meeting them in small groups.
The United gaffer disclosed: "I am working just now like a psychologist.
"That is because everybody is feeling the pressure.
"Everybody also feels that nothing is over and done yet so it is about handling the situation and I have to help them.
"I am doing it on an individual basis.
"I don't want to go into the details but I have been going to players individually for chats as well as talking in a small group.
"I feel this is the best way to approach it.
"I have had a similar situation to this one in my career before, and I have come to Dundee United and it has not been easy.
"We are still in the same position and have not made the step forward so we have to help each other," added Laszlo.
"If you ask players a simple question like 'Are you ready to play?' they will say 'Yes.'
"If you ask if they are tired they say 'No.'
"For that reason I take them away from here and we go somewhere else to talk, somewhere where they can't see the football pitch or the training ground.
"It is just me and maybe one, two or three players.
"That way you get more out of them.
"We can talk about family, the weather and then the football.
"At the moment, too many of people are thinking: 'Oh my God.'
"I want to get that out of their heads because mental tiredness is more difficult to handle than physical tiredness.
"I hope we can help the players believe in their own quality and that of their teammates.
"After that, as a group we can be strong."
Laszlo obviously feels there is a real need for some positive thinking at Tannadice right now, which is difficult considering the results and performances.
However, he said: "People here are losing too much time by looking back and not forward.
"I know that, at the moment, people are low.
"We don't have many friends just now but I hope we can change this and that, at the end of the season we will have a lot!
"I have told the players that we have to get to the play-offs and after that it is a new life – a new competition!
"We are capable of winning the games that we have left and that must be all that we are thinking about."
Laszlo, who rates defender Tam Scobbie only as 50-50 for Saturday's match at Morton because of a calf injury, kept the door open to one or two new arrivals before the game at Greenock.
He said: "I have taken Paul Sturrock to be our scout and at the moment we have another two players in the frame, just for the short term.
"The question is if we will be able to do that and there are doubts about it.
"There are still some days to go, though, and we are working hard."