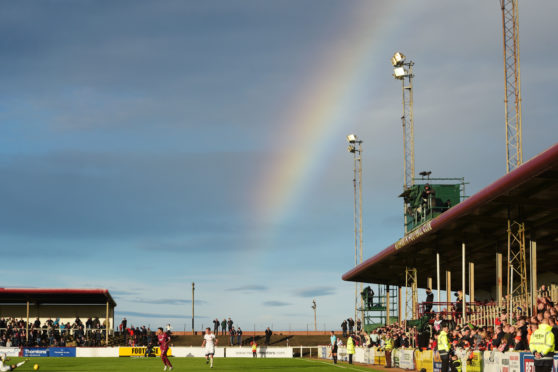 From Augusta to Arbroath.
Ewen Murray had a plan in mind.
First up the Masters. A glorious start to the sporting year for millions and a working week like no other for him. Vivid, manicured splendour from Magnolia Lane to Amen Corner and every millimetre between. Perhaps adding his voice to a golf story for the ages.
Then for a pilgrimage of a very different kind. Sport in the raw at Gayfield. Half-an-eye on a bunneted manager bobbing in and out of his dug-out with the nervous energy of a teenager. Reminiscing on childhood memories coming back on the near inevitable gale that would be blowing in from the North Sea.
If Murray had closed his eyes and imagined a perfect scenario for both, it could have been falling silent as Rory McIlroy rolled in a 20-footer on the 72nd hole to expand the exclusive career grand slam club from five to six, and jumping out of his seat to acclaim a Bobby Linn free-kick into the top corner which secured an injury-time victory for Dick Campbell's team and kept them in the hunt for the promotion play-offs.
The Sky Sports commentator's love of Arbroath Football Club goes as far back as his love of golf. One would become a career and the other a long-distance relationship but in a run of late 1960s summers there was plenty of room for both.
"My father (Jimmy) and uncle were born and brought up in a wee house past the golf club," he said. "My connection with Arbroath dates back to then.
"Frank, my uncle, was on the board of Arbroath Football Club. He was a very popular man in the town. They built a bridge on the fourth hole at Elliot Links. His son built it. There's a plaque with his name on the bridge.
"We would go up there as a family twice a year. My sister, Sandra, was Miss Arbroath 1969! I've still got the picture. That was when they had the open air pool by the Seaforth Hotel.
"We stayed at a place called the Monkbarns Hotel. It was above the Red Lion caravan site before you got to the infirmary. I think it's an old folks' home now. All my relatives on my father's side lived in Arbroath. My cousin was a comedian there, of all things. He did a lot around the area.
"For us in those holidays, it was a case of my father and I playing golf and my mother and sister doing whatever they did. We all loved going up there.
"It would have been between 1963 and 1969 that we would regularly go up, and after that golf took over for me.
"I had my first actual golf lesson from the pro at Elliot. His name was Jack Stewart. Jack lived 100 yards from where my father was brought up, on the same road, on the same side.
"My father was good pals with him. He got offered the job at some point but my mother wouldn't go. She thought it was too cold!"
That golf would take a grip of a sports-minded son of an assistant professional at Gleneagles, who would then become the head pro at Baberton in Edinburgh for more than three decades, was almost a gimme. It was in the Murray blood.
Choosing a football team for life is a far more unpredictable business, though. Impressionable children need idols to fix their wide-eyed glare upon and for their allegiance to be locked-in. The Arbroath team of the 60s certainly didn't lack players who could be put on a pedestal.
"With Frank being on the board of Arbroath, my father would go in and chat to Bert Henderson, who was the manager then," said Murray.
"I can still remember and name all the players to this day. My hero was Jimmy Jack. I think he's got a paper shop in Carnoustie. Tom Cargill was one of the most impressive men I've met. He was the captain and centre-half. I actually met him a long time after that. Andy Penman signed from Dundee around that time. He was a lovely footballer. I was lucky to get to know the players quite well."
By 1970, a 15-year-old Murray was playing in the final of the Boys Amateur Championship. Then in 1971 he was winning the World Junior Championship, the Scottish Boys Championship and the Scottish Boys Stroke Play Championship, and turning pro before that year was out.
A life on the European Tour throughout the 70s and 80s, which included three tournament victories at Royal Dornoch, Zambia and Nigeria, didn't lend itself to Saturday afternoons at Gayfield. And there was a harrowing experience in 1985 which understandably put Murray off taking in a game of football for a long time.
"I didn't go to the football for a while because I was in the ground during the Bradford City fire," he said. "I was playing in a tournament just outside Leeds. I was off early on the Saturday morning and I went to Bradford with a good friend of mine, who was close to the chairman, for what was going to be the team's promotion party.
"That was a horrible day and I didn't watch a game of football for 10 or 12 years after it. The next game I went to was definitely at Gayfield. I've got a feeling it was against Elgin but that might not be right. It must have been about 20 years since I was last there."
Even when he's been in the area to cover Opens and Dunhill Links Championships, the day job has got in the way of watching Arbroath. Murray has had to make do with dropping in the occasional reference to the scoreline across the water from St Andrews in his Saturday afternoon commentary at the Dunhill.
Striking up a friendship with one half of the famous Campbell managerial partnership has strengthened the bond between club and fan, and social media has played its part as well.
"Ian Campbell, Dick's brother, is a very keen golfer," said Murray. "I first met him at the Masters.
"I walked into a hotel at Augusta and Rob Lee, who I work with at Sky, said: 'This guy knows you'. I'd never met Ian at that point. I thought: 'I know what part of the country that accent is from' and then we blethered away for about an hour. I saw him again at the Ryder Cup in France.
"I've got two season tickets at Arbroath and the club distribute tickets for each match for me. I think they change it every week and give them to people who can't afford to pay, which is a nice thing. It was Ian's idea.
"I find out about the team through Ian and of course there's Twitter, with the likes of Bobby Linn on there, who I call the Angus Messi. Mind you, Ian says that was the worst thing I ever did!
"When he doesn't score I always send him a message saying: 'What happened to Messi today then? Taken off injured? Dropped?'
"I follow the match commentary on my phone from all parts of the world if I'm not on air.
"And I get to have a bit of a laugh on tour with (John) Huggan (a renowned golf writer who has a soft spot for Angus rivals, Forfar). Forfar got rid of Dick and Ian and look where we are now that we've got them at Arbroath!"
Murray's planned trip to watch the best Red Lichties team in generations was falling into place nicely until it, like every other sporting and social event pretty much the world over, had a line drawn through it.
"My working schedule isn't as big this year – there are seven fewer events than normal – and I was due to have a bit of a gap after the Masters," he said. "So I had hoped I'd be coming up in the next few weeks.
"My plan was to have a long weekend and take in a match. That's had to be knocked on the head like everything else just now, of course.
"I really want to go back and sit in the stand at Gayfield again after all these years. It's been a long time. Watching a match, then over to the Bell Rock for some fish and chips after it is pretty much the perfect day."
Augusta to Arbroath might not be happening this spring but like the Masters, that perfect day at Gayfield has just been put on hold.
Kelsey MacDonald relieved for what might have been rather than frustrated by golfing break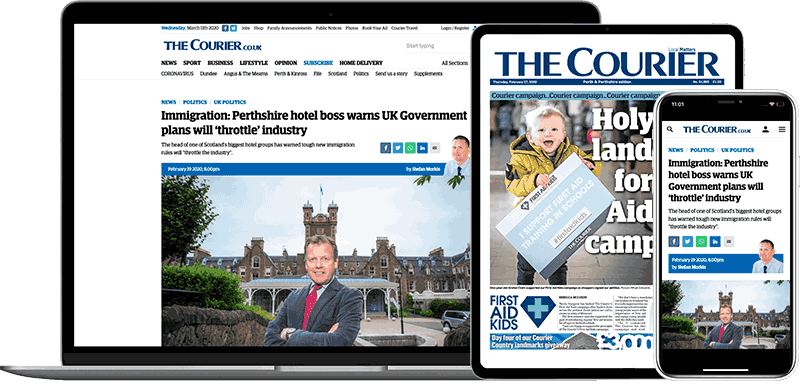 Help support quality local journalism … become a digital subscriber to The Courier
For as little as £5.99 a month you can access all of our content, including Premium articles.
Subscribe