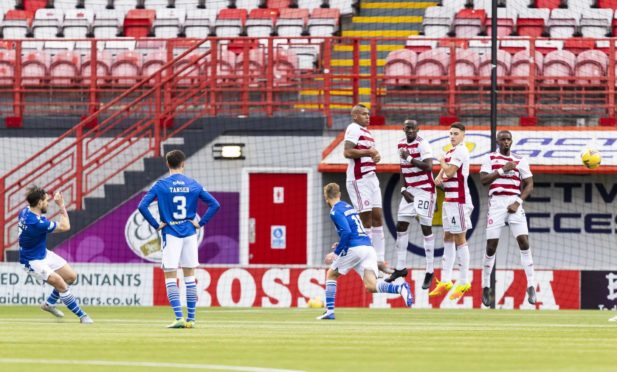 Suddenly the need to get Guy Melamed off his spinning bike and out of his hotel room doesn't feel nearly as pressing, does it?
After arriving in the country as a potential saviour of St Johnstone's season on the weekend his new club made it four goalless Premiership games in a row to drop to the bottom of the table, the Israeli striker has now emerged from his quarantine to join up with a group of team-mates who have just racked up 14 in the space of 10 days.
It has been quite the transformation for Saints, that's for sure. And quite the endorsement for the restorative powers of the Betfred Cup.
Cynics who scoffed at the worth of putting nine goals past a Lowland League side and last season's SPFL basement boys were saying: 'All very well, but can they do it in the Premiership?'
Scoring five on Saturday afternoon and leaving just as many golden chances out there will put away that scepticism.
Hamilton may not be a very good team but they haven't conceded more than two on their own pitch so far this season. You would have got long odds on Saints being the first to do it a couple of weeks ago.
It's still too early for I-told-you-sos but there is no doubt that the weekly post-match verdicts of Callum Davidson and his players that must have been as galling for them to utter as they were for supporters to hear are starting to look prophetic.
Saints do now genuinely look like one of those teams which only needed the validation of seeing a ball hit the back of the net a few times in one game to de-clutter their thinking and allow them to blossom as an attacking force.
At every turn of a game of football that carried real jeopardy for sections of it, most notably the start of the second half after a three-goal lead had been whittled down to one just before the half-time interval, the mindset of Davidson's men was to push for more rather than cling on for dear life.
When you've got 15 minutes to fret about the consequences of blowing a match like that it takes strong collective resolve to banish those thoughts. Craig Conway was adamant that he wasn't just being wise after the event when saying that self-doubt did not creep in, however.
"When we went 3-0 up it wasn't as if we were thinking 'we can just see this out from here'," he said. "We were free-scoring and it felt as if we could get more and win really comfortably.
"For 40 minutes or so we were excellent and well on top but we don't make it easy for ourselves and instead, we had to go in at half-time only 3-2 up. Going from 3-0 to 3-2 can make you look at things differently in the break.
"We made sure that we still looked upon it as a positive because we couldn't forget that we were winning.
"Once we got over that initial disappointment of conceding two goals we knew we had something to hang on to and build on in the second half. We knew we would create more chances.
"We were really struggling to score but now we've scored 12 in our last two games. It shows what we've been saying all along – that we've got goals in the squad. We've thoroughly deserved this turn of fortune. Hopefully we can build on it now."
We'll never know if the Perth side would have scored five had this fixture followed the Celtic defeat or whether the cup confidence boost was the key ingredient. What is beyond debate, though, is that the weekend scoreline was more impressive than thrashing Brechin seven days earlier.
"Yeah, I think so," said Conway.
"The cup came at the right time for us. We wanted to score goals, win games and get a bit of confidence. OK, we weren't playing Premiership opposition in the Betfred but you still have to put a performance in and you can only beat what's put in front of you.
"We were professional and went about things the right way, and then we took that into the Hamilton game."
Conway scored Saints' last two goals – a close-range finish to a flowing counter-attack started by substitute Craig Bryson and a stunning free-kick. The first half strikes were a Stevie May six-yard double and a David Wotherspoon low, long-range effort.
"I'm obviously delighted to score a couple from a personal point of view but the most important thing was getting the win," said the former Dundee United winger.
"I've been well overdue a goal. It's always the same – once you get one things open up for you.
"I'm a bit disappointed I didn't get a hat-trick. I probably should have. Scotty (Scott Tanser) has put a ball over and I should have got a better connection on it.
"I'll enjoy watching the free-kick back on TV. I'd scored one already, so I was confident. As soon as I saw where the free-kick was I thought: 'I'm having it'. I knew where I wanted to put it and I felt as if the keeper was showing me a wee bit too much of the goal on that side. When you catch them sweet you know they're going in.
"You try a lot of them and they don't come off but when they go in the top corner it's a brilliant feeling."
Saturday was an intriguing window into how Saints are going to get the best out of Conway this season.
Davidson quite rightly values the versatility of his summer recruit from Salford, who is as two-footed a forward as you'll see in the Premiership.
But this was undoubtedly his best performance to date and the fact that he was at his most effective while largely restricting himself to the right flank as opposed to floating from one side to the other was significant.
Compare and contrast Saturday's game with the previous away match that he completed the full 90 minutes – Motherwell.
Conway had exactly the same number of touches, 57, making him one of the busiest players in the team on both occasions.
On the first trip to Lanarkshire he struggled to effect the game splitting his time across the width of the pitch, with the left-right touch split being 21 to 36. On the second trip his parameters were much narrower (the split was nine to 48 on this occasion) but his impact much greater.
With Conway on the right of the front three, Wotherspoon on the left, May leading the line and Ali McCann and Murray Davidson in the middle, this team is starting to have a settled, balanced look about it.
If everybody is fit, it would be a shock to see anything other than the same first 11 start against Dundee United on Saturday.
Bryson's introduction has been a gradual process and Saints' newly-discovered cutting edge will ensure there will be no need to rush Melamed either.