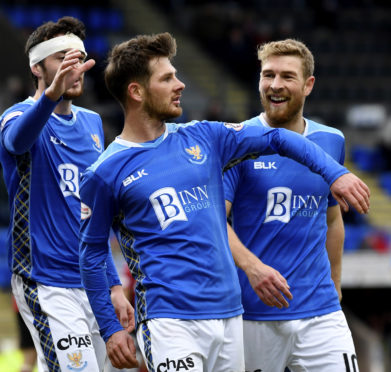 Losing 6-0 to Celtic on your own pitch, with the Hoops arguably taking their foot off the accelerator, can't be dressed up as anything other than a humiliation.
Tommy Wright challenged his St Johnstone players to prove it was a humiliation that didn't represent the talent he has in his dressing room.
And the response has been as emphatic as the result that inspired it.
That McDiarmid Park Sunday afternoon thrashing could be the making of this Saints team that has now won three games in succession and not conceded a single goal in doing so.
Midweek match winner at Livingston, Matty Kennedy, who also scored in the victory against St Mirren that preceded it, reflected:  "We were all disappointed.
"The changing room after the game was not a great place to be. It was 6-0 – and we had also got beaten 5-1 by Rangers. We had five tough fixtures in a row, which did not go very well.
"But we have a group of players who are really close together and that's showing on the pitch. The bond in the dressing room is brilliant and hopefully the results keep coming. We have bounced back.
"We sat and went through the clips and the gaffer told us where we could be doing better. He said with the players we have got here we can't be getting beaten like that.
"We have stuck at it and things have changed.
"I'm young but we've got experienced players and they have got behind us and told us to stick at it. We've been training well and we were always going to get there."
When Wright signed Kennedy in the summer, Saints fans thought they were getting a throwback winger – and that was how it appeared in his first few appearances.
The former Kilmarnock man has been deployed more centrally of late and the results have been there for all to see – two goals in two games.
"It's good to get the goals for your team," he said. "I want to score as many as I can.
"I prefer playing higher up the park. I've played in the hole before a few times.
"When I was at Plymouth, because we were at the higher end of the table I was told to stay up even though I was a winger. So I was basically a striker.
"The way I play I need to be higher up the park. If that's being a striker, then that's it."
Kennedy was set up by Tony Watt for his early goal – though he is in no doubt that it was meant to be a shot.
He said: "Tony's never passing from there! We can give him it as a pass but I doubt it."
What isn't in doubt is the fact Watt has been a big help to Kennedy in his new role.
"I'm enjoying playing alongside Tony," he said. "We were together at Cardiff. We have a good relationship off the park and he's a good mate.
"I've known him for six years and he's teaching me how to play striker. He's only a year older than me but he's a lot more experienced. He's coaching me through the game which helps a lot. We go way back. We are really good mates."
Kennedy was keen to stress that the Saints defenders have provided the base for their recent hat-trick of wins.
"It's our job up front to get the goals but there's no point us getting goals if we can't keep a clean sheet," he said.
"Whether it's been a back four or a back five they have been solid. Fair play to them, they work hard at it every day in training. They have all been solid."
Kennedy had a loan spell at Easter Road a few years ago, with a penalty shoot-out miss against Dundee United the low point of a period in his career that he looks back on with fondness.
"I was just young when I went on loan at Hibs," he said. "I really enjoyed it.
"The fans were brilliant with me. I just really enjoyed the club and I really enjoyed going into training every day. It will probably be quite strange going back there.
"The penalty was in the quarter-final of the League Cup and it was horrible. It was weird because I came off the bench that night when we were getting beaten and I scored the goal that took the tie to penalties.
"Then I missed the penalty.
"I just remember driving home feeling absolutely devastated. That's probably my worst memory at Hibs.
"But the fans were great with me.
"They were saying we would not even have got to penalties if it had not been for me. They told me to keep my head up. But at that age it's difficult mentally when you have a setback like that.
"It was a learning curve and it was probably a good thing that happened to me because now I know I can get over setbacks. But I loved every minute I played for Hibs."