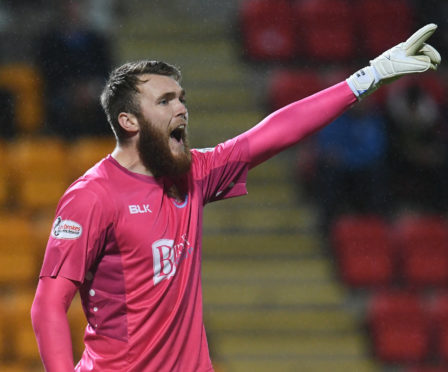 Sweeping judgments were made about St Johnstone the last time they played a live TV game.
Zander Clark believes in the wake of their 6-0 McDiarmid Park humiliation at the hands of a rampant Celtic the Perth men have gone on to prove that the viewing public didn't see the real Saints on that miserable October Sunday afternoon.
You can't fluke an eight-game unbeaten run which included six victories.
And now that the cameras are coming back to the Fair City tomorrow lunchtime for their clash with Steven Gerrard's Rangers, Clark is determined that Saints will leave no room for doubt that they are a much better side than the Hoops hammering suggested.
"Folk maybe watched that game and judged us on it but it was far from what we're about as a team," said the keeper.
"This is a chance to go and show that we have turned a corner and that we're a different team.
"People were questioning us after the Celtic game, saying we were having a torrid time, but it was a credit to the boys that we came back strongly and went on a run."
That loss and the 5-1 defeat to Rangers that preceded it in the league could have sent Saints' season into an early downward spiral but reminding themselves about the qualities that had served the club so well in the past stopped that from happening.
"We had clear the air talks and realised that we had to get back to the St Johnstone of previous years where we were resolute in defence and teams found it hard to break us down," Clark recalled.
"And that's what we did.
"It was mostly one and two-goal wins for us after that.
"I'd imagine every club has similar chats during a season. It's never nice being on the end of defeats like that.
"Anytime that happens you start questioning yourselves. That's what we did and we got back to being strong in defence.
"It was about defending all over the park. It was too easy for teams against us.
"Any sort of heavy defeat is hard to take. For a goalkeeper, it's not nice when you have to keep going back to pick the ball out of your net.
"The new boys have settled in well and got to grips with the way that we fight for each other here.
"There are no passengers in the team. Ever since I've been here that's been the case.
"They know what's required of them even though they've only been here a short time."
All good things must come to an end and Motherwell put the full stop after the eight-game unbeaten run last Saturday.
After becoming so hard to score against – there were six clean sheets in a row for Clark – the type of goals Saints that conceded to the Fir Park side was the most irritating thing about last weekend's loss.
"It was sloppy from us," Clark admitted.
"The most frustrating thing was we'd been so solid in defence in our unbeaten run.
"The two goals they scored were easily preventable from our point of view.
"They didn't cause us much bother after the two goals but we couldn't get the other goal we needed. We just have to make sure we don't lose goals like that on Sunday."
Saints have dropped out of the top six after the Motherwell defeat but there are only nine points between first and eighth in the Premiership.
"It seems to be that every year the league gets stronger," said Clark.
"It's a bit boring but we just have to try and pick up as many points as early as we can.
"That's the same as every season.
"Rangers' away form hasn't always been great but they've got a squad full of quality players.
"We're just focusing on ourselves and making sure we bounce back from Saturday."