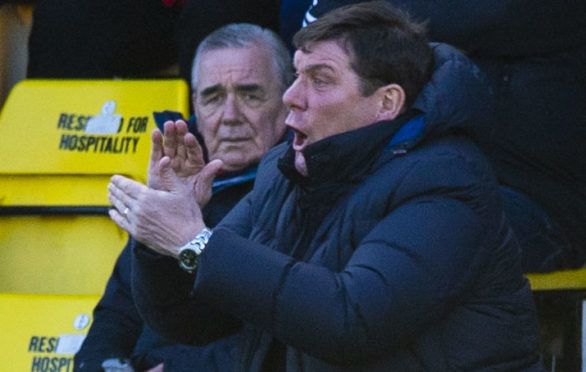 St Johnstone boss Tommy Wright insists it is time to dispel the negativity surrounding the club at the moment and instead accentuate the positive.
Saints were hit with a double whammy last week as a move to bring Scottish Cup-winning hero Stevie May back to Perth from Aberdeen fell through at the last minute with the seal set on what had been a disappointing Betfred Cup campaign with defeat at League 1 Forfar on Saturday.
Despite those two setbacks, Wright is adamant it is far from doom and gloom at McDiarmid ahead of the big Premiership kick-off this weekend considering the quality of players already at his disposal.
That pool should be boosted before the end of the transfer window with chairman Steve Brown working tirelessly behind the scenes to bring reinforcements in with the ambitious bid to lure May back to McDiarmid showing there is money to spend.
However, Wright also explained why some players would have to leave Saints before more can be added.
He said: "We have invested a lot into the squad securing the players who were going out of contract and keeping the players of value.
"I can understand why people are frustrated at the lack of signings but the window isn't shut yet.
"If you look at it last year, by this stage we had only brought in Tony Watt and Drey Wright.
"The chairman is doing everything he can to strengthen the squad between now and the end of August.
"He wouldn't have been in for Stevie May if he wasn't prepared to spend money.
"The money is there in the budget for a striker and we are looking to bring a forward player in.
"The budget this season hasn't been cut, it will actually have been increased once we bring a striker in.
"What has happened is we have given out improved contracts to the players we wanted to keep and because of that we have to run with fewer numbers.
"We wanted to keep the players we believe have done well for us and add value to the squad.
"That's why we have to get players out before we bring any more in. It's nothing to do with the budget being cut."
St Johnstone have experienced years of success under Wright but the manager says it is time some people took a reality check.
He added: "It's almost like there has been a black cloud over the place since we missed out on top six a couple of seasons ago.
"We have finished 8th and 7th since then, while bringing the age of the squad right down and looking to the future.
"I think people need to have a reality check.
"When we have Drey Wright, Mikey O'Halloran, Danny Swanson and Matty Kennedy up top – with a striker still to come – nobody can tell me that isn't an exciting proposition.
"That's as good as anyone outside the big two.
"So I don't get the negativity. Sometimes you need to be positive.
"Obviously the Betfred has put focus on us but as I've said, there were circumstances there.
"I can't do anything about negativity if that's what people want to create.
"We have been a stable club for a while now. Our aim every season is to make sure we stay in the league and nobody here will be carried away this year again.
"We'll just take it on the chin at the moment and focus on ourselves."
Wright revealed there has been progress with keeper Zander Clark's new contract and he hopes it is close to being finalised.
The manager said: "As far as I am aware Zander's contract is agreed, it just needs to be signed now.
"Why it has been held up, I don't know. It might be there are a few little things to sort out and that can take time.
"Sometimes the small bits of a contract are what takes the time. But as far as I know, the main bits of it are all agreed."
Meanwhile, Wright revealed that Chris Kane has recovered from his recurring back problem but three others are still out and will miss Saturday's trip to Celtic Park for the Premiership opener.
Wright said: "Drey is still out, obviously, but Chris Kane is back.
"Liam Gordon is making good progress and is about a week to 10 days away from being ready.
"David Wotherspoon is also coming along and the Kilmarnock game is the aim for him.
"The squad for this weekend will pick itself, really, but I think it's a strong squad in terms of quality."