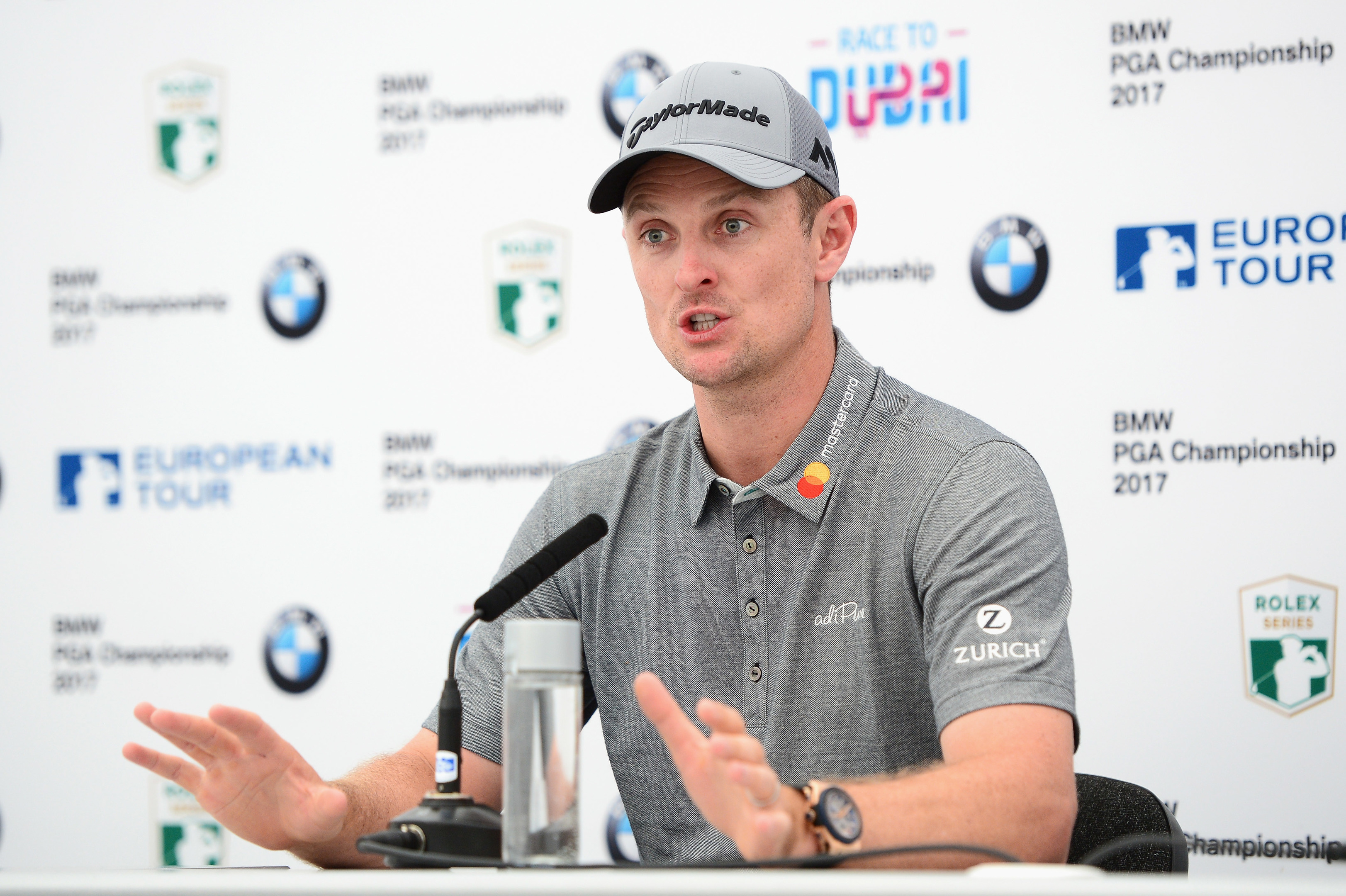 Justin Rose has put his near loss at Augusta to bed and is ready to have a massive summer as he celebrates the event where he went from autograph hunter to giver.
The Englishman has often called the BMW PGA Championship one of his "bucket list" events, the place where he came as a youngster and stood on the hill which goes up to the cluibhouse at the back of the 18th and shouted like every kid does now for signed caps and golf balls.
Winning – after being a runner-up at Wentworth twice – would the fulfilment of a dream he had when he wanted the signatures of his heroes, and assuage what's left of the regret for losing out to Sergio Garcia in that thrilling finish last month.
"I think the reason I am here signing the autographs is I always believed I'd be here doing that ultimately," he said.
"From the age of 12, I didn't just want to be a pro golfer, I knew I was going to be a pro golfer.
"When you're a kid, it's easy, right? You don't really know what actually goes into it and how much commitment and how much you're going to have to improve, really. But for me, it was always going to, I just felt like it was the track I was on."
As for Augusta, he only thinks of it with regret when somebody brings the subject up, which they're doing less and less.
"The only way I can really describe it is that I don't wake up in the morning with a hole in my heart," he said.
"Of course, when someone mentions it you then take your mind back to it, it's disappointing. But I don't walk around with it on my shoulders, it's not part of my every day feel.
"I'm not prepared to evaluate the year on it for sure. I have so much ahead of me this season, and so much ahead of me the next 10 years, that it's not really worth looking back at it with any type of emotion until I've hung my golf clubs up."
Rose missed last year's event with injury and is thrilled to be back at the redeveloped West Course.
"Hopefully it's made a win for me more likely," he said. "I think that it's still a demanding golf course tee‑to‑green.
"I think fairway to green golf is still very, very important here. If the greens get firm, good iron play is going to be important.
"And those are some of the characteristics that have led me to play well on tough courses in the past, and then I've got to believe that good greens are only a benefit."
And an indication that he's serious about winning? He hasn't set up any FA Cup Final tickets for him and his son Leo to see their beloved Chelsea go the double against Arsenal.
"Because the way those old subliminal things work in the back of your mind, I don't want any part of any thought of being available on Saturday afternoon," he said.
Rose's Ryder Cup buddy Henrik Stenson hasn't paid so much attention to the changes – he thinks his two top tens in more than a decade of starts suggests Wentworth isn't for him generally no matter how they set it up – but he's still happy to be here.
"I felt I needed to be back here as the Open Champion and certainly show my face here this week," said the Swede, who slipped up to Royal Troon on Tuesday for a bit of promotion and get a few reminders of last July.
"It's an important week for the Tour with the Rolex Series starting up.  And also a lot of people spent a lot of time on the golf course and made a lot of good changes, so it is a combination.
"I've played a lot of golf here, even though it might not have been my best golf over the years, it's still kind of back to the roots.
"I've played on European soil my whole career, and being back here at headquarters; and seeing a lot of familiar faces, so it's a good week to be here."