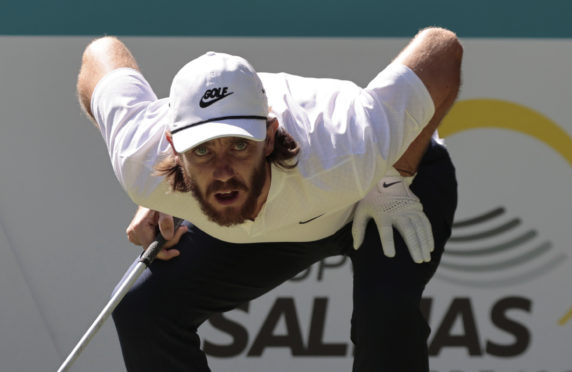 No prizes for guessing it's a Ryder Cup year after hearing Paul Azinger's comments about where the powerbase of world golf is!
The big-hitters of the European Tour have been lining up to have a pop back after Azinger cast doubts over the value of titles won on this side of the Atlantic when he was giving his views on Tommy Fleetwood's bid to win his first PGA title on Sunday night.
Condescending and disrespectful seem to be the politer words used!
Americans do tend to put themselves at the centre of the world, that's for sure.
The likes of Fleetwood, though, should just use it as motivation.
There is some truth in the general point Azinger is making.
Curling has a similar European/Canadian thing compared to European/American in golf.
There is real strength in the women's game in Europe just now – and ourselves and Olympic champions Team Hasselborg are talking about ways we can try and help build events over here – but the big Tour events, ranking points and money are all in Canada.
That won't change anytime soon.
My career would have felt like it had something missing if I hadn't won a few times over there and I know that it has played a big part in building my reputation in the sport.
* It's a relief to hear that the Coronavirus doesn't look like having an impact on our World Championships in Canada next week.
Obviously things can change quickly but we've been reassured that there are no plans to postpone or to stop spectators from attending.
I've missed the last two Worlds – last year because we didn't win the Scottish and the year before because the British Olympic teams weren't allowed to compete.
That wait just makes it even more exciting.
Add to that the fact that it's in Canada, big crowds are expected and a lot of family members are coming out with us. I can't wait to fly out on Sunday.
I'll speak a bit more about who we are up against and the new format of the event in next week's column.
For now, it's just a case of putting in the last few practice sessions and making sure everything keeps ticking over.
The good news is we're all in great form and we've got genuine cause to be optimistic when it all gets underway next Saturday.
* It was my first Scottish Mixed Championships last week and overall it was a really positive experience.
This was only my second mixed tournament ever and to get within one game of the final was a pretty good achievement. With a little bit of better fortune we could have won it.
Myself and Bobby Lammie are still getting used to each other's games, so there is lots of room for improvement.
Next season will be a big one as far as the mixed is concerned because you would like to think we'll all have a better idea of how British Curling envisage Olympic selection and preparation panning out.
For the moment, missing out on the World Mixed does have a consolation because it will mean I'm at home for turning 30 next month!