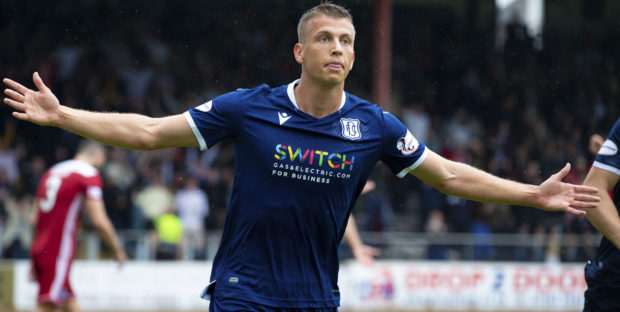 Dundee manager James McPake has told Andrew Nelson there was no need to say sorry for squandering chances against Alloa.
The Dark Blues totally dominated the Wasps at Dens on Tuesday night but couldn't make the breakthrough, ending up with a goalless draw.
After the full-time whistle, Nelson took to social media to metaphorically hold his hand up.
He wrote: "Literally no words other than that I can't apologise enough for not taking my chances tonight – very much disappointed with myself for it but we go again Saturday."
His manager, though, felt he didn't need to do that.
McPake said: "It is social media and it's what people do but I don't think he needed to apologise.
"He worked really hard and has been out for a while.
"He is probably too hard on himself.
"He had chances and on another night he could have had a few but he just needs to get himself back in those positions and the goals will come for him.
"He has been out for so long and it takes a while to get back into the swing.
"His general and hold-up play was really good and he just couldn't find the back of the net.
"I am not worried about Andrew Nelson because he will get us goals between now and the end of the season.
"If he had scored then people would have been asking how do you get Kane Hemmings back in your team?
"Those are the fine lines."
The Dark Blues will also have the extra option of Hemmings in attack for Saturday's trip to Somerset Park to play Ayr – the first of a Championship double-header against the Honest Men.
McPake said: "Just having Kane back in your squad and available is crucial for our club.
"It's not just his goals because his hold-up play and bullying of defences is really good and he is great to work with.
"He was ill and lost a lot of weight but to have his back in the group is good.
"He is loud and a great guy to have about the squad.
"When people look at our team he is one of the first names that people will be looking at hoping he doesn't play."
Jordan Marshall remains on the sidelines but he is progressing, as McPake confirmed.
He added: "Ten days and he will be rescanned.
"He is ahead of schedule, as he normally is.
"He works hard but we have to be cautious because it could be a dangerous one if we don't get it right."
McPake admitted it was unusual to be playing the same team back to back in the league within such a short timeframe, with a home game against Ayr on Tuesday following tomorrow's away match.
He said: "It is unique because it is not often you play a team Saturday and then Tuesday unless it is a play-off.
"It is a wee taster for that.
"I am not going to say it is a dress rehearsal for that because ourselves, Inverness and Ayr haven't secured our play-off spots but it could be a good taste for what hopefully we will be facing come the end of the season.
"If we bring that level and are as good as we were against Alloa then we will be good enough to win any game in this league.
"I don't think we would be as unlucky and wasteful again and also we won't face too many goalkeeping performances like that either.
"You get that every now and again but (Alloa goalie) Neil Parry was excellent and credit to him."