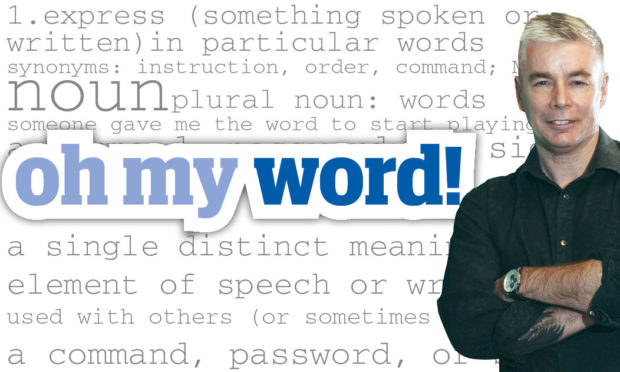 When I was but a lad of 18 or 19, a group of friends used to undertake a Sunday evening motor meander to exotic airts and pairts. With some of us having passed our driving tests we'd take three or four cars and head off, lads and lasses, to a pub, chip shop, or ice-cream parlour in Auchmithie, Anstruther, Errol, or Gauldry. Lands far flung, where they spoke foreign languages and kept quaint customs.
My chum Frank's 1963 HA Vauxhall Viva, in British Racing Green with rust trimmings, never let us down.
One day, however, I thoroughly embarrassed myself by suggesting we take a trip to Ah-Lithe. They all stared, wondering what I was talking about. I meant, of course, Alyth. But I'd only read the word, I'd never heard it spoken.
I read a lot, and am often surprised when I hear a word spoken that has different vowel sounds, or pronunciation stresses, than I'd imagined. It took me years to realise that Descartes (pronounced "Day-cah-t"), the French chap who said, "I think, therefore I am", was the person I thought of as Dez Carties.
But place names, especially, seem designed to tangle tongues. I'm used to saying East Wemyss, Menzieshill, and the Dighty, as everyone in Courier Country will be. I've even become comfortable with Friockheim, with its bizarre mix of the Gaelic for heather and German for home. But outlanders seeing those names written might struggle.
Further away, I'm never sure if Strontian rhymes with electrician. I can never suggest a trip in the Viva to Caldercruix because I have no idea how to say it. And I remain baffled that the cult in Peterculter doesn't sound anything like the cult in Cults. But then Aberdeen always was odd.
There is only one way to remedy my embarrassing pronunciation failures. It is to engage in conversation with people who know how to say things that I don't. But that's surely going to become a problem in the digital age. If people communicate solely by text and tweet, how will they ever know how to say Milngavie? Or Kirkcudbright? Or Ecclefechan?
Worse, as the vortices of social decay spin ever faster we are regressing to grunting Neanderthals who can only express ourselves by showing small yellow faces with love hearts for eyes. How will anyone know whether Monikie is not, as I once heard an American visitor say, Meow-nike-eye?
Mind you, a yellow face meaning Alyth might have saved me from a red face in 1981.
---
Word of the week
Nugatory (adjective)
Of no value or importance. EG: "That fool's invention of an alternative pronunciation of Alyth was nugatory."
---
Read the latest Oh my word! every Saturday in The Courier. Contact me at sfinan@dctmedia.co.uk