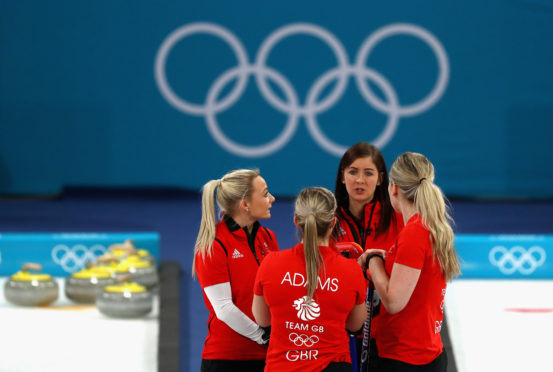 It's the time of year when you can't help but look back on the last 12 months and forward to the next 12.
How I feel about 2018 was always going to be determined by what happened in one month of it – February.
Three years are spent building up for a Winter Olympics and I didn't get what I was looking for.
Fourth certainly wasn't the aim and missing out on the medals was hard to take.
I also had hip surgery in the middle of the year and when you're getting a serious operation like that you can never take your career for granted.
I always like to look at the bigger picture and be positive and there are definitely plenty of reasons to be optimistic about 2019 and beyond.
The fact that I'm back playing regularly is the first thing.
I'll always have to manage the hip now – and going to the gym before every match will be part of that – but that's fine.
And the fact that the team is starting to show signs that we're improving is huge as well.
There was a lot of experimenting in the first few months, and obviously I was out of the team for a while, but we've got a clear vision of how we see things developing over the next few months and years.
We've had some good wins which will have earned the respect of the top teams and we definitely feel more comfortable in the big tournaments.
I'm hoping to have a long career and you can't be involved at the top end of the sport without having a year that turns out to be a reboot one.
When I look back on 2018, it could be that year for me.
* Andy Murray probably feels the same about 2018!
His one wish will be to stay fit for the whole of 2019.
He's just arrived in Australia for the start of the new tennis season and it would be brilliant for Scottish sport if he can get back to near his best.
It will be hard but not impossible.
Tennis hasn't had a changing of the guard while he's been suffering with injury and beating Djokovic, Nadal and Federer is still the key to doing well at grand slams.
Murray had achieved virtually everything he wanted to in his sport, and made a fortune doing it.
And he's now got a young family.
So there's no way he would have put himself through all the physical and emotional strain of a comeback (or comebacks in his case) if he didn't think he could get back to the top.
He has certainly been missed.
* Packing a suitcase for my next trip isn't going to be easy.
A week on Saturday we fly out for a grand slam event at Saskatchewan in Canada where the temperature could be minus 50…..and then we're off to Vegas for the Continental Cup where it will probably be T-shirt weather!
It's a really enjoyable part of the year, though, and after missing the Continental Cup because of the Olympics last year, I'm really looking forward to being part of curling's answer to the Ryder Cup.
We're definitely due a win!