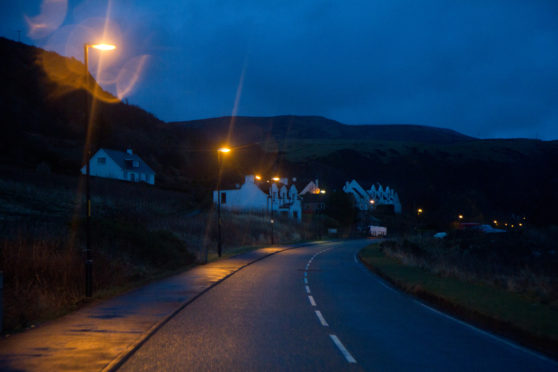 It is dark, so dark, so black and cold and uncomfortably alien. I peer ahead but can hardly see a thing. I've lost my bearings. Suddenly, from out of the terrifying mirk, two huge bright eyes appear and head straight towards me. I struggle to contain my panic. This could be the end of me. Me who had so much to give to the world. Me who … well, you get my drift.
As for the monstrous eyes, well, sorry for the anti-climax, folks, but they were headlights on a car and, thankfully, they passed right on by. Yep, my subject this week is driving in the dark when you're out in the sticks or, even worse, on an island. It's terrifying.
Lack of artificial light is a great thing, particularly when you need to gaze at stars. But, on the roads, it's problematic. I was caught unawares by it this year, driving to my first tai chi class in the evening.
Initially, you drive along with lights on full beam, which isn't even that great for seeing. Then, when you see the headlights of another car coming in the opposite direction, you dip your beam – and now can hardly see a thing.
Dimly, you can just make out the dirty white line at the edge of the road and, if you're lucky, a broken white line in the middle. Being considerate, most drivers on long stretches of road switch off their full beams too early – not wanting to blind the other fellow. But this results in a period where you're driving almost blind.
You can't have your lights on full-beam when there's another driver in front of you either, so you must try and catch up with them, to hug the faint illumination afforded by their wee red tail-lights.
I'd a terrible experience recently when I couldn't catch up with the car in front, which kept speeding up, while a tailgater was riding on my bumper. When I did nearly catch up with the driver ahead, I dipped my lights and immediately lost him on a tree-lined bend, causing me nearly to come off the road in the total darkness.
I don't remember experiencing this so badly before, and wonder if it's to do with the relative openness or other factors in the landscape – mountains adding to the darkness perhaps.
I wondered too if my eyesight had deteriorated over the years or if I lacked vitamin D. But, when I got to my class that first night, all the locals were talking about the same thing, and we guessed that, with the onset of autumn, it just needed getting used to again. We also noted that the night had lacked moonlight.
You can get brighter dipped headlights these days but, while they might help you, some are some almost as bright as full beam and could imperil other drivers. Off that Amazon, I bought a pair of "night driving" glasses but they just turned everything yellow and, if anything, made the experience worse. Mellow yellow it was not.
I guess I'm just going to have to eat more carrots and join the ranks of rural friends who decline to drive after dark when a proper Highway Code would advise driving with your fingers crossed and a prayer upon your lips.