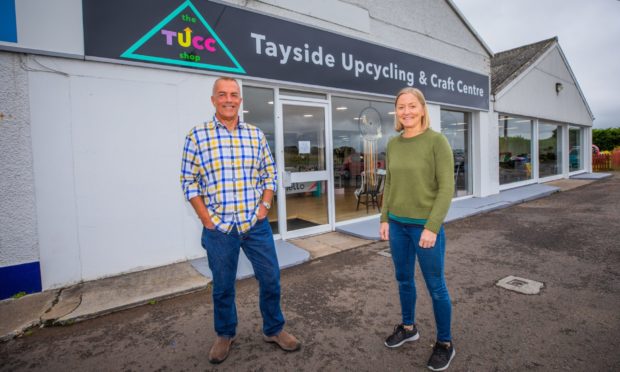 It's all too easy to throw away an old piece of furniture when it gets a bit battered and replace it with something new.
Around 22 million such items are discarded each year in the UK, much of which goes straight to landfill.
Now though, a Perthshire couple have opened a unique upcycling centre where once-loved objects receive a new lease of life
Formed in February this year by Alfie Ianetta and opened on August 1, Tayside Upcycling & Craft Centre is a not for profit community-interest company set up to champion the environmental benefits of upcycling.
"Already affectionately nicknamed The TUCC Shop, this unique centre showcases the creations of five resident furniture upcyclers and a group of six craftspeople who work with a diverse range of materials including metal, wood and various fabrics," Alfie explains.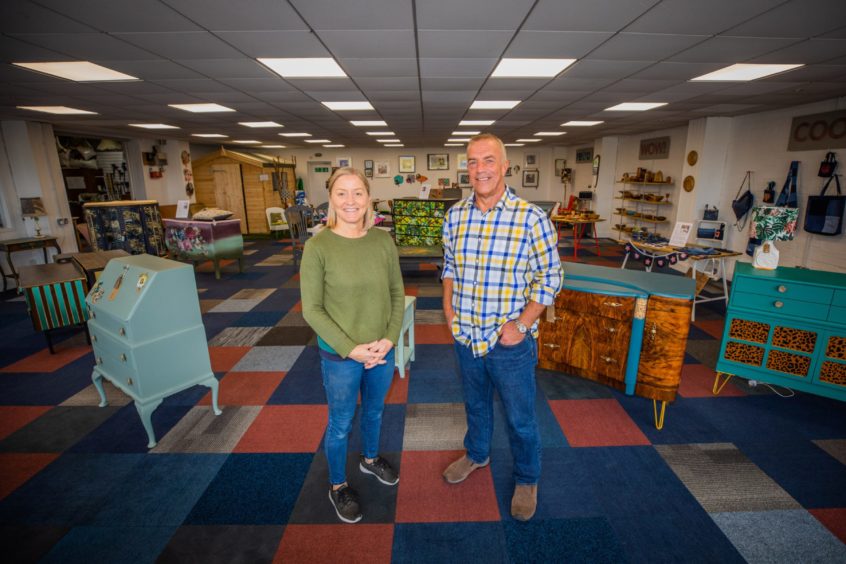 "The centre lets visitors discover the potential of just what it is possible to create with some imagination and skill.
"As well as showcasing a wide range of items, the centre also offers advice and the materials – paint, stencils, brushes etc – required for the general public to do their own upcycling.
"The key success indicator and main aim of the centre will be to quantify the volume of various materials we manage to divert from landfill," he continues.
Alfie's wife Sarah Peterson, one of the resident artists/upcyclers at TUCC, has had a passion for creating things since childhood.
"A pencil or paintbrush never too far away from my hand as I grew up," she recalls.
"It was in 1983 while I was in primary 6 that I was first thrown into the limelight – I was pictured in the local newspaper with one of my many creations – my Christmas Nativity scene made entirely of plasticine. I have never looked back!" she laughs.
This passion, along with a weekend job at Caithness Glass, led to Sarah gaining a first class degree in glass and ceramic design.
"From then I continued with my career as a glass designer and maker and was fortunate enough to travel far and wide hosting exhibitions of my work in Bloomingdales, New York, Hankyu in Japan and Harrods of London," she says.
"With over 20 years' experience within the design industry and now working on the BBC's Money for Nothing TV show, my passion and drive for designing and creating new and exciting objects has never left me, I've developed a wealth of experience and this allied with creative flair has allowed me to flourish as a designer," she says.
Alfie's background is in retail and sales, most notably as sales and marketing director for Waterford Wedgwood Group.
"But," he says, "my proudest career achievement – apart from making it into The Courier's Impact 100 in 2013!😂– up to now was as chief executive of the Black Watch Museum Trusts and leading the fundraising and execution of the £4 million redevelopment of the Black Watch Museum and Balhousie Castle."
Since leaving that role he has enjoyed supporting Sarah in developing her business from its humble beginnings in their shed and attic at home, to a concession within Watsons of Perth and then a stand-alone store as Sarah's Attic in Perth.
It became clear to Alfie that the appetite for people needing advice and the materials to do their own upcycling was growing.
"There were also a lot of talented artisans creating wonderful things but without the professional route to market to showcase their wonderful work," he explains.
"In addition we were being given or offered an awful lot of decent furniture that people didn't want any more, or items from a house clearance that charity shops couldn't take and would be destined for landfill."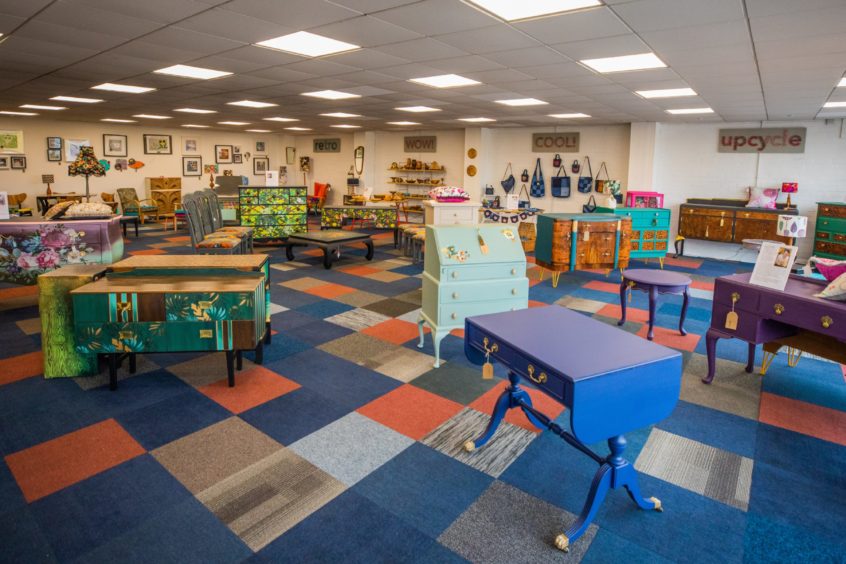 The tough challenge for Alfie was finding premises that would work well as both a showroom, workshop and storage.
Now based next to Inchmichael Shell Garage on the A90 at Errol, Alfie says: "We are all delighted with new premises and help and the support from our landlords and neighbours at the garage.
Believed to be the first of its kind in the UK, TUCC's community hub will run workshops and volunteer programmes, as well as displaying and selling items made by Sarah and the four other artisans.
Over the years Sarah has upcycled a huge variety of items and materials.
From reupholstering old chairs and giving other furniture a complete makeover, to transforming an old carpet into large cushions, or turning old oak beams into lampshades, there are few limits to what Sarah is capable of upcycling.
So what are some of her favourite projects?
"There are so many but sometimes it's not all about the technical or aesthetic challenge of an upcycling project, it's about the emotion," she points out.
"I remember a lovely lady donating an old dressing table that had belonged to her late mother. I always give a name to every project I do and we agreed that I could name the upcycled dressing table after her mum and that I would send an image of the completed project.
"Once I had finished, I emailed an image and the customer then agreed to came in the next day to see it.
"I have to admit I got a bit emotional seeing the impact my work had on the daughter and granddaughter and was overjoyed when we agreed a – reduced! – price, and the dressing table went back to the family with pride of place in the granddaughter's bedroom," she smiles.
"Another project we are particularly proud of is when Alfie was approached by a friend enquiring if we could give a quote for a makeover on the chairs used in the MacMillan Cancer Relief Quarrymill Cafe in Perth.
"There was a fair amount of work that needed to be done in stripping and painting the chairs and we felt uncomfortable having to charge this very worthwhile and charitable organisation anything.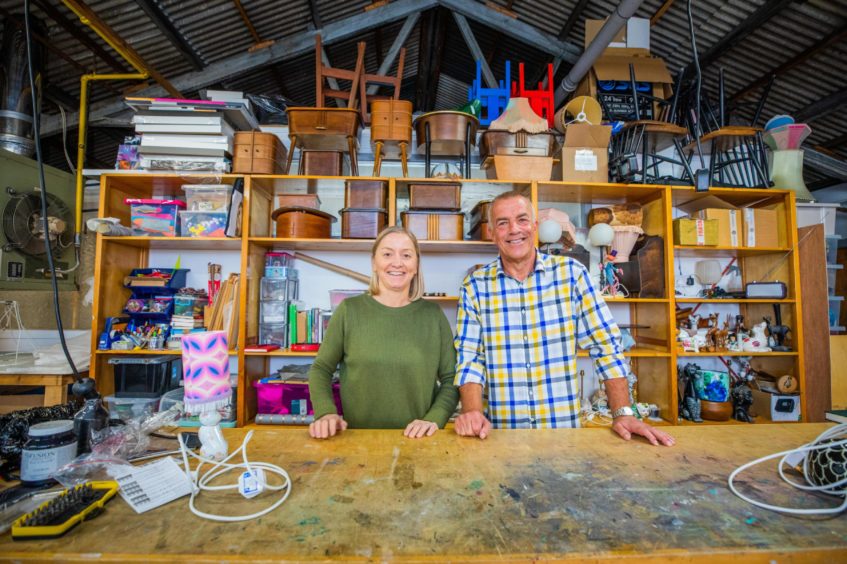 "Step forward our wonderful customers and paint suppliers, Fusion Mineral Paint.
"We managed to secure sponsorship and materials for all the chairs and they all look good now in this lovely cafe, with the names of the sponsors tastefully attached to the chair they sponsored."
As passionate as ever about breathing new life into an item, she says: "I love the process of creating something new, of seeing the potential in a tattered, worn-out piece of furniture, and having the ability to look past the dishevelled woodwork and fabrics visualising the finished piece before I have even started.
"An eclectic mix of fabrics, textures, patterns and colours are used on each piece of furniture, creating exciting one-off design.
Fabrics are stitched, stretched or even bonded to wooden surfaces, woodwork is stained, oiled or painted – all my pieces of furniture and lamps have been finished to the highest standard and hopefully with care will last for many more years."
Naturally the Covid crisis has had an impact on the business as the opening of centre had to be delayed from May until August.
"It continues to be a real concern and we are sure our footfall would be a lot higher in a Covid-free situation," says Alfie.
"That said, we are so grateful for the support we've had from our customers in these challenging times.
"Our largest challenge so far has been in finding room to store all the donations we have been so lucky to have been given and it would be fantastic if there was anyone out there who could give us some secure, wind and watertight storage so we could save more furniture."
As a regular contributor to Money for Nothing, Sarah relishes "the diversity and jeopardy in not knowing that the next challenge I get from the programme will be.
"It also gives me the opportunity to challenge myself in learning and trying new techniques that my day to day work wouldn't offer me," she adds.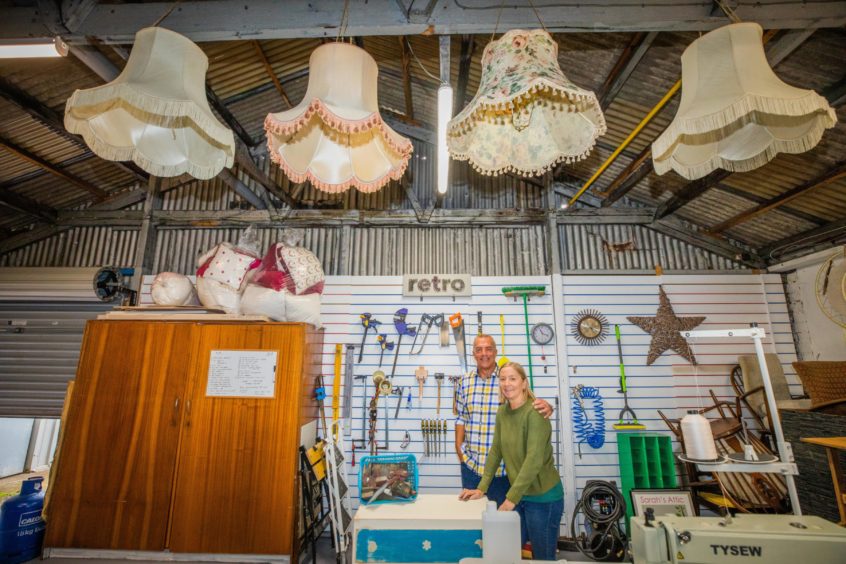 "I've done 25 projects now and am delighted that we have already filmed a number of episodes in our new premises. This will help promote the new centre and what we are trying to do."
Sarah's top tip for upcycling is to be sure of what you want to do before you try it.
"There is nothing worse that starting something and then having to redo all your work if it wasn't planned properly," she says.
"The internet offers a world of useful articles and videos showing you how to upcycle as well as completed projects that will provide inspiration for your project.
"And I would of course say to pop along to the TUCC Shop for inspiration, advice and all the materials you need to get all set for your next upcycling project!"
Email info@tucc.co.uk or call 07368860581.
Facebook – Tayside Upcycling & Craft Centre
Instagram – @thetuccshop
Read more about TUCC here:
Unique Tayside upcycling and craft hub opens to champion environment and saves items from landfill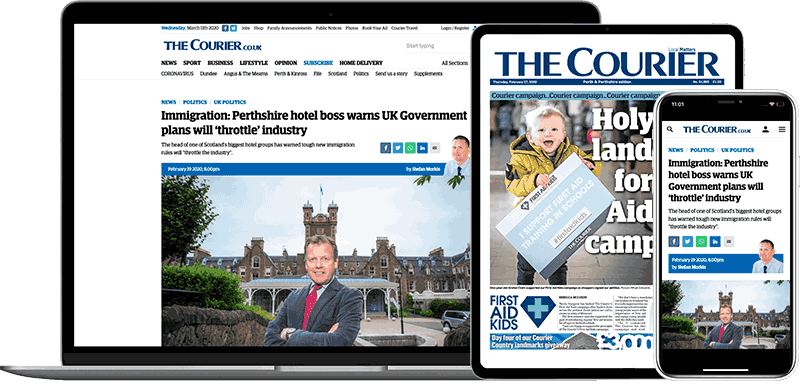 Help support quality local journalism … become a digital subscriber to The Courier
For as little as £5.99 a month you can access all of our content, including Premium articles.
Subscribe