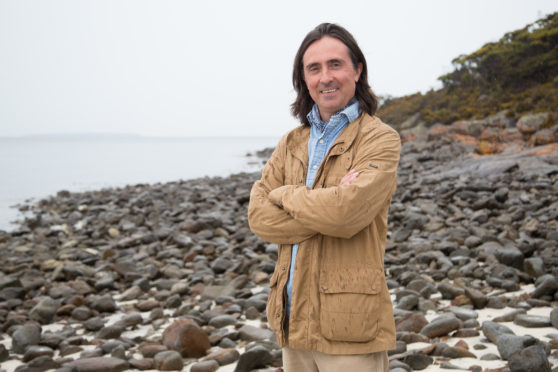 As Neil Oliver prepares to share his love of the British Isles with Scottish audiences, he tells Caroline Lindsay about some of the places where the spirit of the past seems to linger.
When the Romans splashed ashore on the south coast of a long island 2,000 years ago and asked the natives what their land was called, they were told 'Prytain'. The invaders called their new province Britannia, and the people living here Britons – and the rest is, quite literally, history.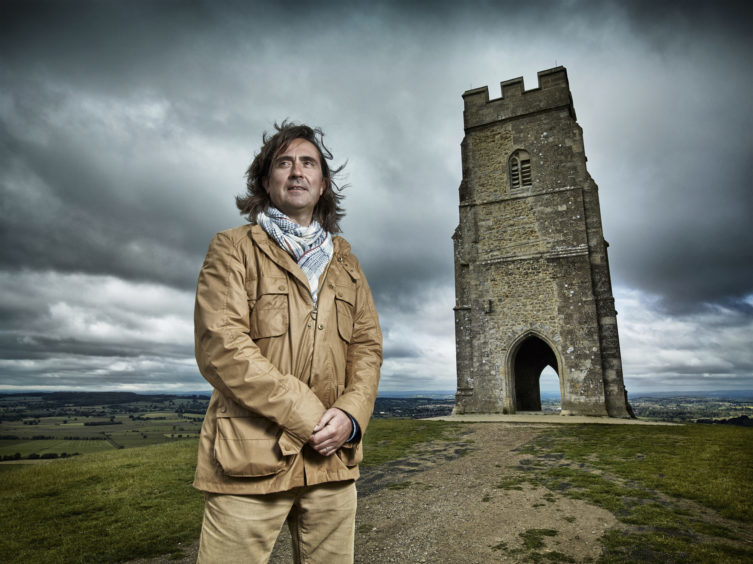 In his latest book, archaeologist and historian Neil Oliver tells the story of the British Isles in 100 places and is also currently on tour, bringing what he calls his "love story" to life for audiences across the UK.
"The book almost suggested itself because I realised that out of the thousands of places I've filmed, a few stood out like memorable characters and stayed with me because they seemed to say something to me," says Neil, who will be appearing at Stirling's Albert Halls on November 17. "The book focuses on 100 places, spanning all time from the first inhabitants to the very recent modern era.
"It's a personal sketch rather than a full-blown painting – I've chosen what I consider to be the most characteristic features of the face I have grown up to know and love," he continues. "What they have to say seems to me to be fundamental to an understanding of the long, slow shaping of the British Isles we live in today."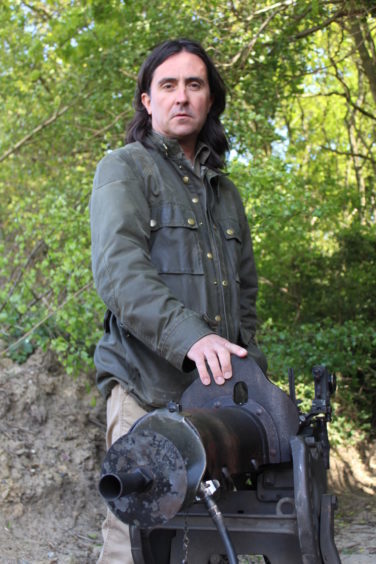 Describing his stage show as "quite a gallop through history", he adds: "Hopefully the audience will see it almost like a celebration of remembering a person's life. I look at the good and the bad, the triumphs and the mistakes in the same way a biography considers how a person got to be the way they are."
The two-hour show includes an animated map and slides of many of the places in the book, gradually building a picture layer by layer.
"But above and beyond that, it's a love letter to the British Isles because I love it here," he says. "It may be a work in progress and not perfect but I've travelled all over the world and Britain is where I want to be and why I'm passionate about history."
Following a "relatively ordinary working class childhood" In Renfrewshire, Neil studied archaeology at the University of Glasgow and freelanced as an archaeologist before training as a journalist. He made his TV debut with BBC Two's Two Men in a Trench with his close friend Tony Pollard visiting historic British battlefields and since then he's been a regular on our screens.
Even as a child he was fascinated by history. "Some people think it's dusty and dry but I early on that I was connected to it," Neil reflects.
"My dad used to take me to Culloden and because I knew we were related to Clan Cameron on my mother's side, I could sense that connection across the centuries.
"I knew both my grandfathers had survived the First World War despite being badly injured and I used to obsess about the bullet and shell that almost killed them and that if they had died, I wouldn't be here."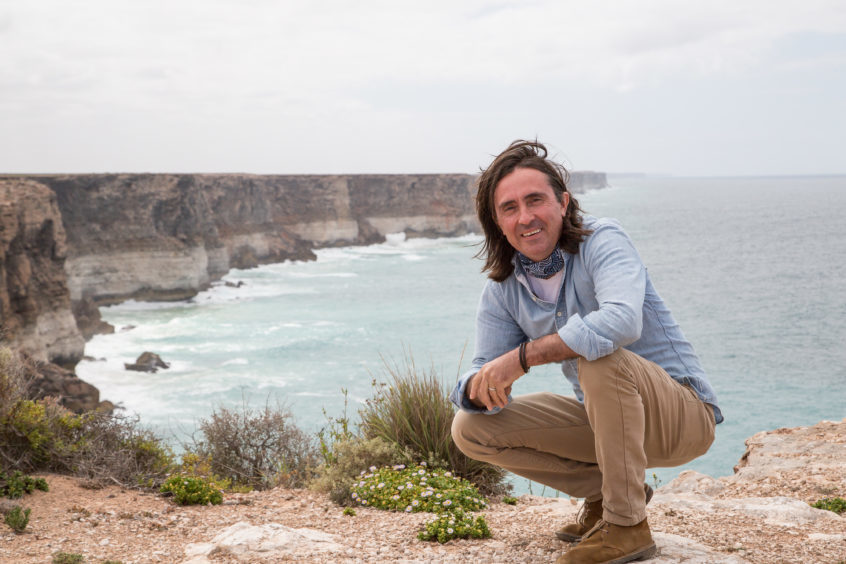 Ask Neil to name his favourite places in the British Isles and he replies: "Oh my goodness, I'll have to issue a caveat on that! It's like being asked what your favourite song is – it depends on your mood at the time, so any and all of them. I'll give you three but I could name any of the other 97," he smiles.
"When I studied archaeology at university, I loved the way it took you to places where things happened and it was exciting to touch things that people from years ago had touched. For this reason, I have a strong love of Iona. There's no doubt that it was a sacred place before Columba (Irish abbot and missionary) came but he and his ilk made it their own."
Close to the monastery, made then of wattle and daub, Columba built a small wooden cell on a rocky outcrop – Torr an Aba, the Hill of the Abbot – where he could be alone with God.
"An excavation on Iona in the 1950sby archaeologist Charles Thomas revealed traces of burnt hazel wood on the site of Torr an Aba, and he kept the fragments in a matchbox," says Neil.
"Carbon dating in 2017 proved they were timbers from the wattle and daub hut of Columba himself, built sometime between AD 540 and 650
"You can actually go to this rocky outcrop, touch it and think Columba once touched this – to me the thought that Torr an Aba was where Columba sat and wrote and went about his business is enough to make a shiver run –  it's a perfect example of the gossamer-thin curtain of time.
"Iona is magical – regardless of your religion, go with an open mind and you'll find it's a salve for the soul."
As an archaeologist Neil reveals a particular interest in the period when man was moving from hunting to farming. The Ness of Brodgar, a monumental Neolithic complex in Orkney, is a particular favourite from that era.
"It's not just me – many archaeologists agree it's in the top three of archaeological discoveries in our lifetime," he says.
"I love the bare bones, the scrubbed pink landscape of Orkney even in winter," Neil enthuses. "When the sun breaks out it's just beautiful.
"And there is simply nothing else, nowhere else, quite like the Ness of Brodgar. The ideas and philosophies spread south, throughout the British Isles, eventually reaching places like Avebury and Stonehenge and shaping the thinking of people there."
Neil names the Aran Islands, located just off Galway in Ireland, as his third favourite place in the British Isles.
"I'm very moved by them, by the effect of the Atlantic Ocean and how muscular and powerful the landscape looks, the pull towards the setting sun, the edge," he says. "I'm always drawn to the coast, to the the dynamism of where land and sea meet. The writer and activist Liam O'Flaherty wrote: 'I was born on a storm-swept rock and hate the soft growth of sun-baked lands where there is no frost in men's bones' – I think that's an elegant sentiment."
Having been touring in England and Wales since the start of October, Neil kicks off his Scottish dates in Stirling – his hometown, where he lives with wife Trudi (a former journalist on DC Thomson publication the Sunday Post), children Evie (15), Archie (12) and 10-year-old Teddy, and Irish wolfhound Gracie.
As a historian, Neil loves Stirling, once the capital of Scotland.
"Its history is literally unavoidable and in my opinion, the castle is the best in Scotland," he smiles.
However, he admits he's feeling more than a little nervous about appearing on stage there.
"It's like singing to your auntie, isn't it," he jokes. "There will be people I know in the audience who see me in the supermarket and on the school run.
"But even if I get eggs flung at me, at least I'll be in my own bed that night!"
Neil reveals that performing live on stage gives him a buzz.
"Live performance is a newly opened door for me – unlike TV it's not being filtered. I'm ad libbing every night – I don't have a script – and that's exciting. I'm thinking that maybe everything I do from now on might have a live aspect to it."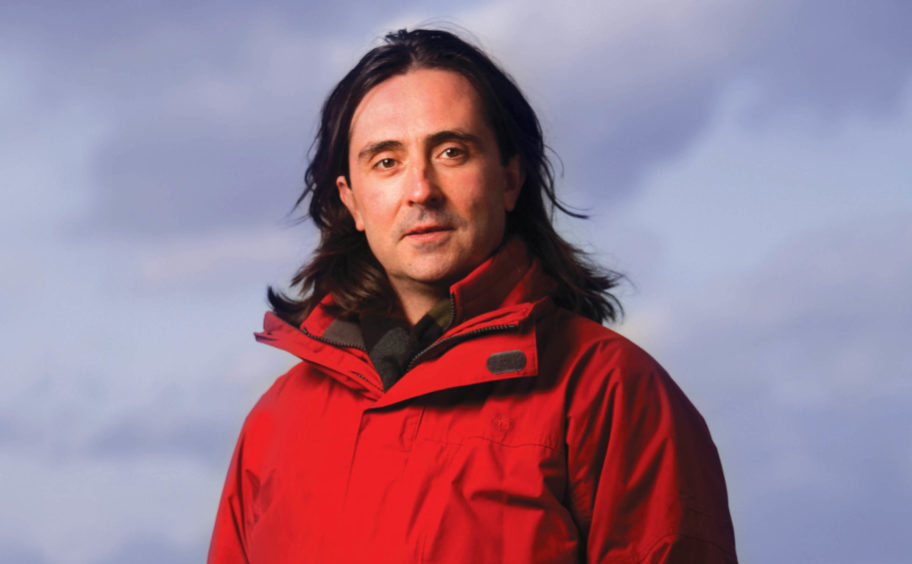 He hopes his book, and his tour, will remind people how special the British Isles are.
"The world needs the British Isles – our unique and civilised culture, formed during thousands of years of often painful history, is a light in the dark. We need to acknowledge all that is at stake here, all that we have, all that we have had. The time for that acknowledgement is now."
Neil Oliver will be appearing at the Albert Halls in Stirling on November 17 at 7.30pm. www.culturestirling.org
The Story of the British Isles in 100 Places by Neil Oliver is published by Bantam Press, £25. www.neiloliver.com