Earlier this year, TV adventurer Alice Morrison became the first woman to walk the entire length of Morocco's longest river. Here, she tells Caroline Lindsay more about the incredible journey.
Back in early January, when the rest of us were recovering from Christmas and New Year and making resolutions for a healthier lifestyle, TV adventurer Alice Morrison was setting off on a 1200km journey of a lifetime.
Between January 9 and March 28, she walked the full length of Morocco's longest river, the Draa, from source to sea, with camels carrying her supplies, and with just one day of rest.
The spirit of adventure is at Alice's very core which comes as no surprise – four months after Alice was born in Edinburgh Royal Infirmary, her parents, Fredi and Jim, boarded a ship to Africa to become teachers.
"I had a wonderful childhood," Alice, who presents BBC's Morocco to Timbuktu series, recalls. "When I was sent back to Edinburgh aged 11 to go to boarding school it was a horrible shock. I missed Africa terribly but at that age you do what your parents tell you."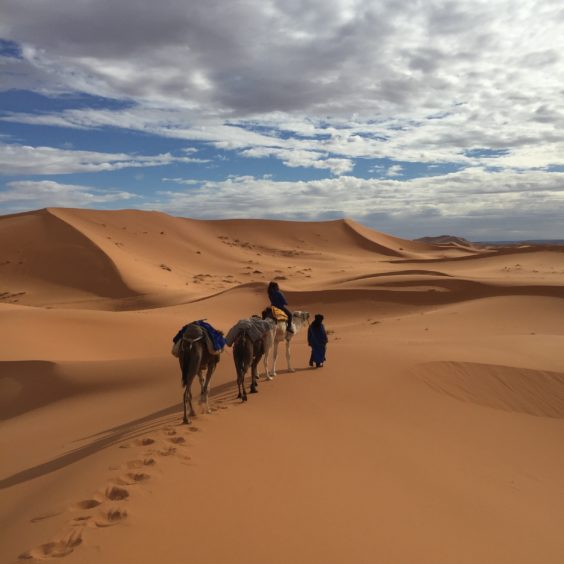 Over the last 10 years, Alice, now 55, has cycled 12,000km from Cairo to Cape Town, been chased by elephants and survived malaria and typhoid.
Not content with that, she ran the toughest footrace on earth, the Marathon Des Sables, 250km across the Sahara Desert.
"That was six marathons in six days and one of them is a double. The temperature was in the 40s and you have to carry your own food and kit," she recalls.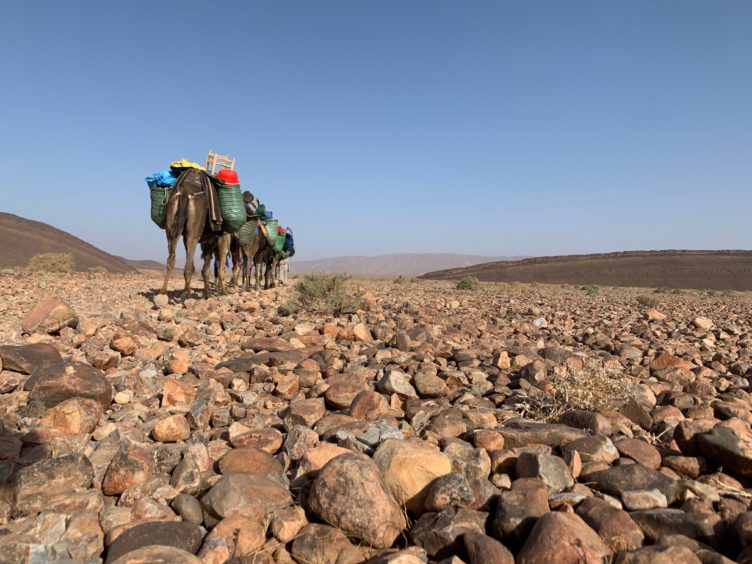 2015 saw her first "world first" with the Atlas to Atlantic trek from the highest point of North Africa, straight across the Atlas Mountains to the sea. And last year she took on an ultra race around Everest.
"Well, who could resist 160km with 15,000m of climbing around the world's most iconic mountain?" she smiles. "It was exhausting but very beautiful.
"I came last but I did it – signing up for something like that inspires you, and gives you a goal."
Alice set up home in the Moroccan mountains to train for the ultra race and still lives there now.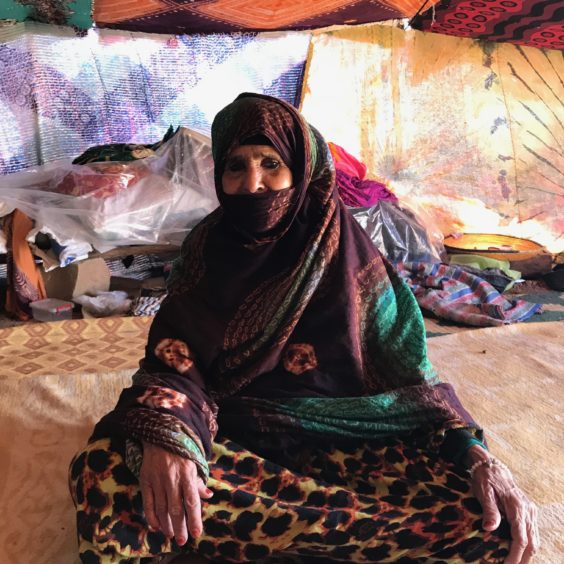 "That early childhood experience of living in Africa was amazing and when I came back to Morocco I felt so at home. When I got to Morocco I felt so at home – the smell, the landscapes, the red earth – they all spoke to me," she reflects.
The Draa Expedition left the Ouarzazate Barrage on January 9 and arrived at the Atlantic Coast at Ben Khilil on March 25. Alice was accompanied by three Amazigh guides: Brahim Boutkhoum, Addi Bin Youssef and Brahim Ahalfi, and five camels – Alasdair, Hamish, Callum, Sausage and Murdo.
"I gave them all Scottish names," she laughs. "They love orange peel so I made sure I fed them some every day," she adds, before revealing that camels are intelligent animals with a keen sense of smell.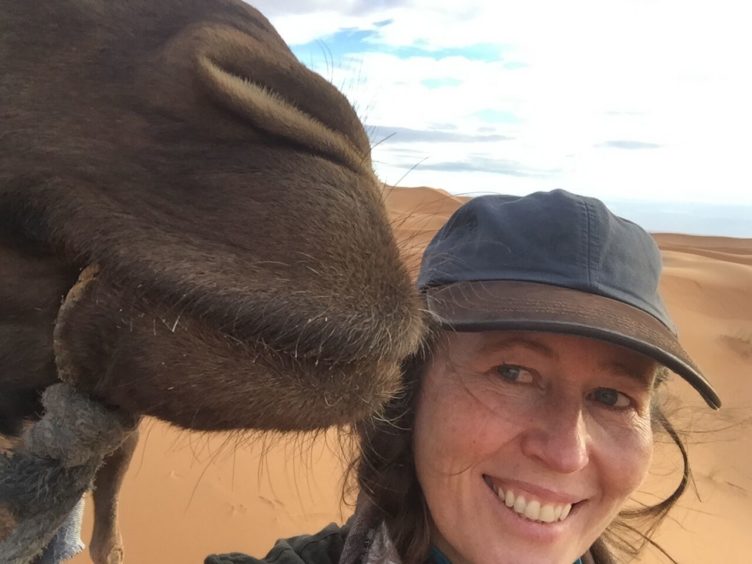 "They can detect the scent of a female camel from five kilometres away," she says. "You can only have male camels in a caravan otherwise they fight over the females and during the courting ritual they'll whisk their tails to sprinkle their pee on their backs to make them smell extra special."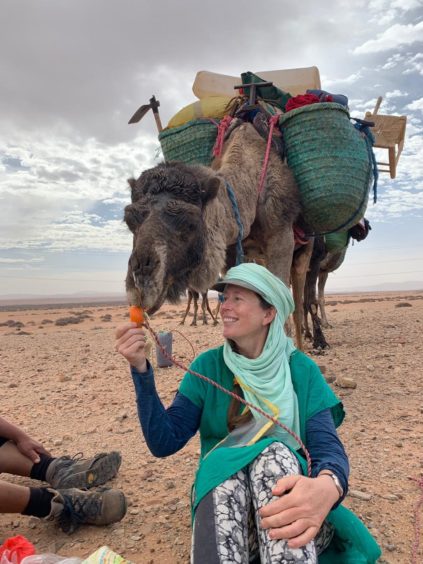 Tales of camel romance over, Alice reveals the journey from the source of the Draa led them through so many contrasting landscapes. "When we moved down from the craggy mountains to the lush green oasis with running water and birds, it was like the Garden of Eden," she recalls.
"We explored the rich valley of the Draa with its ancient cave paintings and vibrant agricultural life, and then the desert with its magnificent dunes, lost cities, mysterious tombs and itinerant nomads.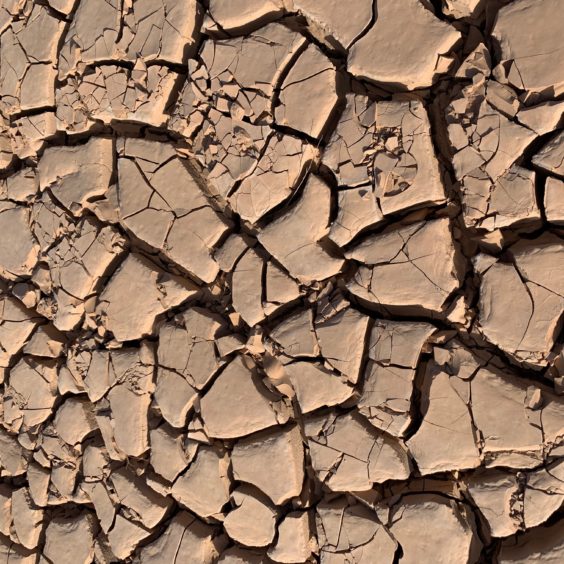 "The drought plains which were very harsh but the wilderness was the hardest part – it was stony, flat and quite Biblical," she says.
A voyage of discovery, the aim was to explore the different environments encountered during the course of the river, to learn more about the nomads that inhabit the area and to investigate the effects of climate change on the region.
"The slower you travel, the more you learn," says Alice.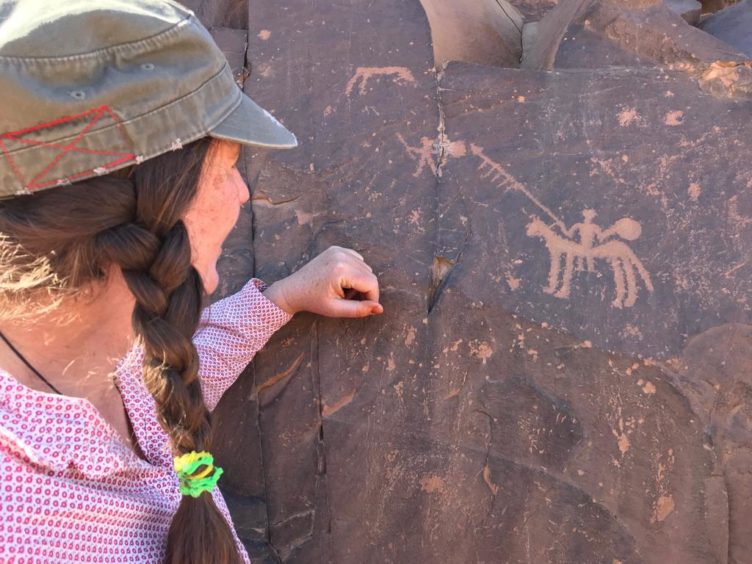 But the expedition faced a number of challenges, the two biggest of which were the lack of water and the extreme temperatures.
"The expedition started off in sub-zero temperatures at the foot of the Atlas Mountains and hit 40+ degrees after the great dunes of Erg Chgaga – my legs were so heavy by the end of the expedition," Alice recalls.
"As the river Draa is actually dry in its lower reaches, the team were forced to walk from well to well and found that many had dried out or only contained salt water.
"I saw first hand what is happening to our climate and one of my guides, who made the same journey 20 years ago, was shocked by the difference," she says. "No water means everything dies – the camels, the goats – no life at all. The wells dry up and any water that's left in them becomes saltier without rain to replenish it.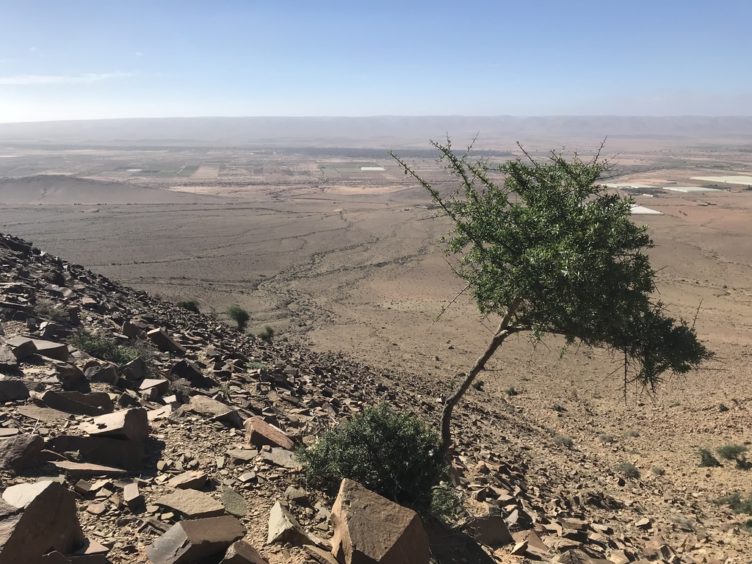 "A huge road-building programme is making the remotest areas in Morocco accessible," she continues. "The country has the largest solar power plant in the world and mobile coverage is universal. But with that development come all the issues of the modern world including shrinking water supplies and the changes being wrought by our overheating world.
"This is a physical journey through changing landscapes but it is also a chance to meet and get to know some of the diverse peoples of Morocco.
"We need leadership from our politicians. We're saying the climate is changing, but what are we doing about it? Where are the scientists who can manipulate the climate? We need bigger picture stuff. Rant over!"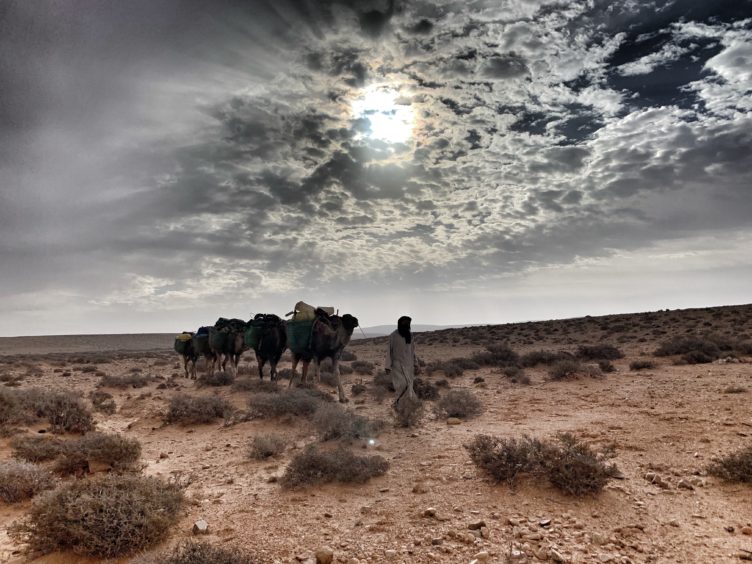 One of the highspots of the trips was the discovery of a lost city in the hills behind Foum Chinna. Alice had climbed a peak to find mobile phone signal when she spotted what looked like ruined houses stretching out over the slopes. The next morning, she returned with Jean-Pierre Datcharry, the expedition organiser, who has been working in the area for over 40 years, to explore further. He confirmed that he had never seen or heard of the settlement before but that it was clearly a large site covering three hilltops and probably dating from around 4000BC, the same era as the rock paintings which lie around three kilometres further on.
"Stumbling on a lost city was one of the real highlights of the expedition for me," says Alice. "It just shows how much of our planet there still is to discover. Indiana Jones eat your heart out! I would love to go back with a team of archaeologists to find out more."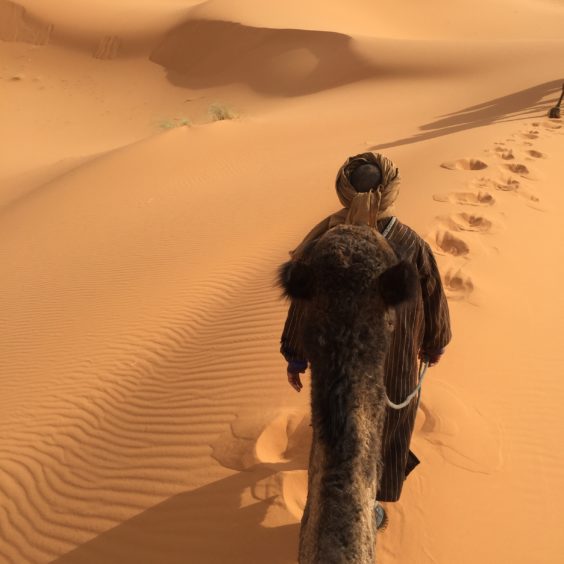 The people of the Draa are called Drawis and speak Darija and Tashlaheet.
"They are known for their fierce independence and the area was in almost constant revolt from government from the first historical records until very modern times," says Alice.
"Their origins are mainly Berber (Amazigh), with Arabs settled from the caravans that used to carry their gold, salt and slaves along these routes and also the Haritan, the proud descendants of slaves who came up from West Africa in the days of the great trade," she continues.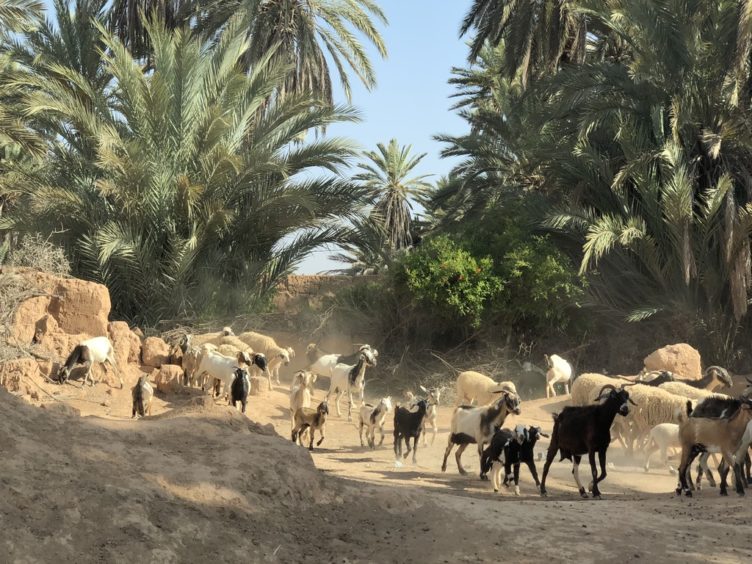 For Alice one of the personal challenges was travelling for three months with an all-male crew who spoke only Arabic and Tashlaheet. "I worried before I set off that I would get a bit lonely as, although I speak Arabic and basic Tashlaheet, I'm obviously from a very different culture and I am also a woman.
"In fact, being with the Brahims and Addi and learning from them has been one of the great joys of the journey. I discovered that people really are the same the world over and I found a new family.
"The last leg of the trip was quite moving because I'd grown so close to the three men and the camels but we've kept in touch."
Admitting that she found it hard when the trip came to an end, she explains: "Everyone who has done a tour like this knows that you're living your best life – the distinct rhythm of each day, the peace, waking up to beautiful words being sung at dawn, and knowing you have a whole day of adventure ahead of you.
Alice's latest book My 1001 Nights: Tales and Adventures from Morocco has just been published and she is hoping that her book tour might bring her to Dundee.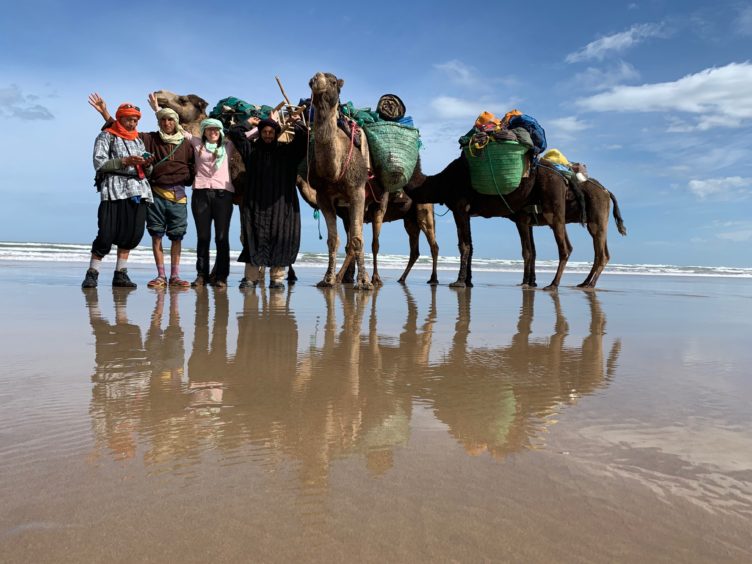 "I'd love to see the V&A, I've been following it on Facebook," she enthuses. "I'm a real supporter of people from all backgrounds being able to experience culture first hand.
"I'm a very proud Scot and very proud of my heritage. When I'm in the Atlas Mountains I find myself thinking: 'This could be the Highlands of Scotland.' The big open landscapes of Morocco remind me of Scotland the people are like Scots too – hardy and no nonsense. I judge a lot of things by my Scottish roots."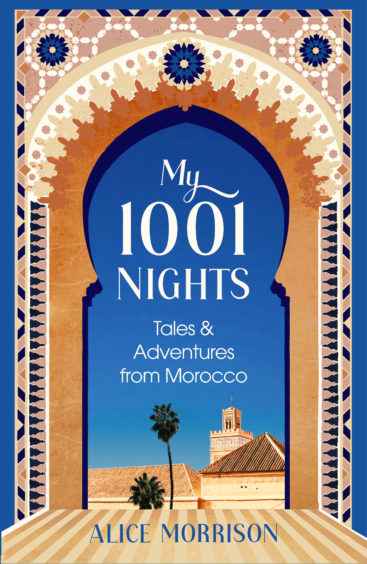 Alice believes that anyone and everyone can have an adventure and you don't have to walk hundreds of miles to do so.
"Discovering your natural environment is the most soul-enriching thing you can do," she says. "Wherever you are, explore, smell the air, exploring, take eyes away from the screen and get out there, even if it's peeing with rain. "Sit on the grass and draw a one-metre circle around you, and I can guarantee it will be full of life, from tiny insects to wild flowers…"
Alice would love her next adventure to take place in Scotland. "I would be very happy to do a Scottish adventure and I would love to try to bring my men across Scotland – I told them so much about the country and they thought it looked wonderful. "We couldn't take the camels but donkeys or mules perhaps…" she muses with a wistful look in her eye and you know her next adventure isn't far away…
My 1001 Nights: Tales and Adventures from Morocco is published by Simon & Schuster, £18.99.
Pictures: Alice Morrison, Desert et Montagne Maroc and Brahim Ahalfi.