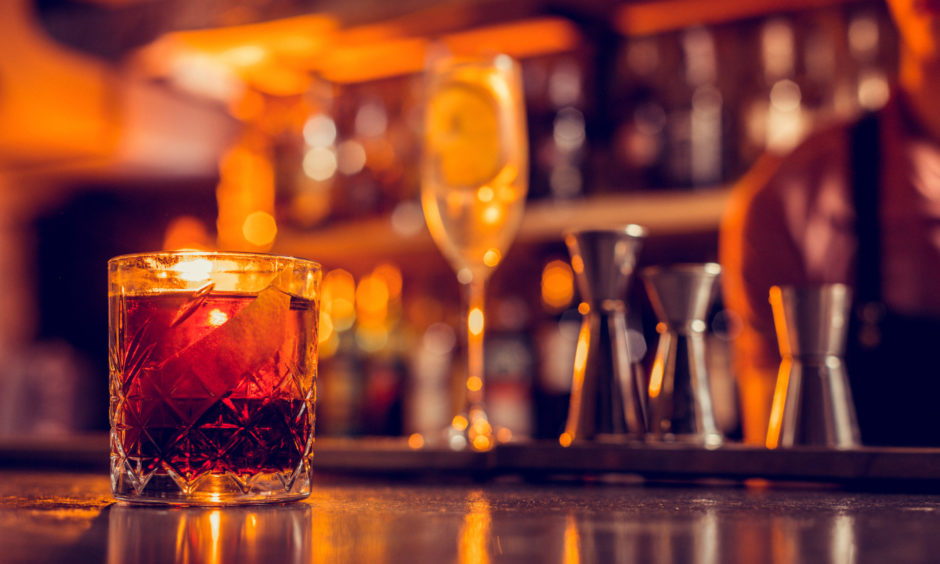 As pubs and bars across the land begin opening indoors after a four-month closure due to the coronavirus lockdown, more than ever people enjoying a pint will need to stick to the rules as part of a "new normal".
Reopening their doors last week after months of enforced closure due to the coronavirus outbreak, pub and bar owners – and their patrons – were embracing a new dawn.
At first opening outdoor areas only, then indoors from yesterday (July 15), managing social distancing, providing hand sanitisation stations, collating customers' details for track and trace, and installing signage and safe routes in and out of their premises were measures no one would have considered a requirement only a few short months ago.
However, as the country edged itself out of lockdown, these were the tasks proprietors and managers were faced with if they wanted to return to trading after a period heavily damaging to the hospitality trade.
Premises all over the country now have an entirely different look and way of working – and those in charge are faced with policing their patrons and ensuring they stick to the rules or it could mean them being forced to close again.
Scenes have been witnessed up and down the country in the news and on social media, where it was evident that social distancing was not being fully observed and this will continue to be a huge concern for business owners every day as they open their doors.
Local council officials have inspected bars to ensure they have measures in place and police officers have also made spot checks on busy pubs to check patrons are following the rules.
The experience
As I was enjoying a week's holiday last week, I decided to venture out for a couple of cold pints of cider on a lovely warm day to see for myself what the measures were and how they were being implemented.
I visited the Kinloch Arms Hotel in Carnoustie where I live. And to be honest, I was impressed by the set-up.
The owner/manager, Rob Alcock, has a one-way system which flows through the premises, with hand sanitising stations on entry to the premises and outside the toilets and exit door.
Outside the hotel there is a decking area which has been laid out for two-metre social distancing. Smokers are permitted in this area, but if you want to stay clear of that there are also two marquees in the car park where tables and chairs are available – again set up for social distancing.
I enjoyed my drinks, had a chat with people I knew and hadn't seen for ages and was happy that I had been safe during my visit.
There were the odd times when people forgot themselves, but 95% of the time all social distancing was observed, and I think it's only natural that there will be the occasional blip.
The Kinloch is extremely fortunate having such a large outdoor space and many bars will not enjoy the same luxury. However, knowing they had that room they have utilised it to their advantage.
Like starting again
The Ship Inn in Elie has enjoyed a successful reopening and they believe it was like starting a new business as they looked ahead to reopening indoors.
Rachel Bucknall who runs the Ship with her husband, Graham, said: "It's been extraordinarily successful, we have been delighted. Customers have been keen to come back.
"We had a long discussion on whether to take bookings or not and decided not to take bookings so we could control tables better and not have empty tables between bookings.
"We quite quickly fill the tables at lunchtime and then after that we have been running a waiting list. If people want a table we take their contact details and they can go for a walk or have a play on the beach and when their table is ready we give them call.
"It's a great way of making sure we have everyone's contact or tracing details and everyone is happy to go for a walk or to the beach and come back to their table when it's ready."
As the business got going again, Rachel has been thrilled with the responses received and how clientele have observed the new normal.
"It's been working really well, the numbers have been good, everyone has been behaving and doing all the social distancing that they have meant to be doing and it's really just been nice serving customers again and doing the job that we all love," Rachel added.
Excitement
"I am excited and slightly terrified in equal measures.
"What we have found outside is that it's really staff heavy. We have had to run with about seven staff in our small beer garden which has about 65 covers. Suddenly we are opening inside. Elie being a holiday place, there are lots of people about who want to come and eat inside and we need to make sure we have the right number of staff in the right places.
"There is that and then trying to work out directional flow inside. Luckily it's dry today as it wouldn't be good if we had people waiting for their tables outside in the rain. Hopefully we can have a gentle start and see how it goes."
Again, at the Ship safety is of paramount importance.
"We have to be fairly robust and feel what we have put in place is safe for everybody," added Rachel. The comments we have had from outside in the beer garden have been really positive and they have felt safe and they have seen all the extra processes and things that make it work and they have really appreciated that. We must now follow that through from outside inside.
"It's like starting a new business all over again. That's what it feel like."
Parking problems
At the Glen Clova Hotel and Lodges near Kirriemuir, they were excited to be reopening, but had a problem unrelated to the virus outbreak to deal with at the weekend.
While the hotel's car park was completely full at the start of business on Saturday there was no one enjoying a refreshment in their beer garden because customers could not utilise the parking facilities.
On a beautiful sunny day, people heading out on walks in the picturesque area had filled the car park, leaving no space for customers.
While under normal circumstances they have no problem with visitors to the area using these facilities, as a result of what happened on Saturday and the resulting business lost, they have introduced a new parking levy, but one that will not impact on hotel customers.
A £5 charge will be levied to every car, but this is redeemable against any purchase in the premises of £10 or over. This will only be applicable though on busy weekends.
No brainer
Lesley McArthur is the proprietor of the business along with her parents, Jane and Hugh Niven.
She said: "For us it's a bit of a no brainer. At 10am on Saturday morning, our car park was basically full outside the hotel. That car park, when full, will hold in the region of 75-100 cars and it was full and the hotel was empty. We had three guests at 10am.
"I am not saying we would want to be full at 10am if we were rammed we would be rushed off our feet which would be great but a bit of a juggling act.
"On Saturday we didn't know how many people came back in later on. Don't get me wrong Saturday was good, there was a positive vibe and everyone was seen to as quickly as we could possibly see to them.
"We only had so many tables outside so could only seat so many at a time but in general it all went down very well and we have had some very positive feedback from customers. At the same time there were a lot of people who passed the hotel and weren't sure about coming in as we looked so busy, but we weren't actually as busy as we could have been.
"I personally knew some people who had gone up the glen on Saturday. They had reported back to me saying 'we looked so busy, because our car park was so busy' and as such didn't stop to enjoy our hospitality."
Fortunately, we got permission to open up the field across the road from us as the parking situation was also becoming a safety concern as cars were parking in passing places.
"We want our customers to have a safe car parking place to enjoy what we have to offer and what the Angus Glens have to offer and the vast majority of people were supportive of what we were implementing."
Half turnover lost
Lockdown has been extremely damaging to the Clova Hotel and Lesley believes they have lost half of their turnover for the year.
And now, says Lesley, it is all about rebuilding their lost summer season.
"The lockdown has been so significant for so many people. For us, from end of March onwards is huge, huge period and we have had to cancel lodge stays, cancel hotel stays and move weddings. It's a significant period of time and we had just come through a long winter when we don't really make any money," she revealed.
"This is why we cannot afford to not be able to have those that want to come and enjoy our facilities be deterred by seeing our car park full and driving past.
"We will be opening as of 5pm for dinner services and we have residents staying with us. We are absolutely delighted to be opening back up again. It's been a serious long haul for us.
"We reckon, based on previous years, we will have lost in the region of 50% of our turnover in the last four months and that is obviously tough for our staff, the running of the business and forward planning for the years ahead as such.
"However, we're really pleased with the response we have had and the bookings that are coming in. Our lodges have been in high demand for obvious reasons. The hotel is also looking promising as well and hopefully that continues over the next few months. And we would just like to thank all of our customers who have been both so understanding and appreciative of the measures that we have put in place."
Positivity
Scott Murray, the managing director of CRU Holdings, opened two of its Inverness businesses last week outdoors, Dows and Prime, and both of these opened indoors yesterday along with another premises in Nairn, The Classroom.
"We have opened three indoors, the rest will remain shut until August," said Scott, who added that, so far, things have been positive.
"It's been successful, it has been an adjustment for customers, but overall it has been well received.
"A lot of the stuff we were doing anyway, as in the case of the hygiene side of things, and it is maybe a case of us just doing it a little bit more, so it hasn't been too much of hardship.
"In terms of the distancing and keeping people apart and one-way corridors that has been a little bit more tricky, but it hasn't been overly onerous."
Scott revealed that changes in people's habits, which he is already witnessing, could see pubs and bars benefit in the long term.
"Obviously we are unable to accommodate as many people on the busy nights, but what we are seeing is an increase in numbers on the quieter nights and we hope it will balance out over the week.
"Some people are maybe saying let's meet up for dinner on a Tuesday instead of a Thursday – that sort of thing."
Safety is key
As the move is made indoors, far more measures require to be implemented and CRU Holdings have applied a common sense approach.
Scott added: "The two that we have opened we opened because we can do it effectively. The ones that we have kept closed we have done because we couldn't guarantee we were giving customers the same kind of experience that they would otherwise expect."
And safety of customers and staff is the primary concern, and people want to enjoy a drink knowing they will return home in good health.
"I would like to think that customer confidence, especially in Scotland where we have been a bit better behaved maybe than our counterparts south of the border by sticking to the rules, is higher than it would be down south. I am hoping that translates into more hits at the doors," he continued.
"Feedback has been really good. It was one of those things we weren't sure how it was going to be taken and we weren't sure how people were going to react but it has been pretty well received. People are very accommodating. I think it has been more of an adjustment for regulars, but on the whole it has been very well received."
I think the industry as a whole would appreciate it if people were patient. Everything we are doing is new, there is no rule book, no playbook.

Scott Murray, CRU Holdings
Scott also had words of praise for the dealings with the licensing board as they planned a course to reopening.
He said: "The licensing board, as always in the Highlands, has been superb, really helpful. They have played much more of a guidance role than an enforcement role which, in turn, removes any need for enforcement.
"Everything has been done with common sense on a one on one basis. Seeing what works for one business maybe doesn't work for another and things have been done on a case by case business."
As the move indoors takes place, patience is key. "It's a case of people being a bit more patient," added Scott.
"I think the industry as a whole would appreciate it if people were patient. Everything we are doing is new, there is no rule book, no playbook.
"Our experience so far is people have been very accommodating and if they could just keep that going then I think we will find the venues are able to provide more of what they are used to. It is a learning curve for us and the customers and patience is the overall message."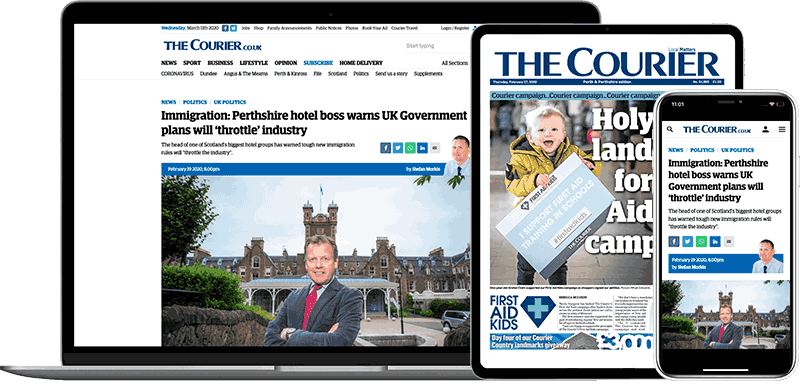 Support The Courier today.
The Courier is committed to delivering quality content to our communities and right now that's more important than ever — which is why our key content is free. However, you can support us and access premium content by subscribing to The Courier from just £5.99 a month. Because Local Matters.
Subscribe