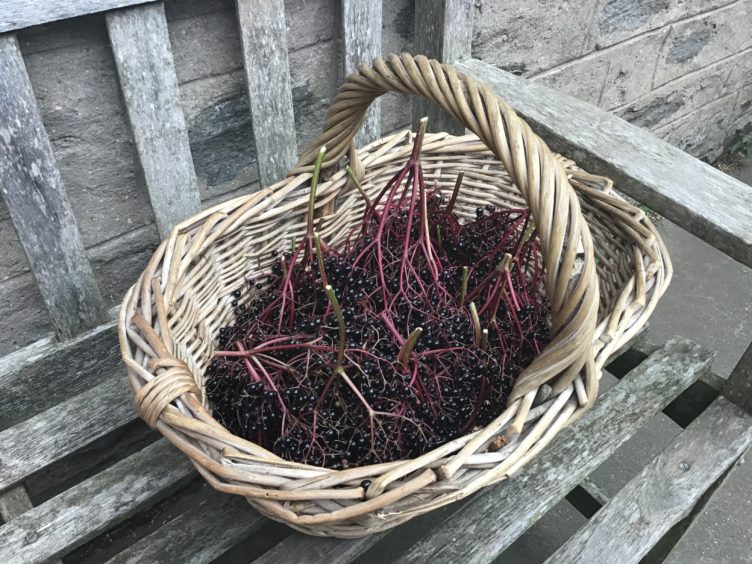 Perthshire chef Alec Cruikshank of Fonab Farm Foods shares his love of growing and sourcing his own ingredients with Caroline Lindsay, although you won't find sweet potatoes on his list!
Q Desert island food?
A Fish and shellfish. I visit the Hebrides every year without fail which, in a way, I could describe as my own desert island. I spend the time foraging the shores, setting lobster and crab pots, fishing for pollock and mackerel, digging razor clams and collecting mussels. It tastes even better if you've had the wind and rain in your face all day!
Q Favourite TV chef?
A Hugh Fearnley Whittingstall. His early River Cottage programmes inspired me to grow my own produce, raise my own animals for meat and start foraging.
Q Favourite cook book?
A Any of Rick Stein's books that he brings out after one of his TV series. I read them like a novel. The simplicity and the story behind the recipes are great.
Q Favourite ingredient?
A Anything I have grown raised or foraged myself. The satisfaction of knowing the providence and freshness along with the story attached is hugely important to me.
Q Most hated ingredient?
A Sweet potato! Everything about it is all wrong – the colour, the taste and the fact that it has travelled half way around the world to be here, especially when Scotland grows the best normal potatoes in the world!
Q Perfect dinner guest?
A Kylie Minogue. Why? I'm a man in his early 40s who's slowly growing bald and fat. One can dream.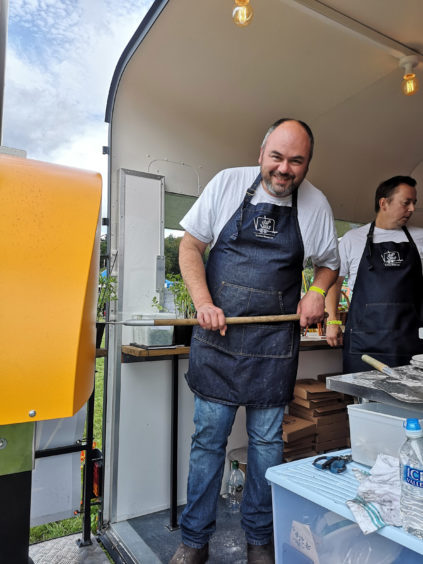 Q Favourite kitchen gadget?
A An archaic Kenwood Mixer handed down to me by a family member. It's probably older than me but gets used every week without fail.
Q Favourite music to cook to?
A Skipinnish – there's nothing like getting jiggy in the kitchen.
Q Perfect menu?
A A huge pile of fresh shellfish to share with friends, a few bottles of fine wine, a Hebridean sunset.
Q Favourite country for food?
A In a previous life I was lucky enough to visit all the Asian countries, exporting and promoting Scottish produce. Singapore remains the favourite. To be able to take a walk on a balmy evening through all the districts – Little India, Little Malaysia, Chinatown, the Arab Quarter, finishing at the hawker stalls, takes you on the most incredible culinary and flavoursome journey.
Q Favourite chef, alive or dead?
A Shirley Spears who started The Three Chimneys on Skye. It's more out of respect than anything else – to start a restaurant in the middle of nowhere with no experience, using local produce. For it then to be named as one of the top 50 restaurants in the world is a huge accolade.
Q Favourite culinary season?
A Autumn without a doubt. The "free" food that is available at this time of year in Perthshire is phenomenal. Game, mushrooms, berries, nuts. The countryside comes into its own as a natural store cupboard.
Q Salt or pepper?
A Both for seasoning meat. Pepper wins for me though – a fried egg or baked beans without copious amounts of pepper? Never!
Q Favourite herb?
A I've recently discovered and started growing hyssop. It has the most amazing liquorice/minty/crushed fennel seed flavour. I've been infusing oil with it this season to finish pizzas with – it just takes them to the next level.
Q Favourite spice?
A I managed to successfully grow cumin and caraway again this year. The difference in freshly grown and then air dried, rather than from a jar, is something else. How satisfying is it to have your own home-grown baby carrots roasted with your own honey, cumin and caraway?
Q Favourite way to cook the humble potato?
A Straight from the garden, boiled with fresh mint, served with lashings of proper butter, salt and pepper.
Q Favourite go-to recipe if you're in a hurry?
A Scrambled eggs from my own hens served on toast which has been slathered in Bovril! You haven't lived if you haven't tried that combo!
Q Favourite health food?
A Scotch pie, beans and chips washed down by two cans of McEwan's Export.
Q Ideal picnic dish?
A Picnics for me invariably revolve around fishing the hill lochs. A shore lunch of wild brown trout cooked over an open fire, some good bread and a couple of glasses of Muscadet that's been chilling in the edge of the loch. Heaven
Q Ideal BBQ food?
A Freshly caught and foraged seafood. A big pile of it.
Q Are you critical of the food when you're dining out?
A Ask my family…!
Q Do you tip in restaurants?
A Yes, so long as the food and service has been worthy of paying for. If you had soup that tasted of dishwater and was spilt on your lap, would you leave a tip?
Q Top tip for failsafe cooking?
A Preparation and an understanding of cooking times of the different elements. Putting the potatoes onto boil at the same time as the broccoli isn't going to deliver a great experience.
Q Worst cooking sin in your opinion?
A Using produce that is out of season and has been flown half way around the world. Asparagus from Peru in December…really? Food is all about harmony – if it grows at the same time of year in this country and is ready at the same time, then cook it together.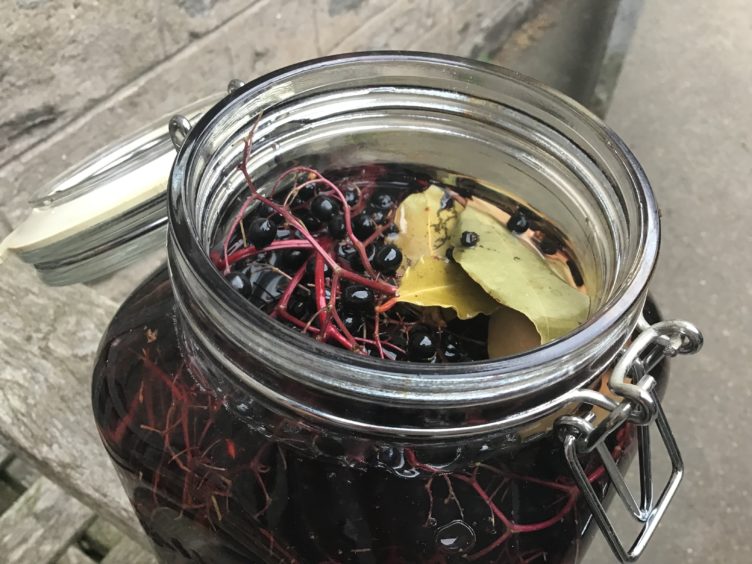 Pickled elderberries with horseradish
Ingredients
Makes one large jar
40 heads of ripe elderberries
450ml organic cider vinegar
900g castersugar
1.4 litres water
1tsp black peppercorns
3 bay leaves
8 x 1cm lengths of fresh horseradish root
Directions
Place all the ingredients apart from the elderberries into a saucepan and bring to the boil, stirring until all the sugar has dissolved.
Rinse the elderberries in cold water and leave in a colander to drain. Once dry put them into a large jar that has been sterilised (if you have a dishwasher – this is the easiest way)
Cover with the pickling liquid, seal and then store in a cool place. They can be eaten 3 days from pickling but are best left for a couple of weeks. They will happily keep for 6 months though be warned…the horseradish will have taken full effect by then.
Alec, The Menu Food and Drink's Chef of the Year 2019, has launched his new food business, Event Boxes Ltd, a series of vintage Ride horse boxes, the first of which is the Pizza Box.
Alec has converted his box into a kitchen, equipped with its own wood fired pizza oven. He will be taking it out on the road to private events, festivals and fairs across the country.
All of the ingredients he uses will be either foraged, homegrown on his small holding in Pitlochry, fished or hunted for by himself.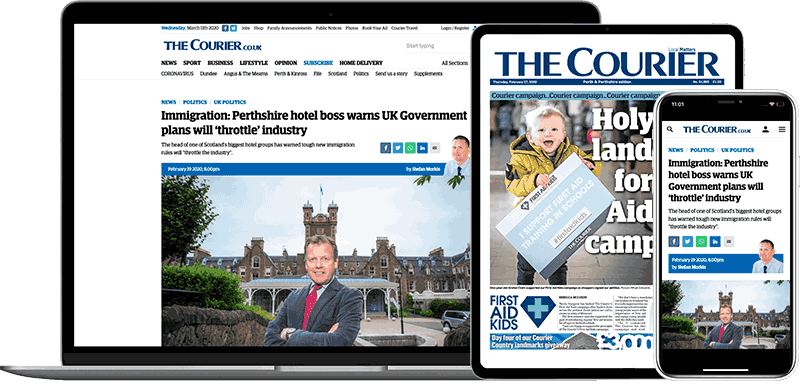 Help support quality local journalism … become a digital subscriber to The Courier
For as little as £5.99 a month you can access all of our content, including Premium articles.
Subscribe