Videogame companies are joining the fight against coronavirus.
The Government has partnered with videogame makers to insert vital "stay at home" messages into their products.
Gamers are overwhelmingly young and health authorities hope using the medium they're most familiar with will help get the safety information across.
Among the major titles to have added coronavirus safety messages are Candy Crush Saga, Dirt Rally 2.0 and Sniper Elite 4. Motor racing game Dirt Rally 2.0, made by Codemasters, has banners asking people to "Stay Home, Save Lives" as players race through checkpoints.
One of Dundee's foremost games company is also joining the fight. Outplay Games was founded in the city a decade ago and is the UK's biggest independent mobile games developer, with more than 100 million downloads. It has inserted public health messages into its enormously popular game Angry Birds.
The pop-up messages encourage players to "Do the Five" to help stop coronavirus – wash your hands, cough into your elbow, don't touch your face, keep a safe distance, and stay home.
CEO Douglas Hare said the company is keen to help spread the public health message to gamers: "We're aware of the UK Government scheme although they haven't spoken to us. However the World Health Organisation is running a project called Play a Part Together, which we are involved in. Although we're a Dundee company our market is global and only around 7% of our players are in the UK, so it makes sense for us to join the WHO project.
"We've got the message out on our social media outlets and through our in game channels, several of which have upwards of 400,000 members, so we're doing all we can to get the word out there."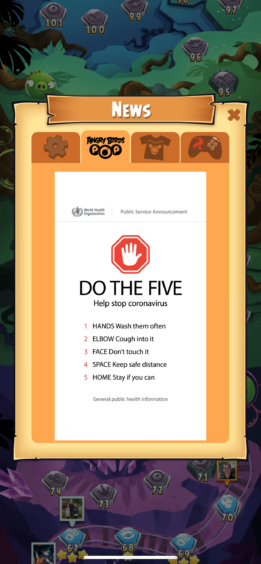 Chris van der Kuyl is chairman of 4J Studios, based at Dundee's waterfront, which developed the console version of the world's best-selling game of all time, Minecraft.
He said it would be down to Minecraft owner Microsoft to insert any public service messages but it was something that would have his support.
"A lot of the big games only get updates once or twice a year so it isn't always easy or straightforward to do," he said. "However I think videogames are a great way to get a public health message across to a demographic that doesn't use traditional media such as radio, television and newspapers."
Ninja Kiwi is based in Dundee but part-owned from New Zealand and specialises in digital download games for mobile devices, PC and Mac. Executive vice-president David Hamilton said they support the message but their games are pitched at too young an audience to take part in the scheme.
"We had a shareholder meeting about this but decided our games are pitched at such a young audience that we wouldn't be able to get the message across effectively.
"I do think videogames are an excellent way to push the public health message, however."
Marc Williamson is CEO of Tag Games, a Dundee based company that works alongside publishers and developers to build games for mobile platforms. Among their clients are Electronic Arts, the BBC, Activision, Ubisoft and Channel 4.
Marc said: "Although the Government hasn't reached out to us yet this is something that has been on my radar. We work in partnership with other companies so we don't have the final say on putting messages into our games, but it's certainly something I would support.
"A lot of young people play video games and with the lockdown they're probably playing more than they normally would so it's a good way to get the message across."
Hyper Luminal Games is based on Brown Street in Dundee. Its latest title, Big Crown Showdown is a multiplayer platform game available on Xbox, Playstation and Nintendo Switch. Its team of 19 staff and seven contractors have all been working from home since the middle of March.
CEO Stuart Martin agrees video games can be an important plank of the coronavirus public health campaign. "It's a good way to help get the message across to a lot of different groups, and particularly younger demographics," he said.
"We're all under lockdown and people are either watching movies or playing video games. There are a lot of teenagers that may not be watching the news and video games might be an alternative way of getting vital information through to them."
He cautioned that adding a public health message is not straightforward for many games developers, however. "With mobile games you can do an update pretty quickly but with our console games it's very difficult.
"There's a reason the Government has only got the biggest games companies onboard so far and that is that only they have the clout to force platforms owned by Sony and Microsoft to schedule updates so the message can be added very quickly."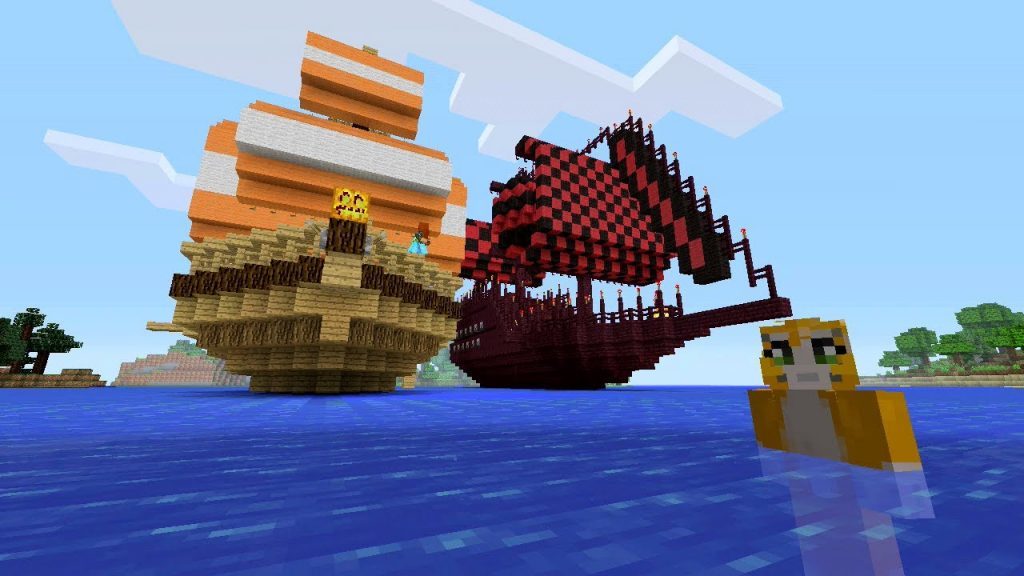 Videogames vital during lockdown
Chris van der Kuyl is chairman of Dundee-based 4J Studio, which co-developed the most popular game of all time – Minecraft.
The 5-year old entrepreneur has been a champion of video games for many years, arguing they're unfairly vilified in the media and society in general.
He believes they've become even more important during the lockdown imposed by the coronavirus crisis.
"Videogames have been a vital component of both kids and parents coping with lockdown. We as older people can learn from kids' use of videogames for socialising – it's as valid a social outlet as any other.
"Players use avatars to express themselves which allow them to use their imagination, explore different characters and personas, and develop self-confidence.
"Videogames allow children to express themselves and keep in contact with their friends. We can all learn a lot from them about how to socialise with friends during a crisis like this one.
"And there's no doubt being able to let kids play videogames for a couple of hours each day is saving some parents' sanity during the lockdown."