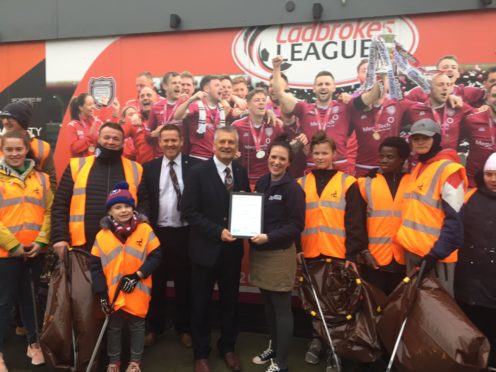 Arbroath FC added praise for their off-the-pitch environmental efforts to another point bagged in the club's on-the-park Championship campaign on a wet winter weekend at Gayfield.
The Lichties were honoured by charity Keep Scotland Beautiful as Clean Up Scotland campaign's Hero of the Month for a pioneering scheme to clean up the terraces at the Angus ground.
Arbroath FC offering fans who pick up litter free tickets amid fears it is spilling into the North Sea
Launched last month, the club has been working with local volunteer group, Angus Clean Environments (ACE) to change behaviours and reduce the amount of litter left behind after matches.
Due to the stadium's proximity to the coast, litter dropped at the stadium risks damaging the marine environment.
The club's new Litter Champions scheme appoints volunteers who then encourage supporters to use the bins and pick up litter for free match tickets.
Extra bins have also been put around the ground to make it easier for fans to play their part.
A squad of 10 volunteers has been helping out at home games and the initiative has helped to remove more than eight bags of litter from the stadium per match.
Gayfield director Brian Cargill said: "The club is committed to helping to improve the environment while strengthening its links with its supporters and the community.
"Thanks to the help of our volunteers we have managed to remove all of the litter left behind after matches and supporters have been using the bins even more.
"We hope that this success is reflected in our performance this season."
The club is encouraging people to sign up as Litter Champions by emailing angusisace@gmail.com.
Heather McLaughin, campaign officer at Keep Scotland Beautiful, who presented the award before Saturday's 1-1 draw with Dundee, said: "This initiative is a fantastic example of how significant change can be implemented if you get everyone on board.
"By engaging spectators, supporters and the community, the club has managed to significantly reduce the amount of litter in the stadium and in doing so has helped to minimise the amount of litter entering the sea."
The initiative emerged from an Arbroath harbour project which aims to reduce the amount of litter and plastics escaping into the sea.
ACE coordinator Ralph Coutts said: "ACE volunteers have been overwhelmed with the support of fans who have told us that they want to do the right thing with their litter at public venues.
"The expectation that fans should simply drop their litter is both damaging to the environment and to the education of children who appear confused by the mixed messages that this behaviour presents.
"ACE are calling on the Scottish Football Association to support other clubs to consider a litter strategy and follow where Arbroath have led".