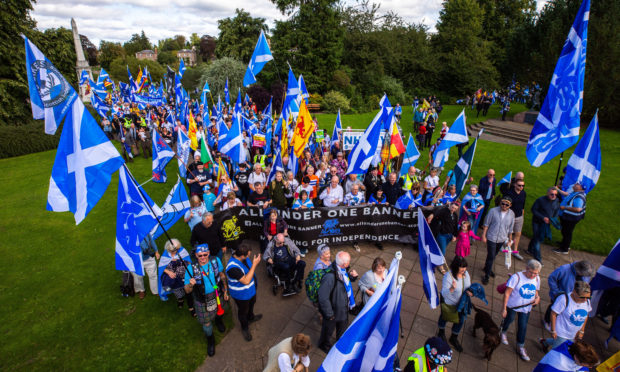 All Under One Banner's Scottish independence march due to take place in Arbroath has been postponed due to the Coronavirus pandemic.
The grassroots pressure group today confirmed that the rally will no longer take place on April 4 as scheduled.
Organiser Neil Mackay said: "We take our responsibilities to the people of Scotland very seriously.
"The risks presented by the continued spread of  Coronavirus  mean that we must act.
"We understand that keeping people home as much as possible until the threat recedes is a necessary step.
"We have listened carefully to advice from NHS Scotland and Scottish Ministers and have decided to postpone the march.
"We were looking forward to a fantastic weekend of celebrations and are very sorry to postpone."
There have now been 60 cases confirmed in Scotland – a rise of 24 from Wednesday.
AUOB had previously stated that the rally would be "100 per cent on" despite Coronavirus fears.
The organisation stated that it intended to re-schedule the march but have not yet confirmed another date.
Local organiser Eddie Cairney said: "I invited All Under One Banner to organise the march and rally at Arbroath more than a year ago.
"I know that everyone's hard work and planning has gone into making it happen.
"I expected thousands and thousands of people to come along, to have a great time and to march for independence.
"In light of the public health challenge which the spread of Coronavirus now presents, the appropriate course of action is to postpone the march and rally.
"I am sure that everyone is disappointed but I am also sure that everyone understands why the decision to postpone has been taken."