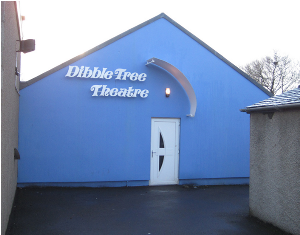 The pandemic has had an early impact on Courier country's panto season.
Carnoustie Theatre Club has announced that the Covid-19 situation has led to the cancellation of its Christmas pantomime for the first time in half a century.
A planned September show has also been axed, with the group saying it would be impossible to safely audition or rehearse in their historic Dibble Tree Theatre building.
The cost of putting on the shows has also been a key factor in the decision.
The group said: "It's with huge regret that we have to announce that our September production and our annual Christmas panto are to be postponed this year.
"This is the first time in our 50 year history that we will not manage to put on our Christmas pantomime.
"This decsion has not been taken lightly, but with the current situation with the Covid-19 pandemic, we couldn't safely hold auditions and rehearse in our small Dibble Tree Theatre.
"Then there is the huge financial investment we put into our panto every year, as a club we could not afford to outlay thousands of pounds without return.
"We know this will be disappointing to a lot of you but rest assured we will be back in 2021 with Vicar of Dibley in May, a September production and A Christmas Carol Panto at the end of November/start of December."