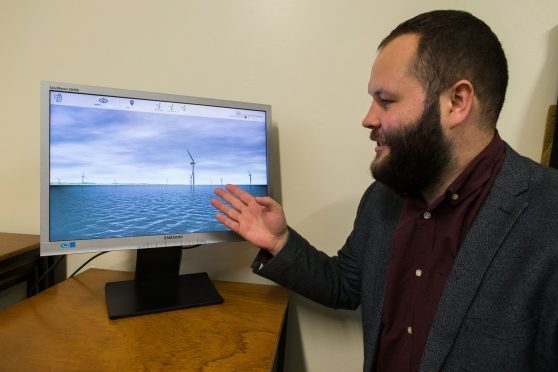 Details of revised plans for a major offshore windfarm near the Angus coast have been revealed for the first time.
Inch Cape Offshore Limited (ICOL) invited members of the 
public to view the latest proposals for the site, located 10 miles offshore, at a consultation yesterday.
The company, which was given exclusive development rights for the site in 2011, had originally submitted plans to build up to 213 turbines but this has now been reduced to 72.
The new scheme, which could provide power for around half a million households, is being submitted as an entirely new application.
ICOL says it hopes it will be able to work with the Royal Society for the Protection of Birds (RSPB) after the organisation raised objections to the previous scheme.
In 2015, the RSPB challenged Scottish Minister consent for Inch Cape and three other schemes – Seagreen Alpha, Seagreen Bravo and Neart na Gaoithe – over fears that birds could be harmed by blades.
The society claimed the developments ran "too great a risk to the many thousands of resident and migratory seabirds".
A ruling by Lord Stewart last July found in the charity's favour but that decision was overturned by a panel headed by Lord Carloway in June this year.
In August, the RSPB lodged another appeal directly with the Supreme Court.
Speaking at the event at Arbroath Community Library, an ICOL spokesperson said: "There are essentially two reasons for this new application.
"One is the advancement in technology since the initial application several years ago.
"This means that we can now generate a similar amount of power with over half the number of wind turbines as before.
"This new technology also means that the industry has halved the costs involved which will be passed on the consumer.
"The other reason is reducing the environmental impact and we believe we will be able to get a solution with the RSPB."
The company estimates the wind farm will create around 1,200 jobs during construction and another 135 direct long-term operational jobs. It says it also has the potential to generate up to £1.2 billion to the Scottish economy over its lifetime.
Another consultation event will be held today in St Andrews at the Cosmos Community Centre, Abbey Walk, from 3pm until 7.30pm.