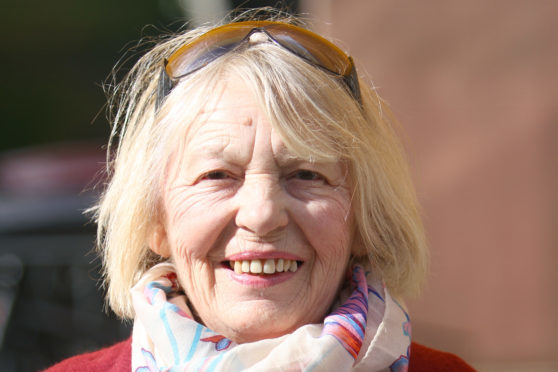 Angus councillors have united in emotional tribute to "powerhouse" former colleague Glennis Middleton after the community of Forfar was stunned by her sudden death.
Mrs Middleton and her husband, former Angus Provost Bill, represented the town on the local authority for decades between them.
She died on Wednesday night after suffering a heart attack earlier this week.
On Thursday, Provost Ronnie Proctor led the tributes in a sombre Town and County Hall, where Mrs Middleton sat on the council for the SNP from the formation of the shadow Angus Council in 1994 to last year's local elections.
He said she would be remembered as kind, considerate and devoted to the people of Forfar and Angus.
The chamber stood for a minute's silence as many former colleagues and friends struggled to come to terms with the news of 67-year-old Mrs Middleton's death.
"Glennis was a first-class councillor who worked tirelessly for her constituents and the people of Angus, " said the Provost, highlighting her "outstanding knowledge" of council matters and her particular devotion to health and social work services.
"Although she didn't suffer fools gladly, Glennis always had a kind word and a listening ear, particularly to new members who sought her advice – as I did on many occasions."
Council leader Bob Myles described Mrs Middleton as a "passionate campaigner" for the causes she believed in and said she would be "very much missed by friends, colleagues and the many people she had worked tirelessly on behalf of during her time in public office."
Close friend and SNP group leader, Lynne Devine added: "We have been absolutely shattered by the news of Glennis's death and the shock has already reverberated around this town.
"It seems so unfair that after 23 years of truly committed public service she wasn't given the time to enjoy life outwith the hassles of the council."
Ms Devine added: "She never lost sight of the individual, whether that was a constituent, another councillor or a member of staff."
Describing her friend as "feisty" and devoted to the pursuit of independence, Ms Devine said: She worked tirelessly and knowledgeably within the council and the party."
Independent councillor David Fairweather said: "She was a formidable speaker and she was a formidable opponent in the chamber, but everything that has been said about her kindness and compassion is who Glennis was and we will all miss her."
Originally from Irvine, Mrs Middleton is survived by her husband, Bill, daughter Alison and stepchildren Paula and William.
Alison said she and her father had been comforted by the outpouring of support from the Forfar community.
"We are heartbroken, but we are also overwhelmed by the kindness people have shown and the many stories people can share about her," she said.
"She was a powerhouse of a woman and was so loved. She adored being a councillor and she did it joyfully because it was what she lived for."