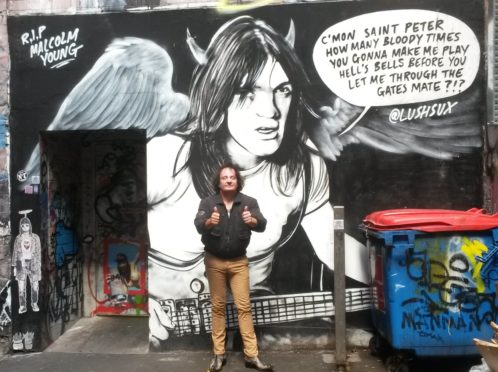 Bon Scott's son has said the annual Kirriemuir tribute to the AC/DC rock god is something his late father would have "truly treasured with all his heart".
Ben Scott, who grew up in the Melbourne suburb of Mordialloc, said it was amazing to think that the place where his father grew up still "holds his life in such huge esteem".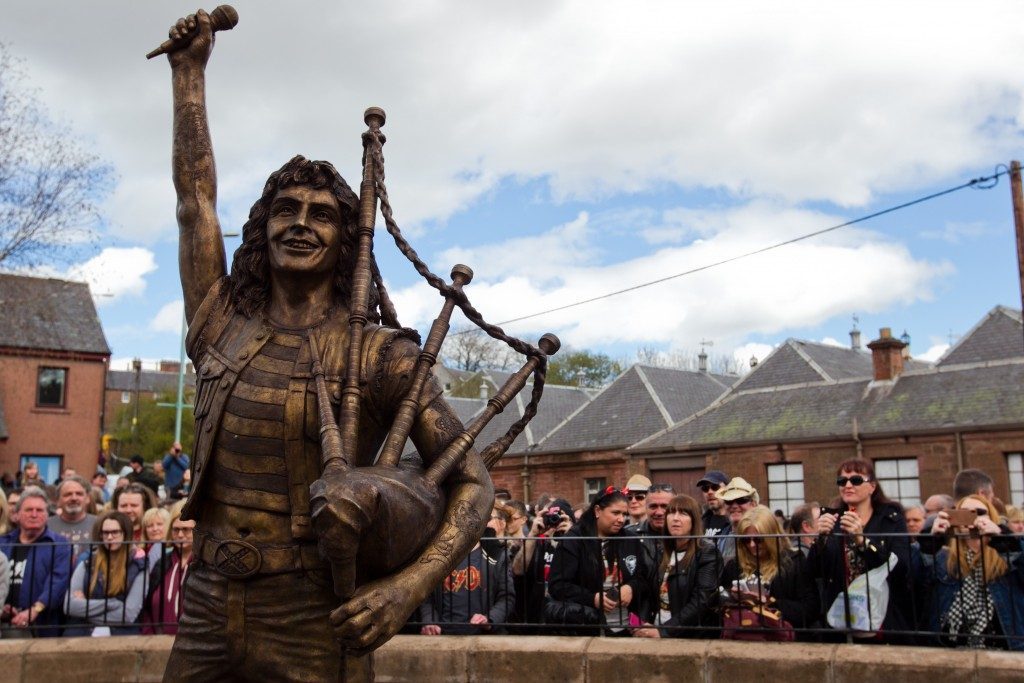 The star spent his early years in Kirriemuir, where father Charles Scott worked in the family bakery on Bank Street.
In 1952, when he was six, the family emigrated to Australia, where he later became part of one of music's biggest success stories after joining Glasgow-born brothers Angus and Malcolm Young in their band, AC/DC.
A life-sized statue of Bon Scott was unveiled in 2016 in Kirriemuir which also hosts an annual rock festival celebrating the life and music of the AC/DC legend.
Ben said: "I guess the saying is true that you may one day leave Scotland but Scotland shall never leave you.
"If I can speak for him just once, personally I think it's an honour that my dad would have truly treasured with all his heart.
"I'd like to thank each and every person who has ever been involved in this fun family oriented weekend of festivities."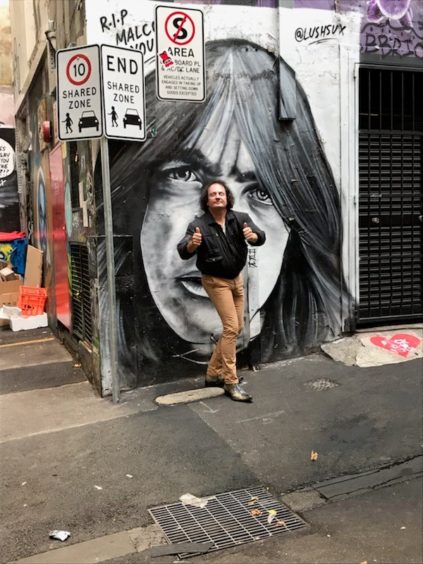 Ben, whose father died when he was seven, described the life-sized statue in Kirriemuir as "truly remarkable".
He said: "I guess my age prevented me from holding a serious conversation about the places he'd been.
"I've never left Australia and can't say I've any plans to go overseas although it's a nice thought to think about my dad's fans in Scotland."
The singer died after a night out in London in 1980. The official cause was listed on the death certificate as "acute alcohol poisoning" and classified as "death by misadventure".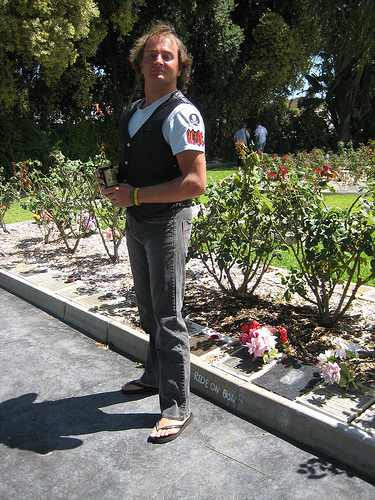 Ben said: "I don't think I ever really recovered from my dad's death.
"For months after he died I kept stopping by a record shop in Mordialloc asking if my dad was there even after my mum explained his death to me.
"I still expected him to surprise me and show up.
"It's a comfort to still have Bon's back catalogue, old stories and photos and videos around to remember him by.
"I'm still amazed by how powerful his band became and in 2008 when I decided to throw my hat in the ring to star in a movie about my dad there were 20 million articles in every language imaginable.
"I got to really experience that incredible power that AC/DC still has."
This year's 14th annual Bonfest takes place over the weekend of May 3-5.
Memories are made of this
Mr Scott's childhood memories with the AC/DC singer included spending time with Ozzy Osbourne and Gene Simmons from Kiss.
He said he grew up in the Melbourne suburb of Collingwood in a high rise complex which was a hot bed of low income families.
Mr Scott said they lived next door to the mother of Mark Brandon "Chopper" Read who was a notorious former criminal who enjoyed public adulation.
Read earned his reputation as a hard man first by ripping off drug dealers in Melbourne, then making his living kidnapping and torturing members of the criminal underworld
Mr Scott said Chopper's mum would often babysit him while his mother worked as a lift operator in a Melbourne hospital before they moved to a house in Mordialloc.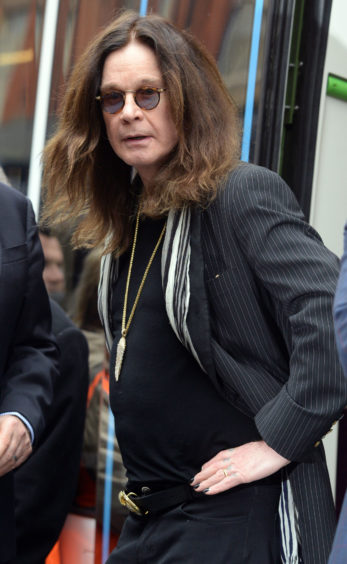 "That was when my dad started to visit me with his musician friends and he'd come to give me things for birthdays and Christmas," he said.
"The first big star I remember meeting was Ozzy Osbourne.
"My dad turned up at my house with Ozzy and he'd bought me this ride-on electric sports car.
"It took me just a minute to try and drive over a gutter and snap off the steering wheel and crash.
"It was something I've never forgotten.
"My dad ran over to help me and I remember Ozzy laughing out really loud and my dad laughing about the 600 bucks it cost him.
"Then my dad, Ozzy and me hopped into my dad's car and we drove to EMI's vinyl album manufacturing company in Braeside.
"It was here that Ozzy allowed me to place his new album into the secure vault so it could be reproduced for sale in Australia.
"Another big star he brought to my house was Gene Simmons from Kiss."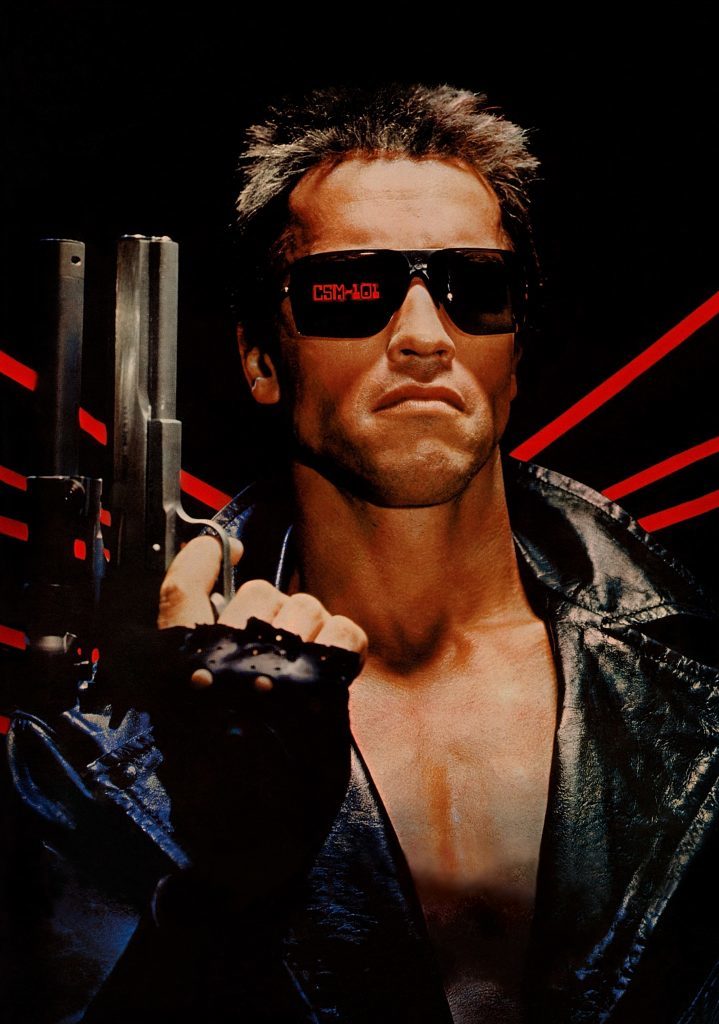 Mr Scott said he met Arnold Schwarzenegger as a result of a party punch-up involving his father.
"My dad took me to a party at George Young's (who co-produced AC/DC's early albums) house in South Melbourne where Bon rescued a young blonde girl from a drunk guy who was holding her hair and punching her.
"My dad ran in and punched him and then George Young and a bunch of guys came and grabbed the guy.
"Well that girl turned out to be Arnold Schwarzenegger's sister from his father's side of the family.
"After my dad's death I remained in contact with her and eventually she introduced me to Arnold Schwarzenegger – they were really warm friendly people."
Bonfest legacy
Infamous as a hard-living, headline-grabbing star of stage and studio, Scott commanded the adoration and attention of millions.
Bonfest, Kirriemuir's yearly tribute to Bon Scott and AC/DC, draws thousands of people from around the world for three days and two wild nights.
The three-day festival is one of the biggest events in the Angus calendar, and remains one of the mainstays for loyal fans of AC/DC in Europe and abroad.
The festival, which has been organised by DD8 Music since 2006, has come a long way since it started off in a Saturday afternoon slot with just a few local bands.
Bonfest has since grown into a global festival.
AC/DC members past and present including Mark Evans, Tony Currenti, Phil Rudd and Chris Slade have all since appeared in the Wee Red Town.
Rare archive material from the collection of superfan Neil McDonald is also on permanent display at the town's Gateway to the Glens museum which is popular with visitors.
Having followed the band since his teenage days, Mr McDonald has been sharing his extensive collection of AC/DC memorabilia with Bonfest fans for more than a decade.