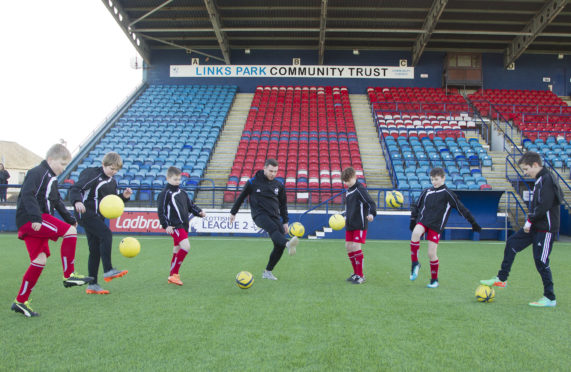 Montrose FC is battling some of the top names in European football for an award recognising its work off the pitch.
The community arm of the Angus club has been shortlisted alongside the likes of Juventus and Chelsea for a prize recognising its efforts with youngsters from local schools.
The European Football for Development Network (EFDN) will make the More Than Football Award at its 13th conference at Barcelona's famous Camp Nou on November 19 and 20.
The Montrose Community Trust, which works closely with the football club, is one of 10 to make the long list for the sought-after prize.
Trust chief executive Peter Davidson said each of the competing clubs were tackling social issues in their communities.
For a club such as Israel's Maccabi Tel Aviv that could mean addressing war, violence or refugees.
In Montrose, obesity and disengagement from mainstream education are among the issues at the forefront of its celebrated programmes for children in primary one to seven.
He said: "This nomination shows that we are among 10 of the best educational programmes in Europe.
"We use the football stadium as a large class room to support disengaged pupils for whom the traditional setting doesn't work.
"Love it or loathe it, there is no denying that football has a unique ability to reach, engage and influence people in a way like no other.
"Our project Tackling Education uses football as an alternative and somewhat appealing context in the delivery of educational programmes."
He said the club was working with primary one pupils to tackle obesity and stress the importance of a healthy diet. The project builds on the popularity of the book The Very Hungry Caterpillar, in which the insect eats a number of fruits before transforming into a butterfly.
"The great thing is they all know it by the time they get to us. So we say you've heard about the Very Hungry Caterpillar, but this is the Very Hungry Footballer," he said.
"The pupils follow a week in-the-life-of 'Mighty Mo' and support him in making his food choices so that he has suitable energy and enthusiasm to play well."
He said it was important the trust's work was seen as credible and the nomination allowed the Montrose team to mix with the other clubs and see how they benefited their communities.
"We are grateful for the club for letting us use their facilities to draw kids to our programmes," he added.