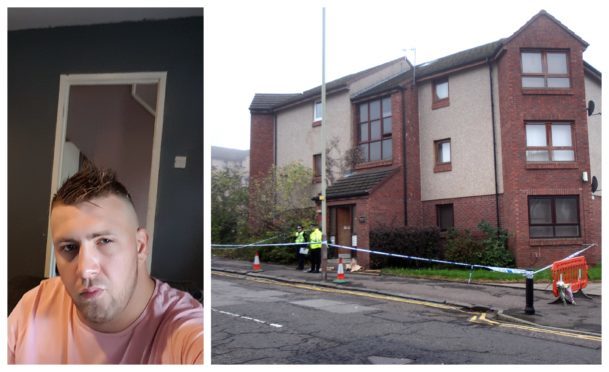 A man accused of killing a Dundee labourer after firing crossbows at him believed he had been secretly recorded in the shower and became "paranoid" following a night taking speed, a court has heard.
Charles Little denies killing Gordon Diduca after firing the weapon at him on September 24 2017.
Little, of Dundonald Court, is accused of firing a bow and arrows at Mr Diduca and others on a stairwell in Dundonald Court before striking Mr Adams with a knife and killing him.
On the first day of the murder trial, Glasgow High Court heard Little had spent the night before the alleged killing taking amphetamines with work colleague Dean Horridge.
Ian Ross, a former colleague at a gardening firm in the city, said Little told him the following day that he believed he was being recorded.
After visiting him at his home to pass on work documents, Little later sent him a "weird" text message at 9.52pm claiming the firm had recorded him in the shower.
The court heard employees at the company often joked about microphones and cameras being installed in the vans after location trackers were fitted.
The text, which was read out in court, said: "Be warned guys. All my fears have come true. Dean and I were filmed talking about very sensitive information.
"Also, I have been filmed w***ing in the shower. This is not a joke. If you know anything, let me know."
Mr Ross, who was often paired up with Little on gardening jobs,
said: "I was at a concert at the time when I received the text.
"I showed it to my partner and she laughed.
"I just thought he was joking."
He said Little had appeared "on edge" and paranoid in the earlier encounter.
He said: "He was rabbiting on. I thought he was drunk.
"He thought someone had been in his house and he said he heard voices.
"I said to him 'the windows are open, you'll be hearing people from the street'."
Mr Horridge, who spent the Saturday night before Mr Diduca's death playing computer games and taking speed with Little until 4.30am, said: "We had a really good night. It was the first time we had spent time together outside of work.
"We had arranged to do it again the following week."
When asked by Mark Stewart QC if he remembered Little mentioning any fears that he was being spied on, he said: "Charlie started to say some stuff about cameras in the work vans.
"I told him not to be daft and that it would be illegal."
The trial, presided over by Lord Matthews, continues on Tuesday.