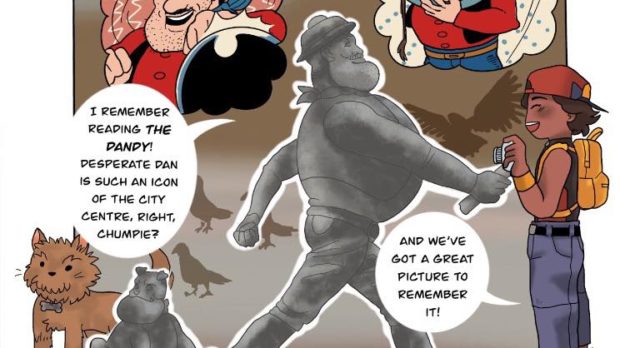 A Dundee University graduate who created a digital comic about the city's landmarks has had her work published by the V&A.
Amy Galloway, 24, from Glenrothes, completed her Masters in comics and graphic novels at Duncan of Jordanstone College of Art and Design.
She is one of a number of Dundee students who have had their creations published across the V&A's digital channels as part of a web-comics series.
Amy took her inspiration from the city's rich history and created Journ-ee: A Day Exploring Dundee, a  story involving her dog Chumpie, who is taken on adventures around the city.
It includes various elements inspired by video games, based on the V&A's previous exhibition, Videogames: Design/Play/Disrupt.
Amy said: "Digital comics weren't something I'd ever thought about before – it is quite a different process.
"We were quite a diverse class so some people used traditional materials and some used software from the get-go.
"You have to make it accessible."
Amy's comic takes readers on a tour around Dundee's famous landmarks including the Law and the Desperate Dan statue.
She said she hoped to make her comic  enjoyable to a wide audience who can share in her appreciation of the combination of modern videogame elements and historical landmarks.
She added: "I moved to Dundee in about 2013 so most of my first couple of years was just going around and seeing everything.
"A lot of people in the class had never been to Dundee before so they got to see things for the first time."
Amy who writes and illustrates her comics, is now hoping to break into the industry.
She is working on the second issue of a wrestling comic she created while completing her Masters and said the exposure from the V&A would be a huge boost to her ambitions.
Amy said: "Dundee is pretty much the comics capital of the world but there is a still a lot people don't know about.
"The exposure from the V&A is really good, people can see there is more to Dundee than just The Beano and The Dandy."
Russell Dornan, V&A Dundee digital content editor, said the idea behind the project had been to showcase comics by young artists and designers.
He added: "We were looking for bold storytelling and dynamic comic strips on a diverse range of subjects and styles.
"We worked with Phil Vaughan and Chris Murray who set their Masters in Comics and Graphic Novels students the task of producing webcomics for us that we can gradually release over 12 months.
"We met regularly with the students, briefed them, heard their ideas and fed back at various stages before signing off and selecting the final pieces.
"Now we have a variety of beautiful, weird and sometimes challenging webcomics lined up to publish weekly."