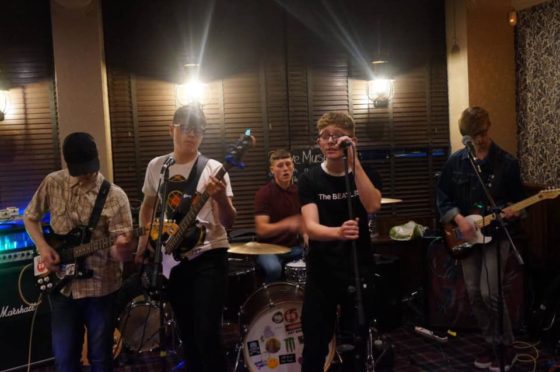 A teenage rock band who won a competition to perform at Dundee's first outdoor Hogmanay party in two decades have been told they will have to play earlier in the day – because they are too young for the event's new nightclub venue.
City five-piece the Harmonix won a popular vote to earn their spot at It's Happening Dundee Hogmanay 2019.
However, they have now been told they will take to the stage at 3pm because all of the band members are under 18.
Organisers of the event confirmed earlier this month that plans to hold the party in City Square had been scrapped and proceedings will now instead take place indoors at Fat Sams on South Ward Road.
The move prompted outrage from some families as it means under-18s will have to leave the venue by 11pm, an hour before the bells. The change would also mean the Harmonix would have been forced to leave before the party is over.
'It defeats the purpose': Under-18s to be booted from Dundee Hogmanay party before midnight
Organiser GMC Ventures has now confirmed the band will perform at the daytime event at Fat Sams, while the competition's runner up Demi Mcmahon – who is also from Dundee – will open the evening's entertainment at around 7pm.
After being challenged over the decision by partygoers on Facebook, GMC rebuffed suggestions The Harmonix should be playing at the evening event instead.
A spokesperson said: "The band are under 18 so couldn't stay for the rest of the show. Playing at 7.15pm when people are arriving also won't be as busy as the daytime show.
"Plus fans won't have to buy tickets to come and see them, they can see them for free. It's definitely a better slot – no question."
The It's Happening event was set to be Dundee's first Hogmanay street party since 1999 and the downscaling has caused some public disappointment.
It will feature performances from Kyle Falconer, singer-songwriter Eddi Reader, rock pipe band Gleadhraich and Sinderins. A second date scheduled for December 30 had to be cut due to sluggish sales.
Despite the earlier slot, Harmonix guitarist Jack Guyan said the band – who only formed at the end of July – hope to make the most of the opportunity.
He said: "It's really exciting. Fat Sams is one of the biggest venues in Dundee and has been for a long time. The fact it's sold out is pretty mental.
"This is probably the biggest gig yet for us, it will definitely top our last one in terms of venue and size but we'll need to wait and see how it goes."
The Harmonix are hoping for a great atmosphere on the day and have been sending links to friends and family to scoop up the last remaining tickets.
"I don't think it was a bad decision moving it to Fat Sams – it can be really difficult to get licenses for City Square," Jack said.
"It was a bit confusing at the beginning because we didn't know when we would be playing but the fact it's during the day means we can have all our friends there."