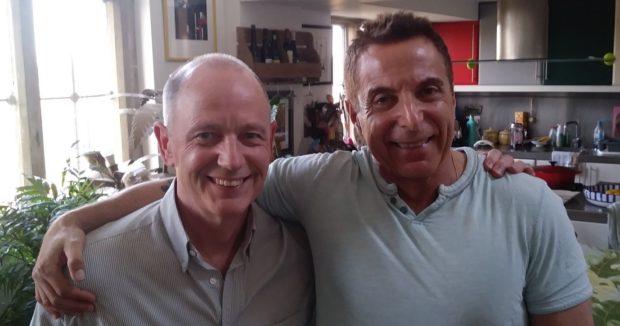 A Tayside musician has spoke of the "eye-opening" experience of teaming up with a Grammy and Oscar-nominated songwriter for his upcoming album.
Tom C Cleary, from Newport, has enlisted the help of Jud Friedman to co-write the song titled Gettin' By.
Mr Friedman is a six-time Oscar, Grammy and Golden Globe nominated songwriter and producer who has worked with some of the world's biggest music artists, such as Whitney Houston, Rod Stewart and Ray Charles.
He received an Academy Award nomination for Best Original Song in 1993 for Whitney Houston's song Run To You from The Bodyguard film.
Mr Cleary, who is a well-known figure in Dundee's music scene and regularly records at Seagate Studios, said getting Friedman to work on the track was a huge moment in his career.
He said: "I met him in London at one of his writing workshops and played him some of my music and he was impressed.
"I came back and kept working away and then before Christmas I sent him one of my songs and we started to discuss it and he ended up co-writing it.
"It was an incredible opportunity working with Jud and it was an eye-opening experience for me because his musical knowledge is endless.
"He has worked with some of the biggest names in music, so for me to work with him for my song, is unbelievable.
"He is so professional to work with and he keeps encouraging you to push yourself further."
The song, titled Getting' By, will be released as part of Mr Cleary's upcoming album which is expected to be released in April.
He has already released six studio albums, working with a range of artists across the city.
Mr Cleary's live career was curtailed when he developed repetitive strain and arthritis in his fingers but being able to continue making music in the city's recording studio has restored Mr Cleary's passion for music.
He said: "I used to gig across Dundee for many years but I had to give up performing in public when I was diagnosed with repetitive strain and arthritis in my fingers.
"Doctors told me if I continued gigging I would make it worse and wouldn't be able to play at all.
"But I prefer to work in the studio. I have had the chance to work with some of Dundee's best musicians over the years because of it."