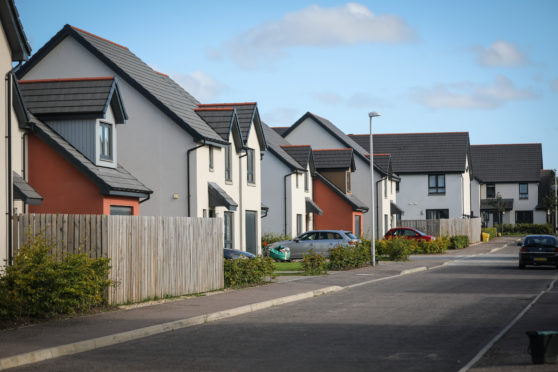 Dundee City Council could be forced to refund homeowners millions if plans for a new local primary school are not approved by 2025, it has been revealed.
The local authority has informed Western Gateway residents that it cannot justify building a school in the area yet because it estimates there are only 58 primary-aged children currently living there.
It has so far refused to give any clear commitment or timescale for when one will be built, much to the anger of those who bought homes and stumped up £4,680 each in "roof tax".
The tax was registered in 2015 by the council in planning documents for the new Western Gateway development in and around Dykes of Gray and was given a 10-year lifespan.
So far around £600,000 has been paid by residents but this will rise rapidly as homes are completed and purchased in the coming years.
There are currently 478 residential properties within the area but the council's own projections estimate there could be up to 1,113 houses by 2025.
If all properties are sold by May of that year, over £5 million will have been paid into the council's fund while an estimated 287 primary-aged children will live in the development.
Executive director of children and families services Paul Clancy has predicted it would take a minimum of two and a half years to design and build the school.
On top of the education tax, the first 230 homes in the development are also required to contribute around £5,000 each to upgrading Dykes of Gray Road.
Residents have also complained about a lack of community facilities and lighting on pathways as well as Springfield Property's lack of action on upgrading the heavily-used Swallow Roundabout.
Bill Batchelor, chair of the Western Gateway Community, said: "We are contributing so much to the council's coffers but we are getting sod all in return.
"We've paid money for a school, we've paid money for roads and other infrastructure and we pay council tax every month.
"Just about the only thing we get for that here is our bins collected.
"It's extremely frustrating and it's such a pity because the area is a great concept.
"By 2025 there's going to be over 1000 properties and that means if they are sold, they'll have netted £5 million from everyone.
"I don't think many people currently here would want the money back. Most would rather see a school finally built as promised."
The issue was exacerbated when plans to create a new tri-school serving children between the ages of two and 18 living in the border areas of Perth & Kinross, Angus and Dundee collapsed last year.
Currently, the council is offering children in the Western Gateway a place at Ardler Primary School — over 4 miles away.
The only other option for parents is to apply for a place at schools in neighbouring authorities such as Liff Primary in Angus, however, many are being told there is no available space there.
Council leader John Alexander has previously spoken of his frustration at the collapse of the tri-school plan and said he still believes it to be the best solution.
The council will return with another report for options for primary provision for the area soon after SNP councillors were outvoted in the children and families services committee last week.
A spokesperson for the council confirmed the contributions would have to be repaid if no application is approved by June 2025.
The area currently consists of 244 properties at the Springfield and Persimmon developments at Dykes of Gray and 19 elsewhere in the Western Gateway.