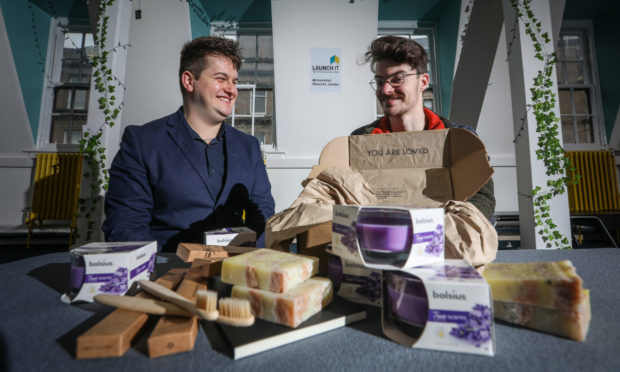 Young people leaving care in Dundee will be given "care boxes" to help to prepare them for a world outside foster homes and residential units.
The new leaver's box will contain a candle, hand-made soap, a bamboo toothbrush and a lip balm, all wrapped in a comforting throw.
It is based on the Scottish Government's successful baby box scheme and is the brainchild of Julian Thomson, who was adopted himself, and knows how much the little things matter when preparing for a change as big as leaving care.
"Some people can leave with nothing apart from a black bag and their social work file.  I wanted to give people something to help them take pride in themselves," he said.
The 27-year-old is working with sustainable skincare company Isla Rosa on 150 boxes for care leavers in Dundee, supported by a £3,000 from the city's Common Good Fund and £300 from charity Carolina House Trust.
A similar idea, Shannon's Box, helps those entering care settings in Ayrshire.
"No one has thought about the transition of leaving care," Julian said.
"Think about when you go for a job interview. There will be certain things you do to make yourself feel good. Maybe it is going to bed early or putting on your best clothes.
"The box is full of things to help care leavers boost their self-esteem."
There are around 1,000 looked after children in Tayside, 592 of them in Dundee, according to the Tayside Plan for Children, Young People and Families 2017 to 2020.
The 150 boxes will go to young people in the city leaving care in the next two years.
Julian and his business partners hope the project will gather traction from there and could go on to become as successful as the government-run baby boxes project.
He said the idea came from his own experience with the care system. He lived in Dundee until the age of seven before being adopted by a family in the borders.
He returned to the city to study after travelling and living in Edinburgh.
"I came back to face my past and make my peace with that," he said.
"It seemed like nothing had changed. I could see the same social problems, the same poverty, as before.
"I decided the best way to help, for me personally as well, was to become part of the solution."
The project has already won the backing of First Minister Nicola Sturgeon, who tweeted that it was a great initiative for young people leaving care.
Charity seeks lodgings for care-experienced young people
A leading charity is looking for supported lodgings carers to provide a "stepping stone" for young people from care backgrounds looking to move on to living in their own homes.
Supported lodgings carers provide guidance and support while young people learn independent living skills such as managing money, cooking, housework and regularly attending work or education.
Charity Carolina House Trust is recruiting supported lodgings carers in Dundee.
A charity spokeswoman said they have many more referrals made to them for supported lodgings than they have carers.
"Being a supported lodgings carer is different from a foster carer in that the carers can still work in other employment and the young person is expected to contribute a small amount to household expenses," she added.
Supported lodgings carers must be over the age of 21 and have a spare bedroom.
Applicants are assessed and provided with training as part of an approval process.
"This ensures the individual is confident in their decision to be a supported lodgings carer and the charity can be certain that they can offer a nurturing and positive home environment for young people," the spokeswoman added.
Natalie Johnston, care experienced young people coordinator, said: "Supported lodgings offer a supported stepping stone between leaving care and independent living."