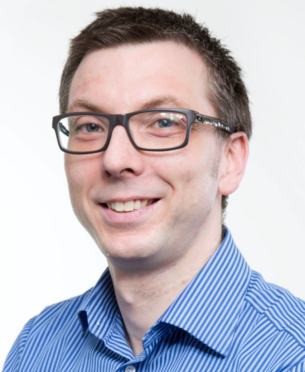 Many of Tayside's sickest coronavirus patients are starting to recover as NHS staff adapt to "busy" wards, according to a Ninewells doctor.
Dr Tom Fardon, a respiratory consultant on the Covid-19 ward at Ninewells Hospital, said frontline staff are able to recognise the virus before a test comes back.
This early recognition allows doctors to prepare for the patient's condition to escalate in advance, which is why so many patients are on the road to recovery.
In the last month, Ninewells has more than doubled the number of intensive care beds and have developed a separate high-dependency unit for coronavirus patients, with beds on the unit set to double this weekend.
Dr Fardon said: "The workload was initially small, but over the past week we're seeing a lot more patients with suspected Covid, confirmed Covid, and sadly, severe Covid lung disease.
"The good news is that we are now starting to see our sickest patients recover from the disease as they come back from ICU and are discharged home.
"We now have a really good sense of what symptoms patients with Covid disease present to the hospital with.
"We are much quicker at assessing people, we can make the diagnosis much more rapidly thanks to our amazing lab staff, and we recognise signs of deteriorating much sooner."
A key development in the research is the discovery of anosmia – the loss of sense of smell – in symptomatic patients.
Dr Fardon urged patients experiencing the symptom to isolate. He said: "Speaking to my colleagues in ENT (ear, nose and throat) and in primary care, it's not uncommon for viruses that affect the upper respiratory tract to cause anosmia.
""This coronavirus seems to commonly cause anosmia, so it's something to look out for. Some people have very few symptoms, and put them down to 'a cold' or just being run down."
As countries around the world share their stories, specialists at NHS Tayside have been looking for patterns in Dundee.
Like in Italy and Spain, a trend has emerged where older patients may faint, although Dr Fardon said there is no evidence of why this happens.
He said: "We wonder if there might be some effect of the virus on nerves that control blood pressure, but at the moment we have no proof of exactly what causes these episodes.
"A large number of people who do contract the virus will have very few symptoms at all. It's very likely that you will have what some patients have described to me as a 'bad cold'.
"Around 15% of people who have the virus will need to go to hospital, and less than 5% will be seriously unwell."