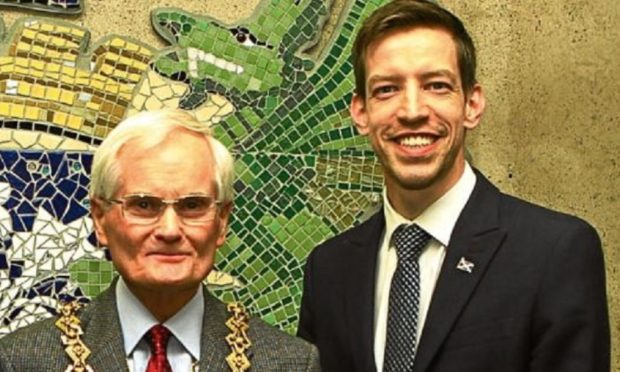 Dundee's city leaders have joined in a message for support for everyone dealing with the pandemic ahead of the latest doorstep show of support for those on the frontline.
Lord Provost Ian Borthwick said: "Coronavirus has changed lives all over the world, stretching our communities like never before, and it will take all our strength and resilience to get through these unprecedented times. But we will get through it.
"On behalf of the city, I would like to offer my deepest condolences to those who have lost loved ones, and I would also pass on my best wishes to all those affected by this virus.
"I like many people across the city will join the nationwide applause to thank those working incredibly hard under difficult circumstances.
"Not only in Dundee, but up and down the country everyone from doctors, nurses and carers to refuse collectors, school staff and cleaners, and a huge range of other essential public and private sector workers, are all carrying out hugely important roles and I wish to thank them all."
The Strathmartine ward Independent added: "Everyone must be united in fighting this virus. If you are not an essential worker or have health reasons to stay at home, by simply staying indoors and following government advice, you are playing your part."
Council leader John Alexander added: "Across the city it has been amazing to see how we are all pulling together. I would like to thank our doctors, nurses and other NHS colleagues for the fantastic work they are doing.
"They have been joined by an army of volunteers in the city who have selflessly offered to provide vital support. Thank you to everyone who is volunteering and giving their time to support the citizens of Dundee.
"We all have a part to play and it has been incredibly heartening to see people come together for the greater good," said the Strathmartine SNP councillor.
"Across the council, many of our staff have been deployed into different roles and we've seen them carrying out key functions – working in care homes, delivering meals, and looking after young people.
"We are continuing to empty the bins, lifeline benefits and business supports are still being paid, homeless people are still being supported and care is continuing to be delivered to some of our most vulnerable citizens – to give just a few examples of the key work that is going on.
"Many people have been in touch offer their thanks to our dedicated workforce and I would like to share one of many messages received:
"I just wish to say a big thank you to all workers trying to keep our city up and running and in touch with latest developments.
"I would like to say a final thank you to everybody who is working in the city, whether that is the front line or in their own homes.
"They have been doing amazing public service and I want to thank them for their dedication and commitment."