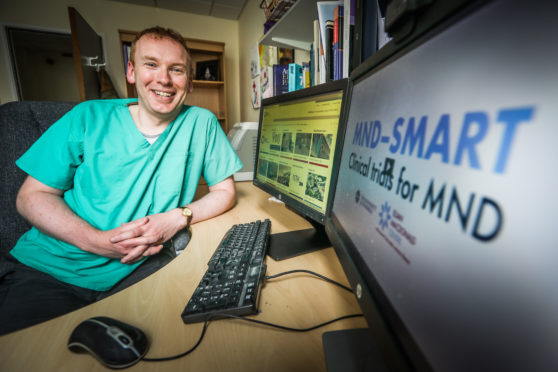 A ground-breaking trial into motor neurone disease (MND) will be launched in Tayside on Wednesday.
The clinical trial will test multiple drugs at the same time to find medicines to slow, stop or reverse the progression of the muscle-wasting illness.
Current drugs which have been tested previously but not fully examined, will be re-tested on MND patients and rapidly progressed if found to be effective.
The MND-SMART trial, described as the "biggest and most important development" in the last two decades ,was launched in Edinburgh in March.
It will be rolled out in Tayside , only the second place in the UK to offer the trial, after being delayed due to coronavirus.
Dr Ian Morrison, consultant neurologist and lead for MND in Tayside, said: "The beauty of the trial's design is if we find out one of the drugs isn't working we'll move on to another one.
"We have a whole raft of potential treatments and we can quickly move through them until we get one that works.
"If we do get one that works we can move it on to a phase three trial which means hopefully getting it into clinical use very quickly.
"This whole approach is a very different way of looking at things so it's very fast moving and very exciting.
"Personally I think this is the biggest and most important development in MND clinical research of the last 20 years."
Recruitment for trial participants has begun and it is open to patients across Tayside.
Those who have already registered online interest in the trial will be contacted by the team over the coming months to discuss taking part.
The trial team, made up of NHS Tayside, Dundee University and the Euan MacDonald Centre for MND Research at the University of Edinburgh, will focus on two drugs, with a third placebo group.
They will test memantine,  a drug already used to treat Alzheimer's disease, which is hoped will improve mobility, as well as trazodone, currently used to treat anxiety and depression.
Animal studies have shown trazodone can stop nerve cells from dying, which may delay the progression of MND.
If successful, it is hoped the trial will improve quality of life for patients and extend the current life expectancy of around 18 to 20 months after diagnosis.
MND-SMART is funded by the Euan MacDonald Centre, substantial private donations, MND Scotland and the My Name'5 Doddie Foundation.
The My Name'5 Doddie Foundation, founded by rugby legend Doddie Weir, has been supporting researchers make sure patients' needs are at the forefront and has given advice around issues like providing medication in liquid form, as patients often struggle to swallow pills.
Dr Morrison added: "I am delighted that Tayside is now the second centre in the UK to recruit patients into this groundbreaking trial.
"MND is a devastating diagnosis to receive and our current treatments have only limited benefit. The MND-SMART trial now offers a real opportunity to assess alternative drugs which may greatly benefit people living with this condition."
For more information about the trial, please visit www.MND-SMART.org