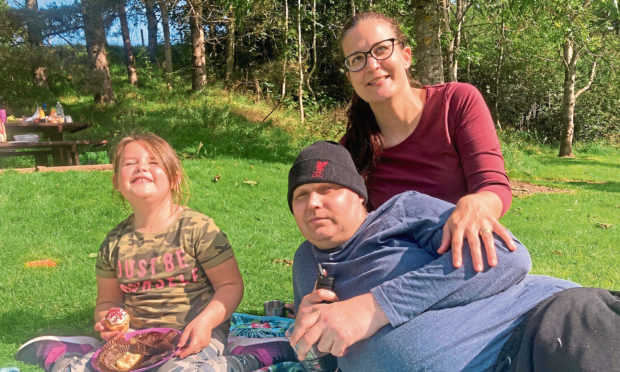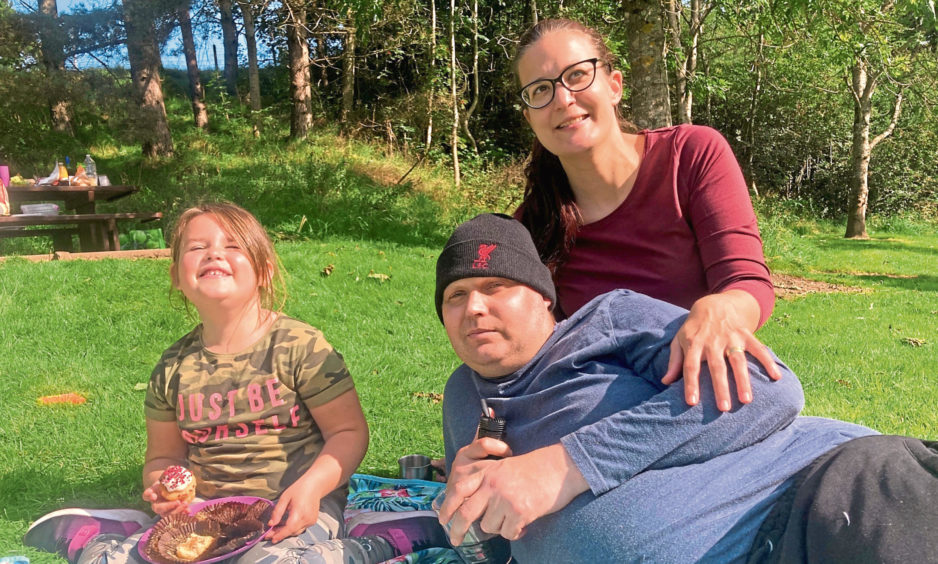 The wife of a man given six months to live after cancer treatment was delayed during the pandemic's height has spoken of her anger over the decision to call off the procedure.
In 2018, Neil Matheson, 36, was diagnosed with glioblastoma multiforme, an aggressive cancer that begins in the brain, after an optician spotted an abnormality and sent him to hospital.
He went through one course of chemotherapy and medics wanted to try a different variety but was told earlier in the year the treatment was on hold because of Covid-19.
The tumour grew and after the delayed chemotherapy was unsuccessful in August Neil was told he had six months to live.
The Courier reported earlier this month the family are fundraising £20,000 to pay for private care at a clinic in London, which Neil has recently started.
Wife Emoke is furious about the wait, which could have bought Neil valuable time.
"Cancer does not wait. I am so angry at the decision to delay the treatment. If you give cancer time, it will grow.
"They just left him without treatment for six months, and then afterwards tell us he has the most aggressive cancer.
"I understand calling off non-urgent treatments while hospitals prepare and deal with coronavirus, but you can't do that with cancer.
"If we didn't have the delay, we would have found out earlier that the chemotherapy wouldn't work and then we could have tried the private clinic earlier."
Neil started new medications about a week ago but it will take a few weeks before their efficacy can be judged. Since then he has also suffered a stroke.
Emoke said: "He was fine for a while, but on Friday he said he was feeling dizzy in the kitchen and fell. I'm heartbroken."
The family moved to Dundee from London in 2015 shortly after the birth of daughter Isabelle.
Emoke, originally from Hungary, said they have been stunned by those who have donated to their GoFundMe page.
"I don't like asking for help, I love being the person who is helping others.
"My mother did a bake sale in Hungary and raised £3,300 for Neil's treatment.
"That was amazing, especially when you consider the minimum wage there is about half what it is here."
One of the hardest things Emoke has to deal with is staying strong for their daughter.
She added: "Isabelle talks about the monster in daddy's head and that she misses him and wishes he had no pain at all.
"I am trying to stay strong for her but also be honest with her."
She added: "Neil made sure he could walk her to school on her first day.
"And earlier in October for our anniversary, he made sure he got up and made me a coffee first thing in the morning like he used to and told me he is getting tired but he is going to keep fighting for me. I was very emotional.
"When we both had full-time jobs and started to talk about saving for to buy a house, I thought would have such a wonderful future, then a couple of months later this cancer came and destroyed everything."
A Scottish Government spokeswoman said: "Being diagnosed with cancer is devastating for all those affected, and we are committed to supporting and continually improving patient care.
"We have always been clear that urgent cancer care should continue throughout the Covid-19 pandemic. While we cannot comment on individual cases, any individual plans that require changes will always be done on a clinical basis and will be in discussion with the patient and clinical team."