As final preparations are made to celebrate the 50th anniversary of the Tay Road Bridge, Michael Alexander speaks to some of those who were involved in its construction and opening.
On Thursday August 18 it will be exactly 50 years since the Tay Road Bridge was officially opened by the Queen Mother.
Bridge staff will sound the foghorn at 12.30pm to mark the exact moment the royal VIP officially opened the bridge half a century ago. Bunting and flags will be on display if the winds are below 35mph.
Commemorations will continue next Sunday August 21 with free events centred upon Dundee's Slessor Gardens, as well as Newport and Tayport which were inextricably linked with the three-year project to construct the bridge.
Highlights that day will include vintage car and motorbike processions, vintage bus trips, and pipe bands.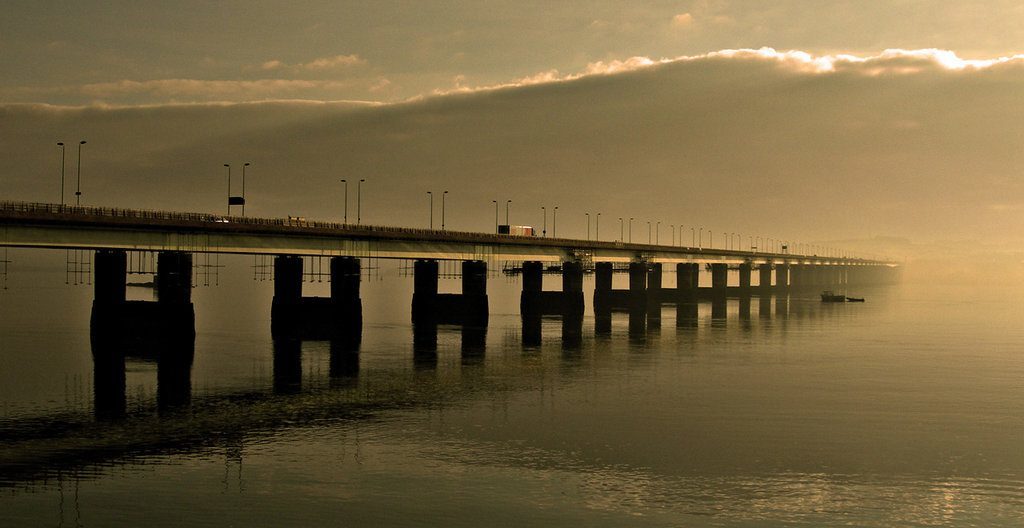 When the 1.5 mile long (2,250 metre) crossing opened on August 18 1966, at a cost of £4.8 million, its design by Glasgow-based William A. Fairhurst was at the cutting edge of 1960s civil engineering.
In purely practical terms the 42 columns supporting parallel box girders and a carriageway linked the centre of Dundee with Fife.
But whilst largely taken for granted nowadays, the bridge was far more than just a new section of the national road network. The Tay crossing brought a social and economic revolution to Dundee and north Fife, opening up communities to business and tourism and also making it easier for Fifers to commute.
Sounding the death knell for the Fifies – the ferries which sailed between Newport and Dundee – the bridge carried 70,000 vehicles that first weekend, averaging out at 6000 vehicles per day thereafter. That compares with 27,000 per day as today.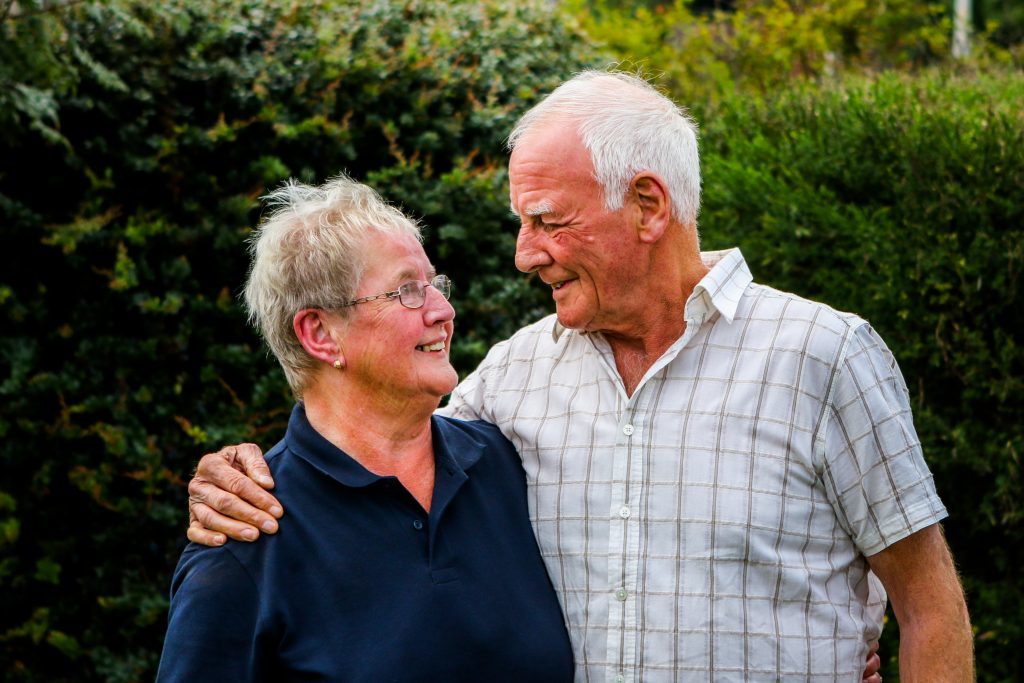 Monifieth man Ernest McIntosh, and his wife Blanche, both 76, are particularly grateful because it's thanks to the bridge that they met.
Ernest, born a triplet in Beauly, Inverness-shire, worked for two years as a plant mechanic – repairing machinery used in the construction such as motors, engines and cranes.
The former Highland hydro scheme worker was employed by the bridge's main contractor Duncan Logan (Contractors) Ltd of Muir of Ord.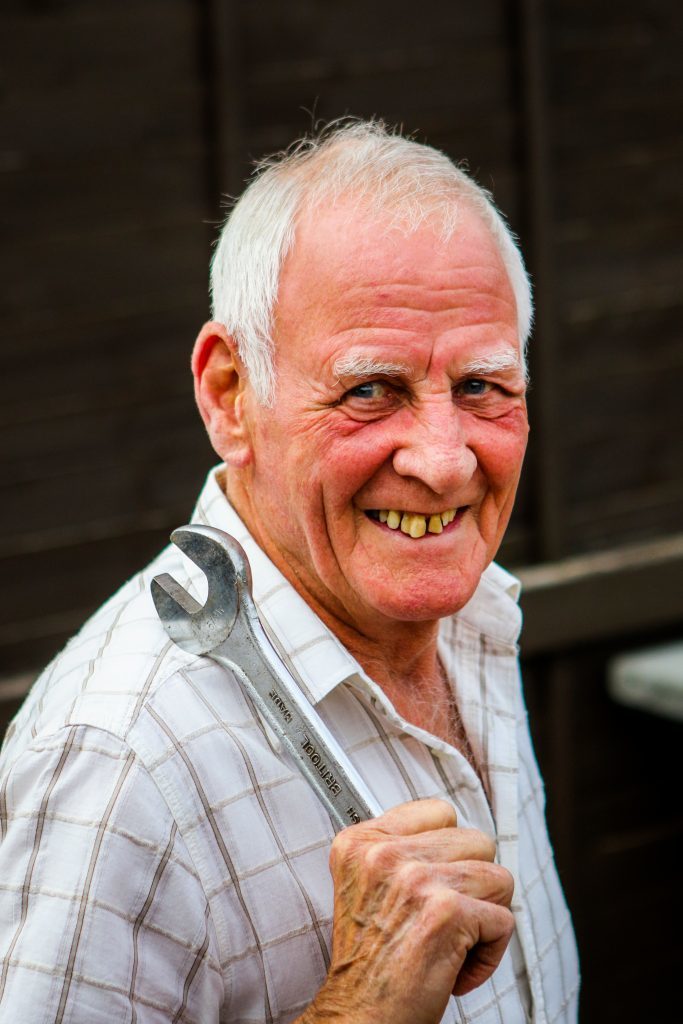 He was persuaded to move to Dundee in 1964, inspired by his brother Alasdair who had worked on the bridge as a welder since work began in 1963.
Working alongside 300 other construction staff, Ernest shared a caravan at Dundee docks with two electricians and a welder.  But home comforts were scant.
"It was a bit wild!" he laughs. "We worked hard, played hard. The first thing that was on the table every Friday night was a bottle of whisky!. The whisky kept the chill away!"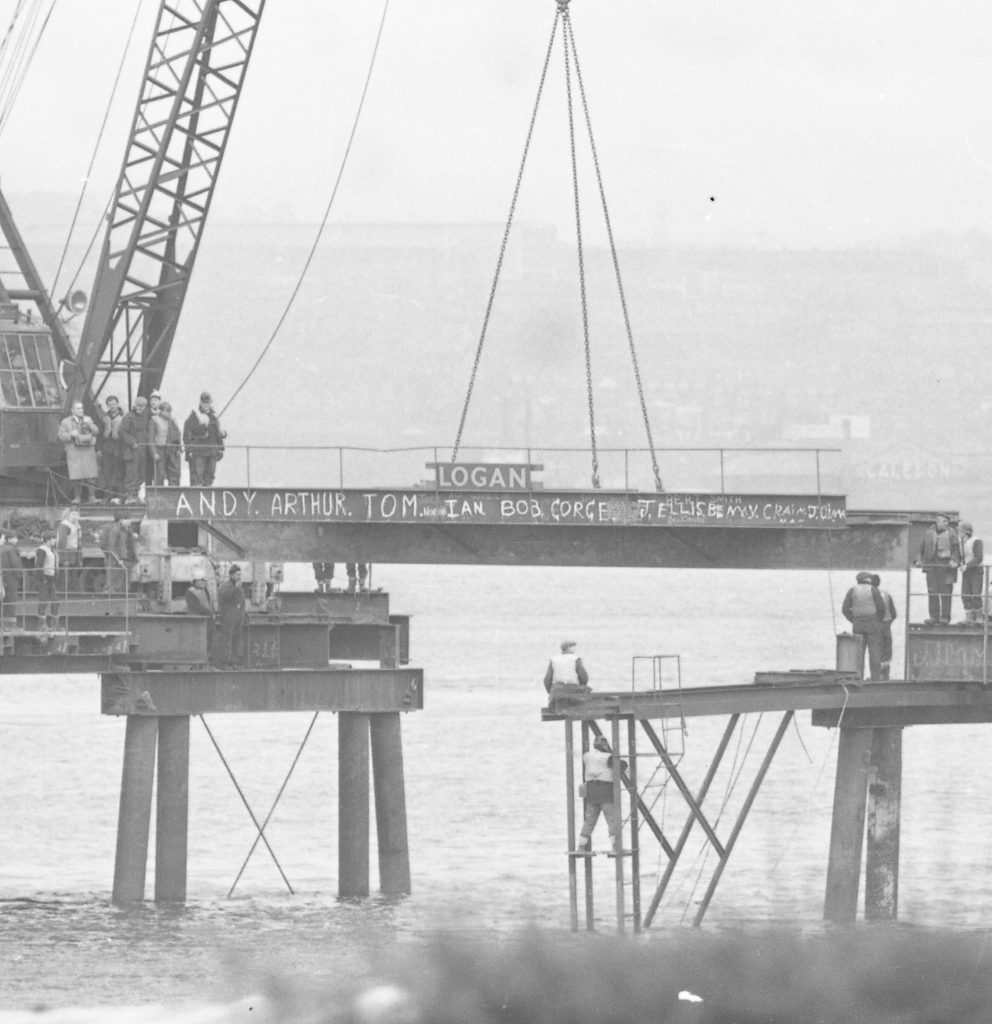 With no running water, Ernest and his workmates washed at the former Dundee swimming baths before going out "on the pull" at weekends. It was one such night that he met his wife-to-be Blanche at the Craigtay Hotel on Broughty Ferry Road. Devoid of an orthodox chat-up line, he followed his sweetheart into the ladies' toilets because he "fancied the back of her head". "Apparently I had nice hair!" laughs Blanche. He asked her for a dance and the rest is history – they will celebrate their 50th wedding anniversary on October 29.
Another date which sticks in Ernest's mind, however is February 8 1965 – the day he saved the life of fellow bridge worker Ian Cameron who slipped on ice and fell into the freezing river.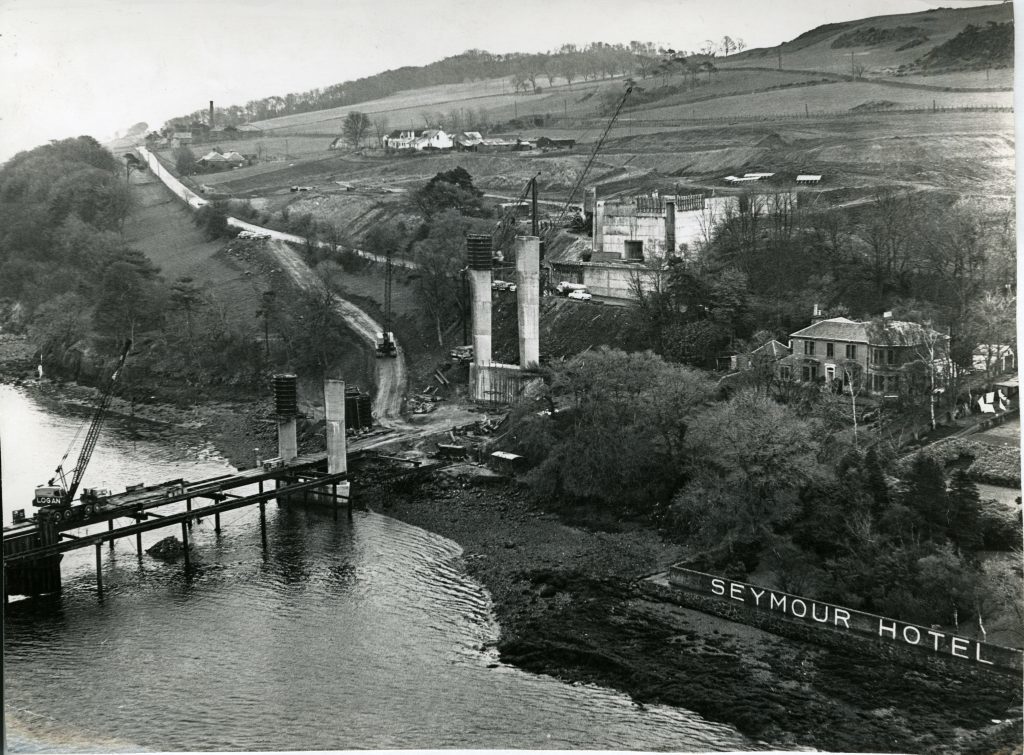 "I was working on this crane and we heard this shout 'there's someone in the water'," he recalls. "I had taken my life jacket off to work in the crane because it was too narrow. People were hesitating what to do.
"I just jumped in and held him until the boat that patrolled the bridge came and picked us up."
Blanche, who used to knit her then fiancé balaclavas to stay warm, laughs when she recalls how annoyed she was when his new cord trousers got wet and shrunk.
For Ernest, however, there were to be further consequences.
"So I'm still in the water holding the guy up, and the boss, Robert Taylor, points at me from the top of the walkway and says 'My office after you get dried out – you didn't have a life jacket on!'.
Ernest laughs when he thinks back. The young man he saved was most grateful and even invited the couple to his wedding as a thank you.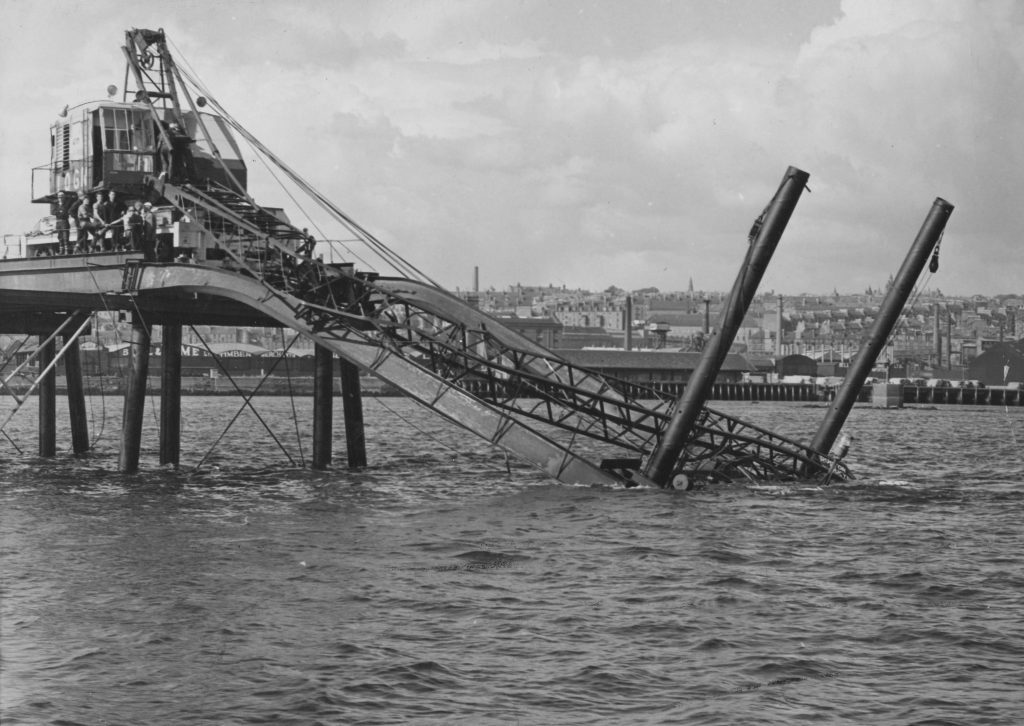 But others weren't so lucky. During the entire bridge construction project, six were killed in all – including three whose bodies were never recovered after a crane collapsed in November 1965.
Ernest's dedication was rewarded on bridge opening day when he  was tasked with driving Mrs Logan – the wife of main bridge contractor William Logan –  in a red Mercedes from the old Angus Hotel to the docks.
"I took her down there but we were soon shuffled aside once I parked the Merc and the Queen Mother arrived," smiles Ernest, who went on to work overseas on oil rigs for 25 years.
Ernest didn't manage to drive on to the bridge until a few days later.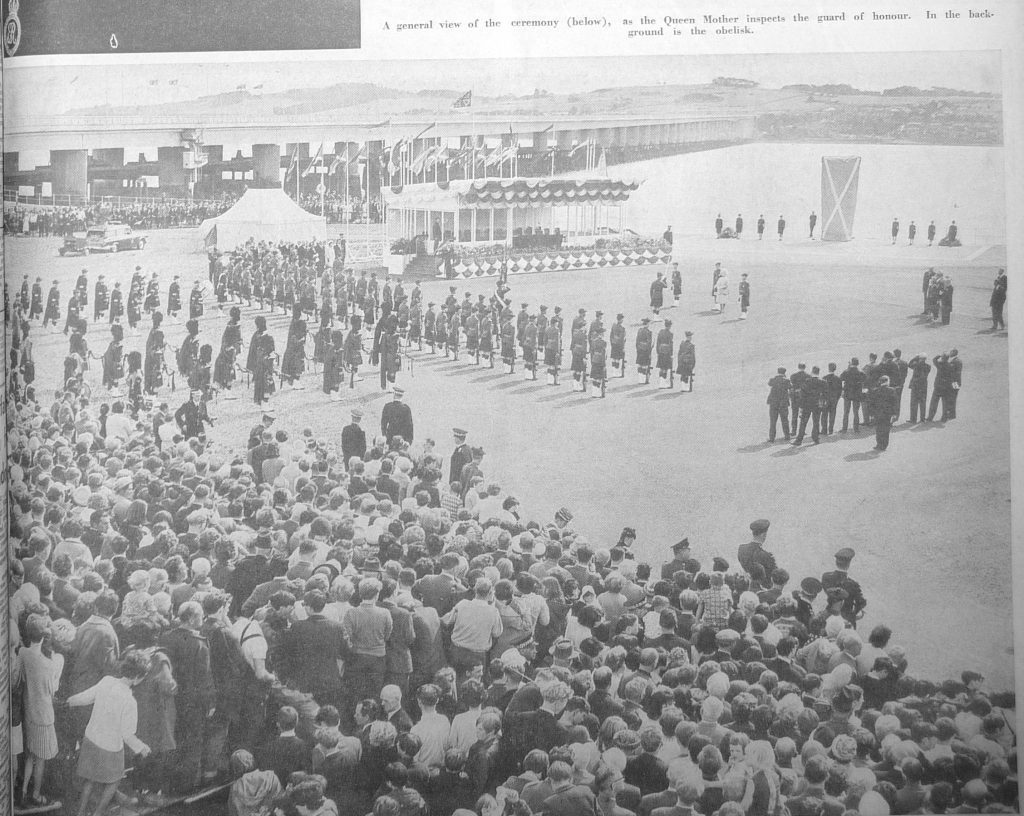 It was Logan's general foreman Willie Ingram who had driven the first car – a 3-litre Rover – on to the bridge on April 15 1966 – four months before completion.
But it was a Dundee student who made history by becoming the first private car driver to cross the bridge from Dundee to Fife after the official opening on August 18 – and he did it with his 1957 Morris Minor 1000  proudly flying the Welsh Dragon, which prompted mock protests from several bystanders.
Hugh Pincott, now aged 74, of Plymouth, was a student at Queen's College, Dundee, from 1960 to 1967 reading chemistry .
While a student, he was recruited by the then Courier editor to be a lineage man and photographer, reporting mainly on college affairs.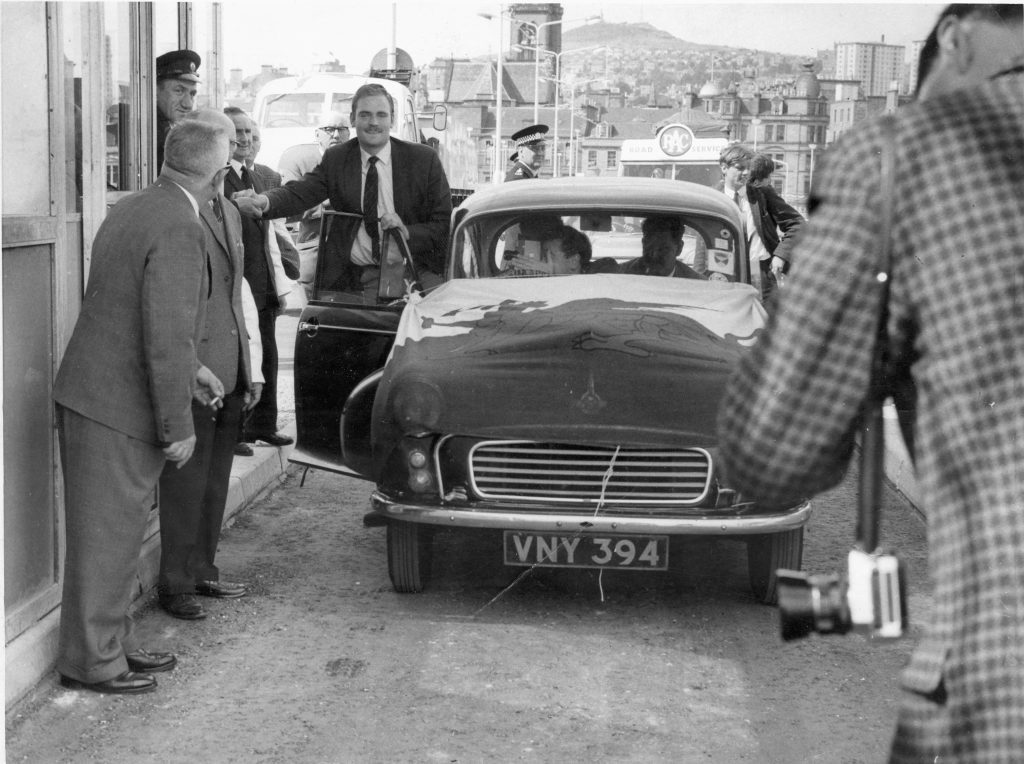 It was during this period that he took it upon himself to be the first across – although he kept his mission quiet from friends in case he failed.
After careful preparation and more than 28 hours before the bridge was due to open, he loaded his car with provisions and parked up in East Dock Street to wait out the long day and night ahead.
He was eventually told to move on by police, only for a sympathetic officer to later ensure he found himself at the front of the queue which officially formed up from 7pm that night.
After sleeping in his car, Hugh couldn't see around the corner to the lines of dignitaries, massed bands and thronging crowds awaited the arrival of the Queen Mother to perform the opening ceremony.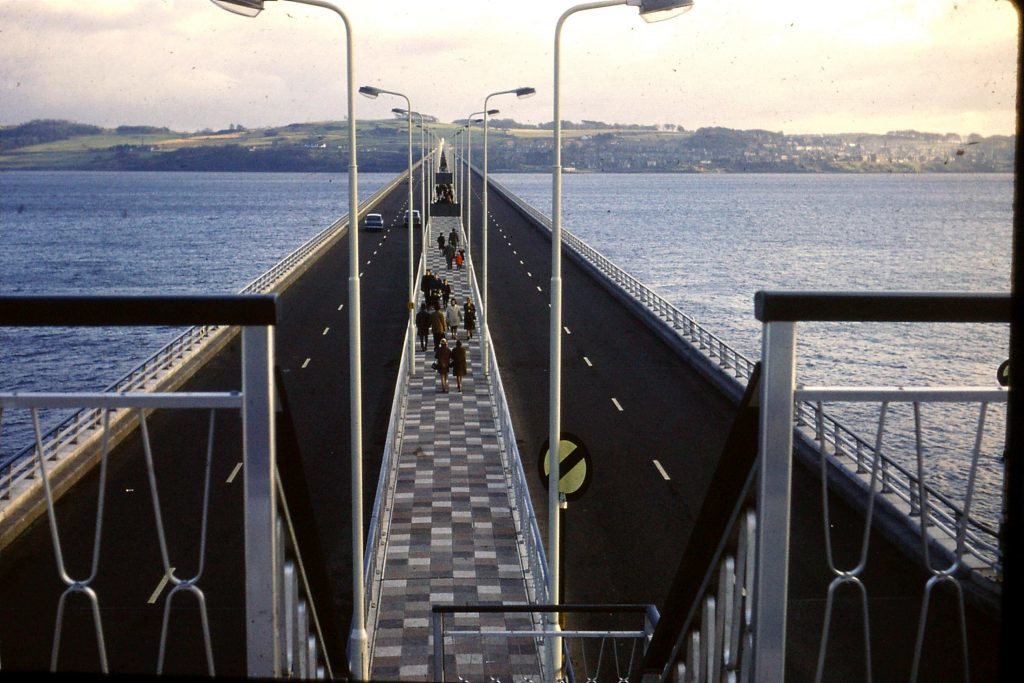 As a few young Nationalists put up posters protesting about tolls, there were  a few anxious moments for police after an anonymous phone call then warned about what turned out to be a hoax bomb.
But after a fly past, a final polish of his vehicle, and waiting for the Queen Mother to cross, the queue he headed up was given the green light to move at 1.30pm.
Accompanied by two press men who bagged seats in his car, he drove up to the booths and handed over his half-crown to  toll collector James Mann. A barrage of photographers captured the moment – asking him to do a 're-take' with an imaginary coin after failing to capture the image they wanted!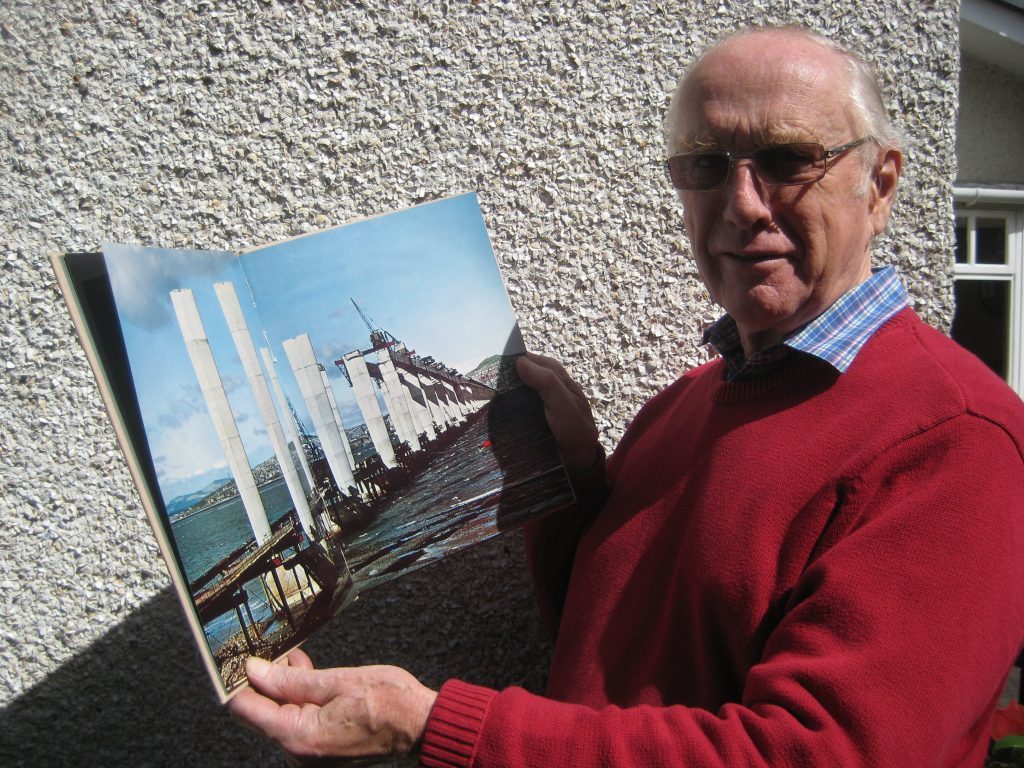 Alex Campbell, 79, of Bridge of Allan, was a civil engineer with Logans . He had a particular responsibility for the Dundee bridge landfall road network and recalls the "added complication" of building over the Victorian-era Dock Street rail tunnel.
"There was great enthusiasm in and around Dundee for the bridge," he recalls.
"Dundee, Fife and Angus had been campaigning for a bridge for a long time."
Alex smiles when he recalls the day a Fifie lost power and collided with the temporary bridge structure. "We had to rescue the passengers!" he laughs.
But his memories from the official opening ceremony are a sense of accomplishment at the role played by engineers to improve local lives.