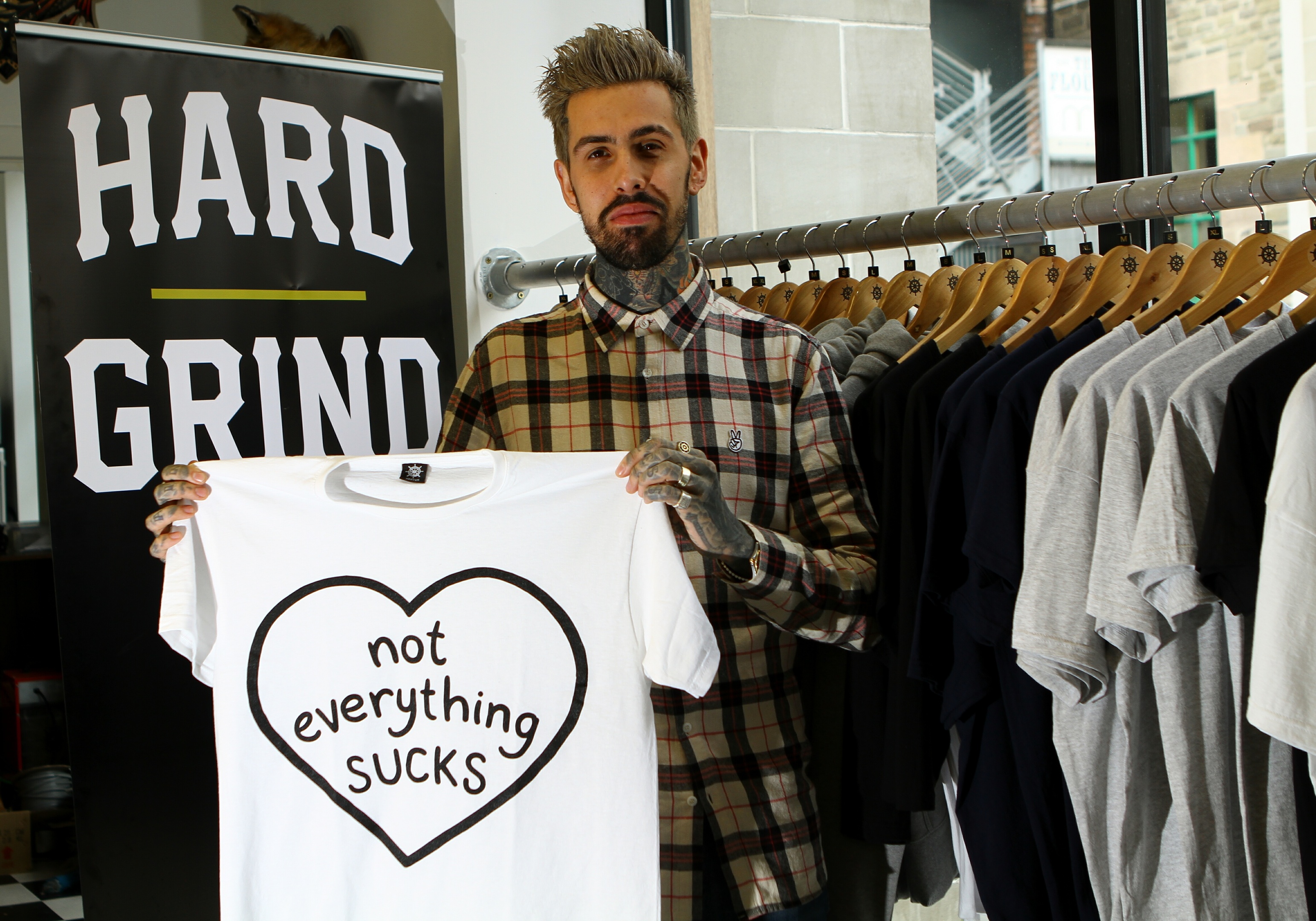 A Dundonian fashion designer claims one of his creations has been "ripped off" by a German reality TV star.
Richard Davies, who runs indie brand Abandon Ship Apparel, claims one of his most iconic designs – featuring the legend, Not Everything Sucks – has been stolen by soap actor and DJ Jan Leyk.
In an Instagram post, Mr Leyk admitted seeing the t-shirt on a friend before creating a similar design to sell on his own. Mr Leyk is giving the profits of his product to charity.
Mr Davies raised his concerns with Mr Leyk through social media.
Mr Leyk responded by telling Mr Davies: "My lawyers are waiting and believe me… I will bring you the badest (sic) s**** storm ever! When I grab my full power you can close your brand forever."
Mr Davies said: "When I first put Not Everything Sucks on a t-shirt it wasn't just a riff on millennial despair, it was a rallying cry to my generation – a generation born into debt, pollution, hate and conflict, yet labelled as entitled, lazy or easily offended for trying to better the world they have no choice but to endure.
"Unfortunately, the weight of that message didn't travel as far as the creative mind of former 'reality soap' star Jan Leyk.
"Mr Leyk recently released his own 'Not Everything Sucks' t-shirt, a direct plagiarism of our t-shirt, and when I politely approached him to point this out, I was met with abuse and the threat of legal action.
"Mr Leyk seems to think that because the proceeds of his 'Not Everything Sucks' t-shirt are going to charity, that he is absolved of responsibility, and it is Abandon Ship who are doing something wrong – that we want children to suffer.
"It seems obvious, however, to surmise that 'Not Everything Sucks' has been ripped off not because of potential profit, but because Mr Leyk views Abandon Ship as a soft target.
"I believe, quite fairly, that hijacking someone else's intellectual property is morally objectionable, particularly when the act is defended by aggression or threatening behaviour.
"But, true to the message of 'Not Everything Sucks', I have tried my best to turn the other cheek, and turn this negative into a positive. We are releasing an 'Art Theft Sucks' t-shirt with the proceeds going directly to the mental wellbeing charity Together.
"This is not an ideal scenario for me or Abandon Ship, but perhaps it was destined to be.
"If we can make a sizeable donation to a charity close to my heart off the back of this mess, then maybe in some perverse way I should be thanking Mr Leyk."
Mr Leyk did not respond to Courier requests for comment.