Dundee fell to a pre-season defeat this afternoon — but manager Neil McCann couldn't have been happier.
It was men against boys — and girls — as the Dark Blues manager temporarily switched allegiances to lead a team of ONE HUNDRED local youngsters against his squad in a fun-filled game marking the launch of the club's new away strip.
Dundee teamed up with main sponsor McEwan Fraser Legal to host the Biggest Home Game (#BiggestHomeGame) event.
Hundreds of proud parents watched from the stand as their pint-sized players took to the field against their heroes and coasted to victory.
https://www.thecourier.co.uk/fp/news/local/dundee/467912/pictures-100-youngsters-take-dundee-fc-dens-park/
Despite the Dundee team featuring a full line-up of first-team stars, including new signing Scott Allan, they had no answer to the youngsters' high-impact pressing game.
McCann said: "It was the senior guys' first defeat of the pre-season but I'm hoping they'll learn from it!
"But I'm just delighted for my young team.
"I set them out to attack as a 99. I went for a 33-33-33 formation, and I think it worked a treat.
"We attacked in numbers and defended in numbers. You can't ask any more than that."
The strip went on sale on June 30 and the first 100 junior away shirts sold received a golden ticket for one U13 to play in the game.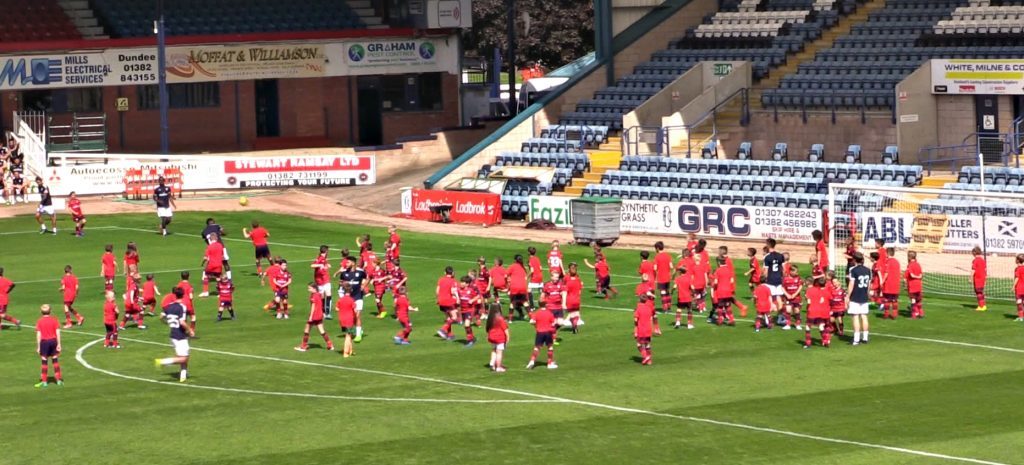 And McCann said the event had been a huge success, helped by glorious weather.
"It was brilliant to see so many kids here today and in their new away kit," said the manager.
"I'm delighted the weather was kind to us and I think the kids all enjoyed their day.
"I have to compliment my boys as well. They bought into it and had a lot of fun.
"They've had a tough couple of weeks in pre-season but today's a light day that they can enjoy with the fans — and these kids are the future.
"Not everyone gets on to the pitch of the team they support, so these boys and girls will remember it for a long, long time."
Such a special day at @dundeefconline #BiggestHomeGame pic.twitter.com/MaKTNcGRP4

— McEwan Fraser Legal (@DundeeFC_MFL) July 12, 2017