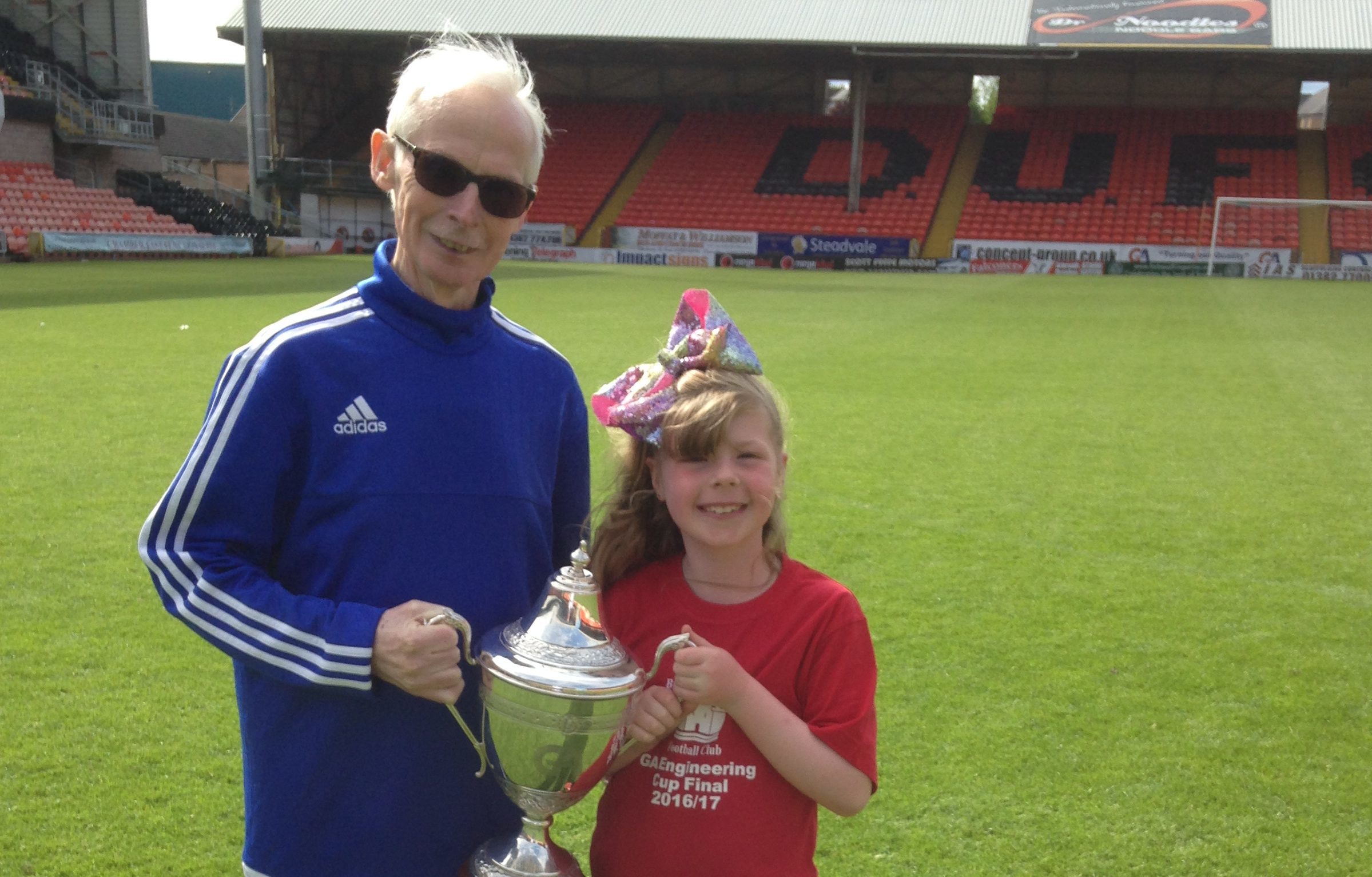 Sandy Dorward, one of the best known figures in junior football in Dundee, has died at the age of 70.
Mr Dorward, who was known as Sy to his family, was born in Monikie and went to Logie School.
He worked for Yorkshire Fitting for Caroline Port for 39 and a half years as a storeman and security guard and was the last person to leave the factory when it closed in 2007.
He then worked as van driver for D&A factors until he retired at the age of 65.
During his football career, Mr Dorward played for a number of junior teams including Carnoustie YM, Albion Rangers and Dundee Press on a Sunday.
He then went on to play for Woodlane and the 6th BB Ex-Members' team in the Midlands Amateur League. He later became player/manager, a position he held until the team disbanded.
After a short break from football, he was invited to become a coach and join the committee of East Craigie and became physio a few years later.
In 2012 he joined Broughty Athletic as physio, a position he held until the end of last season.
He was also a supporter of Dundee United and saw the club lift silverware on five occasions.
Away from football, he played bowls and was a member for Lochee Bowling Club until last year.
His son Mark said one of his most treasured memories was this year's GA Engineering Cup Final at Tannadice, where Mr Dorward led out Broughty Athletic with his grand-daughter Alix.
Mark said: "Dad broke the really bad news to me about his illness the Friday night just the Broughty were to play Culter in GA Engineering Cup and said how crucial it was get a result because he wanted to lead his grand-daughter Alix on the pitch Tannadice.
"That would make up for the disappointment of losing to Jeanfield in the semi-final the previous year."
Broughty Athletic went on to win the final 5-1.
A statement on the club's website said: "It is with the greatest of sadness that BAJFC announces the heartbreaking news of the passing away of our club physio and friend, Sandy Dorward.
"Sandy had been battling with illness the last several months. He gave the most inspirational speech to the BAJFC squad before their GA Engineering Cup final back in May at Tannadice Park, and the players responded to him by trashing opponents Tayport 5-1."
Mr Dorward is survived by his wife of 46 years Loraine, sons Mark and Graham and grandchildren Alix and Liam.
Mr Dorward's funeral will take place at Dundee Crematorium on Tuesday at 2pm.
His family are asking mourners to wear their club ties or football colours rather than black ties.
Mark said: "Dad always had a very bright outlook on life and a brilliant sense of humour and as a family we would like to remember him that way."