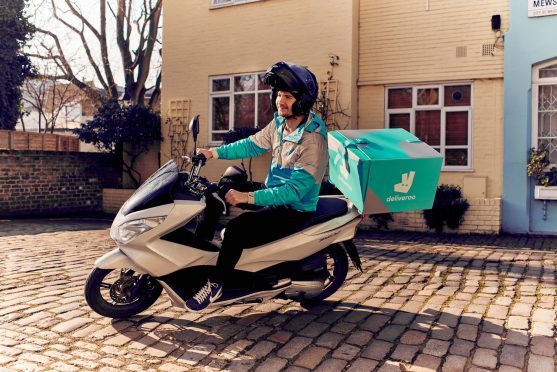 Food delivery company Deliveroo is being urged to pay its riders the living wage as it embarks on a recruitment drive in Dundee.
West End councillor Richard McCready says the firm needs to step up and raise its current hourly rate from £6 to the Scottish legal baseline of £8.45.
Deliveroo has said raising pay would bump up the cost of every delivery.
The company has revealed trade in Dundee has grown by 150% over the past year while the number of cyclists it employs to deliver takeaways has increased by 100% to 40.
It is now seeking more riders in the city to deliver food from its 23 participating restaurants.
Although Deliveroo says drivers can earn an average of £9.50 an hour, the going rate in  Dundee is £6. Riders are paid additional money for each delivery they make and can keep any tips they receive. However, because they are not employed directly by the company, they not receive holiday pay or sick pay, even if they are involved in an accident while delivering.
Mr McCready said the living wage should be the right of every worker in Dundee.
"The ambition of the city is to a be a Living Wage employer: that's what the Fairness Commission said and we should be looking to give people reliable and sustainable income.
"I know a lot of people do like the flexibility of what is known as 'the gig economy' but there are people doing these jobs because they have no other alternative."
He added: "It's good to see business doing well and coming into the city but we need to make sure the dignity of workers is always recognised."
Chantal Nell from Project Pizza in Reform Street said the delivery service had boosted its trade.
She said: "Deliveroo coming to Dundee has had a great positive impact on our sales and have given us the market reach that is crucial for any small business.
"We value the customer service these delivery experts provide and we look forward to building an even stronger business relationship with Deliveroo over the next few years".
Deliveroo managing director Dan Warne said: "Everyone at Deliveroo is delighted that our rapid growth in Dundee means customers have more choice, restaurants are able to increase their revenue and riders have an opportunity to choose well-paid, flexible work."