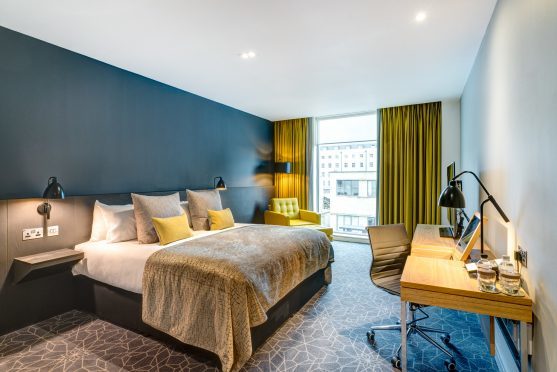 A Dundee social enterprise that helps people set up their own homes is set to benefit from a £2.4 million refurbishment of one of the city's top hotels.
All 151 bedrooms and suites at The Apex will be given a face-lift, as will all of the hotel's public areas, gym and spa, as part of the refurbishment programme.
The hotel is replacing its furniture and old items will be donated to Transform Community Development, which provides furniture to people in need.
The redevelopment is part of an overall £12 million refurbishment of all Apex hotels in the UK.
All of the furniture works for the project at Apex City Quay Hotel & Spa will be carried out by Dundee company, Dovetail Enterprises, which was appointed following a tender process.
Brett Davidge, general manager of the Apex City Quay Hotel, said: "We're delighted to see work on the multi-million pound refurbishment get under way. Our 151 guest bedrooms will be transformed as part of a project that is sure to improve our guests' experience.
"Our hotel is well-known for the warm welcome extended to visitors from the area and further afield, and this investment will simply enhance our current offering.
"We're also proud to be working closely with Transform Community Development as well as Dovetail Enterprises, a respected local business with a proud history within the city of Dundee which was introduced to us thanks to our mutual connection with Dundee and Angus Chamber of Commerce."
Ken Laing, executive chairman at Dovetail Enterprises, said: "We're thrilled to be working with Apex City Quay Hotel and Spa on such a significant refurbishment project. It's a great opportunity to forge strong relationships with an established local business.
"We pride ourselves on our strong ethical policy and quality workmanship, all of which takes place at our Dundee workshop. We look forward to guests of Apex Hotels enjoying the finished product."
As part of the £12 million refurbishment programme, improvements will be made to three Apex hotels in Edinburgh – Grassmarket, Haymarket and Waterloo Place – as well as Apex City of London Hotel and Apex Temple Court Hotel.
Refurbishment works at Apex Grassmarket and Apex Temple Court Hotels are already under way.
It is expected that work on the Dundee hotel will be completed by the end of Spring.
However, the hotel still has not firm plans in place for Customs House.
A spokesman for the chain said: "This is a particularly exciting time for the city of Dundee and for that reason we are focused on refurbishing our existing property to ensure it is the best it can be.
"Looking further down the line, consideration will be given to the development of Customs House. However our immediate plans are firmly focused on Apex City Quay Hotel and Spa."