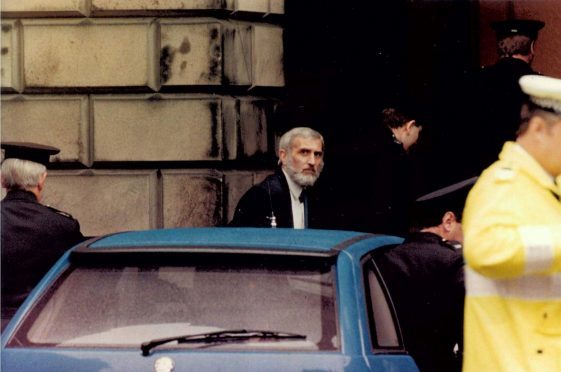 It was the "Taggart-style" murder that provoked revulsion in Dundee 25 years ago.
The gruesome killing came to light on December 30, 1992, following the grisly discovery of a severed arm by a policeman's daughter as she walked a police dog on the Law.
Further searches revealed a cut-up torso and part of an arm wrapped in plastic bags.
A second batch of human remains was later found dumped in Dudhope Park and included a severed foot in a ladies' stocking.
A police appeal produced around 90 responses, including one from James Dunbar, who was concerned his half-brother, Gordon Dunbar, had not arrived for a planned Christmas meal.
The landlord of the guesthouse in Victoria Road where the former Dundee Corporation architect had been staying said he had not been home for about a week and it transpired the last confirmed sighting of Mr Dunbar had been on Christmas Eve.
Then, a tip-off from a Perth informant led the police to Alastair Thompson and among his possessions was the key to a ninth-floor flat at Butterburn Court.
Mr Dunbar had gone out on Christmas Eve before being robbed by Thompson and stabbed through the heart in the Butterburn Court multi.
Inside, they discovered plastic bags and tape of the type used to wrap the body parts and a bloodstained hacksaw.
Mr Dunbar's blood and tissue were found in the bathroom.
It also emerged that Thompson had given Mr Dunbar's gold chain to a girlfriend as a present.
Mr Dunbar's head was never recovered and an old operation scar, DNA and fingerprints were used to prove his identity.
Gordon's brother, Jim, of Carnoustie, said he still hasn't come to terms with the events that happened in Butterburn Court.
"When I cross the Tay Road Bridge and see the profile of Dundee and the Law, I can't help but think of my brother," he said.
"Once it is out of view, it goes to the back of my mind — but it doesn't go away.
Andrew Murray Scott, author of Modern Dundee: Life in the City Since World War Two, said: "It was a truly repugnant incident and will go down as one of Dundee's – and indeed Scotland's – most despicable crimes.
"With body parts cut up and dumped at locations throughout the city and a headless corpse it played out like a real-life episode of Taggart."
During the trial at the High Court in Edinburgh Thompson protested his innocence in the killing and robbery, claiming he had merely disposed of the body parts for the two Glasgow "heavies" he said had carried out the murder.
But he was sentenced to life in prison, with judge Lord Weir telling him he would serve a minimum of 20 years for his "nauseating and barbaric" crimes.
Edinburgh-born, Thompson had been known to the police from the age of 16.
In 1968 he was sentenced to life in prison for the murder of his grandmother and was released on licence in 1984.
He subsequently lived in Perth, Dundee and England, returning to Dundee just months before the killing.
The double murderer was discovered "cold and stiff" in his bed by prison officers in Perth Prison in 2010.
An autopsy was later carried out by Tayside Police, with Thompson's medical notes recording a previous history of lung disease, related to his smoking, coeliac disease and hypothyroidism.
The examination established the cause of his death as atherosclerotic coronary artery disease and also discovered evidence of a previous heart attack.
Thompson had written to Mr Dunbar's family before he died offering to tell them where he had hidden the body parts.
He also expressed his regret over the horrific killing from behind bars and offered to give his victim's sibling a full account of the events which took place on Christmas Eve.
Mr Dunbar's head was never recovered and Butterburn Court has since been demolished.
Opinion – Andrew Argo, former Dundee Courier Chief Reporter
It was a dreadful crime that 25 years ago shocked Dundee out of its festive season celebrations.
The discovery of body parts under bushes on Dundee Law by a woman out walking her father's police dog on December 30, 1992 was one of the most horrific murders city has ever seen.
Its unspeakably gruesome nature made it one of the most memorable stories I covered in my 40-odd year career as a news journalist – memorable obviously for all the wrong reasons.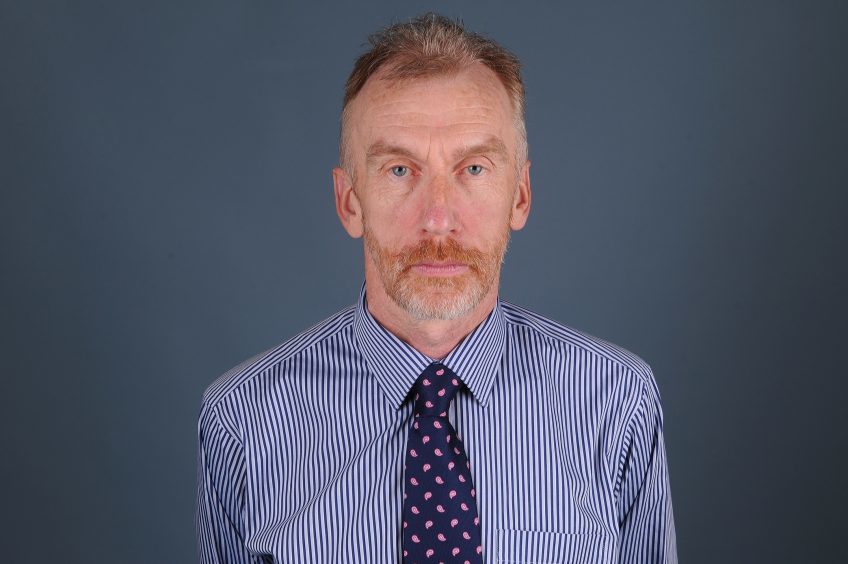 How could anyone be so depraved as to carry out such a nightmarish act, and just how much had the victim suffered before he died?
The crime revealed the grim underside of human existence that most of us choose not to think about and very few people encounter.
The victim Gordon Dunbar had been an educated man, an architect by profession, whose life had taken a wrong turn.
His home had become a lodging house in Victoria Road from where his absence over Christmas in 1992 had at first aroused only curiosity.
After his own family reported their concern at his empty seat on Christmas Day, police were able to identify the victim and launch a full-scale murder investigation.
Alastair Thompson had been known to the police as a "lifer" who had killed his own grandmother but had been released back into the community after serving 16 years. In 1992 he was in Dundee under the auspices of a prisoner resettlement scheme.
After a tip-off, police searched his possessions and found a key to a ninth-floor flat in the city's former Derby Street multis overlooking Dundee Law. Inside they found damning evidence linking Thompson to Gordon Dunbar's slaying including plastic bags used to wrap the victim's body parts.
Police had their man. We thought the motive involved homosexuality. Dunbar was gay and Thompson was thought to be bisexual, and the harrowing details were characteristic of homosexual-linked murders.
Had Thompson lured Dunbar to the Butterburn Court flat under the pretence of a sexual liaison before he launched his vicious attack?
We'll never know for sure, but what I will certainly never forget is Thompson's chilling stare in court directed at anyone who looked at him after the guilty verdict was returned – his evil eyes.
No one had ever stared at me with such piercing menace before, and needless to say, I've never encountered anything remotely like it since.
Such was the impact of that awful episode that whenever I've heard the expression "pure evil" over the last 25 years I've thought about Alastair Thompson.
The letter from his prison cell – Thompson's dying confession offer
Thompson's letter to Mr Dunbar's family from his prison cell was described as "intimidating and menacing".
He said he was deeply sorry for what happened and for all the pain and anguish.
"The purpose of this letter Mr Dunbar is to offer you as full an explanation as is possible of the events of Christmas 1992.
"I would have written long before now, but it was my lawyer's advice that I not do so until after my appeals were finished.
"The explanation I offer is in no way an attempt to excuse myself.
"I shall die in prison Mr Dunbar, justified or not, and as such there is little anyone can do to harm me.
"I have nothing to gain and nothing to lose Mr Dunbar.
"I offer you only what you are entitled to know and only I can or will tell you.
"There were and are questions that needed answers and I would seek to answer them.
"However, Mr Dunbar before I can tell you the full story of the events of Christmas 1992 I must know that they will go no further."
Mr Dunbar's family did not respond and took legal action to stop any more correspondence from Thompson.