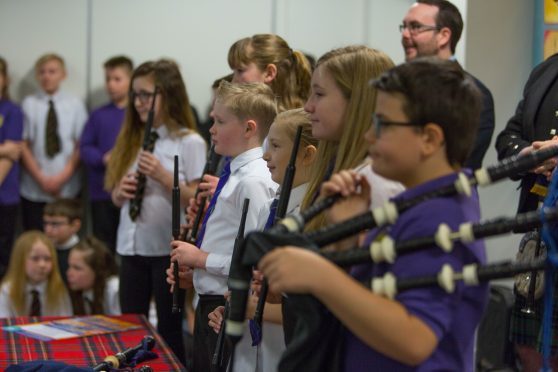 Traditional Scottish music will no longer be a pipe dream for the city's young people following a major cash boost for bands.
Dundee City Council has drummed up £58,000 for music lessons in partnership with creative arts charity the Scottish Schools Pipe and Drums Trust (SSPDT).
The move will allow for up to 120 pupils at Braeview Academy – and feeder primaries Fintry, Longhaugh and Mill O'Mains – to take up the opportunity of free chanter, pipe and drum lessons.
Education head Councillor Gregor Murray said the cash boost will not only allow children to express themselves through the medium of art and creativity, but also go some way in closing the attainment gap.
The children and families convener said: "This funding will provide a whole host of opportunities and experiences for pupils in Dundee.
"A pipe band is not only a focus for the schools and pupils but will be a source of pride within the community.
"This new initiative forms part of a range of work across the expressive arts that are supporting young people's learning and development including the wider instrumental music service.
"All of these programmes are working together through the expressive arts medium to improve outcomes for young people and target the attainment gap by ensuring a greater equality of opportunity for children and families across the city."
The north east ward councillor added: "The organisation of these various projects is coordinated to ensure that learning and good practice is shared across schools in the city to maximum benefit."
"Large scale pipes and drums projects have proved successful in other areas in Scotland and we are delighted that the funding from SSPDT will allow us to benefit as well.
"The project will also include after school sessions and holiday programmes which will continue to help with offering positive and stimulating attitudes after school and during the holidays."
The SSPDT is a national charity which encourages the teaching and playing of traditional bagpipe music for young people.
As a trust, the organisation currently supports more then 2,000 pupils in state-run schools across Scotland, as well as hosting an annual young persons pipe band championship in March every year.
Alexandra Duncan, chief executive of the SSPDT, said: "Learning the pipes and drums and being part of a pipe band provides young people with a fantastic set of skills that stay with them for life. Pipe bands encourage teamwork, confidence, camaraderie and a sense of discipline and dress, as well as musical skills.
"We are delighted that council staff and Dundee City Council have the vision and the drive to take advantage of our private funding for the benefit of young people."