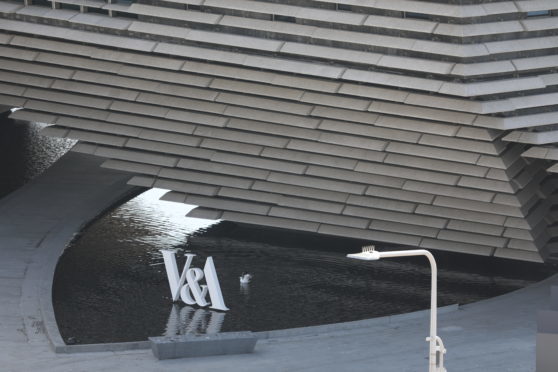 The release of tickets for the opening weekend of Dundee's new £80 million V&A museum fell flat after website problems plagued customers.
The £80.1 million waterfront attraction is set to open to the public on September 15 with free tickets for that weekend having been made available on Wednesday morning to those who registered.
However, the museum was bombarded with calls from frustrated customers who said the website repeatedly crashed when they attempt to checkout.
The problems persisted throughout the morning and early afternoon, before the day's allocation of tickets sold out at 2pm.
More tickets will be made available to e-subscribers from 10am on Thursday.
Carol Tailforde, who lives in Auchenblae, near Laurencekirk, said she had been left "very disappointed" by the situation.
She said: "I will be disappointed and angry if I can't get tickets. I was sat down and ready well in time for when they went on sale.
"I was on hold on the phone to the museum for over 15 minutes too but I couldn't get through."
The museum's official Twitter feed was also inundated with complaints.
.@VADundee Hi, I'm trying to get tickets for the opening day, but the web page is not working. After selecting a date/time, it just reloads same page. Any ideas?

— Michael Gray (@Barnfee) July 25, 2018
@VADundee
Having issues booking for opening weekend. Stuck in a loop, can see times but won't let me click on anything. Help? Thanks ?

— ????? ?? (@HappyDays_Laura) July 25, 2018
Can't select any of the times. Been trying for past 11 minutes and when you click just comes back to the top of the page. Help!!! ?

— Ali T (@AliTin) July 25, 2018
@VADundee Hi, trying to get opening w'end tickets and can't – have they all gone?

— Dorothy Hooper (@DorothyHooper) July 25, 2018
This was a cracking idea lads. Shame the website just keeps redirecting when you go to pick a time.

— callum (@caltyler_) July 25, 2018
Customers were told by the museum that the team were "aware of the issue" and that they were "looking into it".
Hi @DorothyHooper tickets have not sold out. Our team are aware of the issue and are looking into it ?

— V&A Dundee (@VADundee) July 25, 2018
A V&A Dundee spokesperson said: "Due to exceptionally high demand, some e-news subscribers have had issues booking free tickets for the museum's opening weekend.
"We're sorry to those who experienced issues and we appreciate people's patience this morning. We are working hard to solve these technical problems.
"More free tickets will be available from 10am Thursday 26 July for the opening weekend, and from Monday 17 September no tickets will be required to enter V&A Dundee."
General admission tickets for the museum are free with only tickets for touring exhibitions paid-for.