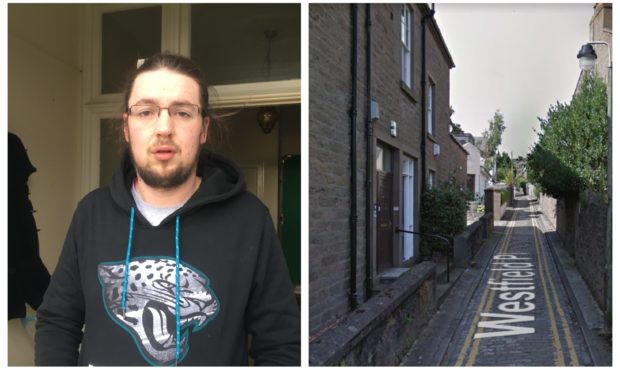 A Dundee man chased a housebreaker down a quiet West End lane after catching him rifling through his belongings in his bedroom.
Graham Menzies, 26, returned to his flat in Westfield Place in the early hours of Tuesday morning to find the raider sorting his belongings into two piles on his bed.
The housebreaker, who police believe had been scared away during an attempt to break into another house just 45 minutes earlier, fled the scene in the direction of Perth Road, pursued by Mr Menzies.
Tesco delivery driver Mr Menzies said: "I came home just about 3.30am and he was already in the house raking through my things.
"He was inside and had a torch with him.
"He had gone through the drawer by my bed and was sorting things into two piles of things he wanted to steal, like a Bluetooth speaker, or leave behind.
"I have a SuperDry hoodie which he had put all the valuables on like he was going to carry them away in that.
"He came running out and I followed him down the street and then phoned the police."
Mr Menzies said his flat, which he shares with a flatmate, and the upstairs property had both been empty when the raider broke in.
He added: "Luckily, he hadn't touched any of the other rooms. There are a couple of TVs in the living room, and an XBox as well."
Hapless raider chased away from two Dundee homes during break-ins
Police investigating the break-in say they believe the hapless raider had also been disturbed as he tried to break into a property on Perth Road around 2.45am.
The would-nbe thief again fled the scene after being disturbed as he tried to gain access to the property through a window.
Officers investigating the break-ins said the suspect is a white male who was described as being of slim build.
He was unshaven and was wearing a baseball cap and a dark jacket, carrying a rucksack and another white bag. A spokesman for Police Scotland's Tayside Division said urged homeowners to ensure their properties are secured in order to deter potential housebreakers.
He said: "We would also like to take this opportunity to remind everyone in the area to make sure your doors and windows are closed and locked, particularly at night.
"It takes literally seconds for someone to get into your home and rummage through a room.
"The harder you make it for them, the more likely they will leave your property alone."
Anyone with information that could assist police with their inquiries should contact Police Scotland on 101.
Alternatively, they can contact Crimestoppers anonymously on 0800 555 111 or speak to any officer.