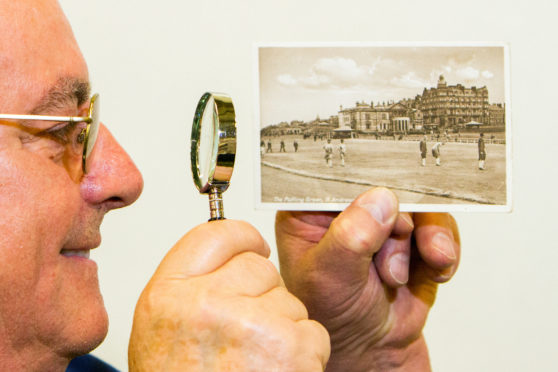 Frank Tonelli was a respected stamp and postcard collector who left Italy to make his home in Scotland half a century ago.
Mr Tonelli, 78, grew up in the small hill town of Pontremoli near the coast in northern Italy.
He trained as a tailor before he was called up to do his National Service in the Alpini section of the Italian army in Verona and Vipiteno.
He later opened his own tailoring business in Pontremoli but dreamed of moving to Britain so headed to Dundee in 1966 when he 26.
He worked in gent's tailoring at A Caird & Sons, on Reform Street, in Dundee, where he rose to become head of the department.
However, it was his interest in stamps which would really put the Tonelli name on the map.
With the closure of A Caird & Sons in the early 1980s he moved to Debenhams where he worked for nearly a year.
He then decided to strike out on his own and opened his own shop on King Street in the city in 1981.
This offered a tailoring service in the rear until 1998. However, Mr Tonelli, who was a member of the Dundee and District Philatelic Society, also sold stamps and other items, through Cornucopia Collectables, in the front.
This proved to be a family business as wife Carol, whom he had married in 1971, and daughters Vivienne and Francesca helped him to run the shop.
His granddaughter Rachel still helps out part-time in the business when she is not at university in St Andrews.
Mr Tonelli's love of collectables saw him take over the running of the Dundee Philatelic Auctions and he held sales in the Malmaison hotel.
The auctions were later moved to Glasgow to cater for a wider audience.
Mr Tonelli became a respected figure at stamp fairs and in the trade. Over the years his interest switched to postcards and he became a member of the Tayside Postcard Club.
He died on January 8.