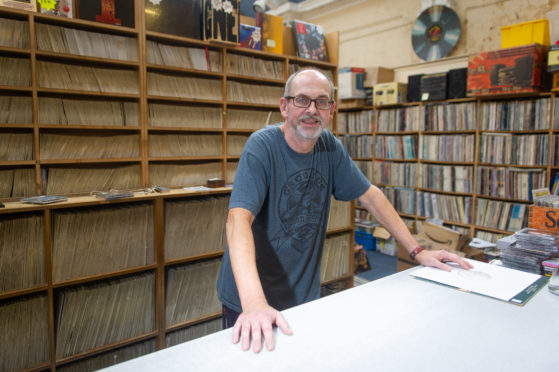 The sad death of popular Groucho's Record Store owner Alastair "Breeks" Brodie has seen thousands of heartfelt tributes continue to pour in from devastated friends.
Described as a "local legend", Breeks provided the latest vinyls, CDs, and gig tickets to generations of Dundonians for over 40 years.
The 65-year-old was still working in the store up until last month but had been battling a number of health issues in recent times.
His health rapidly deteriorated after being admitted to Ninewells Hospital and he passed away on Tuesday.
The store is one of the best-known in all of the UK and became a tourist site in its own right because of its enduring popularity amid an increasingly digital industry.
Fans of the shop and former employees, as well as family and friends, have all reached out to praise a man considered part of the fabric of the city.
Thanks for accepting me as a Groucho's person — a personal tribute to legendary music shop owner Breeks Brodie
Ricky Ross, lead singer of Dundee band Deacon Blue, described Breeks as a "beautiful human being" while DF Concerts boss Geoff Ellis said he was the "definition of honesty and reliability".
Members of the public also posted online, including Dylan Drummond, who said: "Dundee has lost a legend. Someone who stuck it out through the decades and who was in the business of bringing music into people's lives.
"My deepest condolences to all his immediate and extended family."
Les Birse said: "Sad news. I was in the shop every week when I worked in Dundee and is still my first port of call when in Dundee. Groucho's has been a huge part of my musical journey. RIP Breeks."
Pete MacKenzie said: "Very sad news…There's not a single Dundonian or ex-Dundonian out there without a Groucho's stickered record…RIP."
The store looked set to close later this year when it was revealed the rented unit it was in had been put up for sale.
Breeks said at the time he felt retiring was the best option after admitted that he needed to be "aware" of his health.
However, six months later, Breeks and new owner Jamal Property World announced the store had been saved with the lease extended for another five years.
Not only is the store popular with locals, it is also a huge hit with celebrities and those further afield.
Johnny Marr, of the Smiths, regularly drops in and describes it as one of the top two record shops in the UK.
Other famous fans include comic Lenny Henry and Fleetwood Mac's Peter Green.