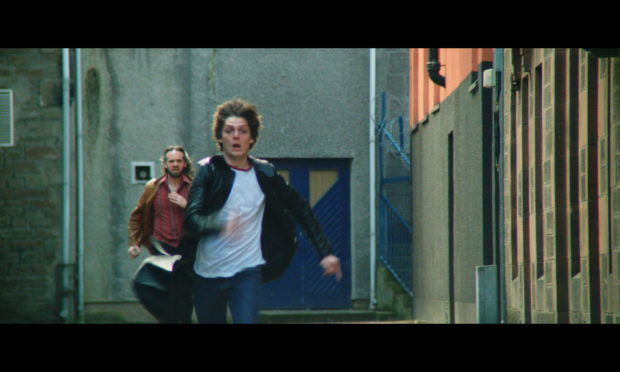 Dundee-shot film Schemers will get a UK-wide cinema release next year following critical acclaim at festivals across the world.
It could also see a TV spin-off, filmed in and around Dundee.
The film tells the real-life story of the rapid rise of music promoter Dave McLean and his friends who try to put on big-name concerts in Dundee in the 1970s and '80s.
The friends eventually organise a Caird Hall gig by heavy metal icons Iron Maiden – before the band became famous. It stars Conor Berry, Sean Connor and Grant Robert Keelan.
McLean, who is the director, went on to have a hugely successful career in the music business, working with the likes of Nirvana, Rage Against the Machine, Roxy Music, Pearl Jam and Oasis.
It was filmed throughout the city and premiered at the Edinburgh International Film Festival in June, winning an award voted for by cinema-goers attending public screenings.
It was also recently nominated for the Best UK Feature at the prestigious Raindance Film Festival in London.
McLean said the response from those attending the festival has seen a huge amount of interest from distributors.
He said: "These festivals are essentially a market for distributors.
"They come to see what's on offer and see if there's anything they want to buy the rights for.
"Being nominated and winning these awards really draws interest. It has been non-stop. There really has been so much going on.
"We are still to sign off on a deal with a distributor but we are just looking at which is the right one."
McLean, who lives in Bangkok with his wife and two daughters, said when that is decided, the film will be shown at between 80 and 100 cinemas throughout the country from March or April.
He added a sequel is already more than likely, while a TV spin-off is also on the cards.
"The sequel will be set in 1984 in London after I've moved there from Dundee," he said.
"It's me thinking I'm Mr Big trying to set up gigs but forgetting that there are already many promoters in the capital.
"I ended up working in Walthamstow as a compere and announcer for stuff like the bingo.
"I was thinking to myself 'jeez, this is not what I came down here for'. I eventually got sacked from that job, which turned out for the best.
"We have the money for the sequel so it's just about finalising everything. It will all be filmed in London this time.
"The TV spin-off will be filmed in Dundee and places nearby like Forfar and it's just a case of landing a channel to show it before it goes ahead."