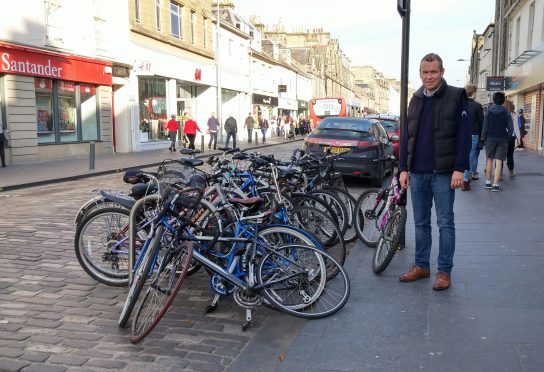 Objectors have threatened to put a spoke in the wheels of plans for more cycle parking provision in St Andrews.
Fife Council is seeking planning permission for new cycle stands at either end of Market Street and at the junction of Argyle Street and South Street in response to the apparent demand in the town.
Twelve cycle stands are proposed outside Tesco on Market Street, replacing the existing five, and several more are planned for a site outside Sainsbury's along the street, while a further 11 cycle stands are envisaged at the junction of Argyle Street and South Street.
If approved, there would be an net increase of 23 cycle parking stands in the town centre, which has been warmly welcomed in some quarters.
However, St Andrews Preservation Trust has already formally objected to the West Port plan, while St Andrews Community Council is also understood to be opposed to all three applications.
St Andrews Preservation Trust said the proposed location near a scheduled monument is "unnecessary and insensitive", adding it is within the Central St Andrews Conservation Area and would obscure elements of the West Port design.
It added many of the cycle stands in the town create an eyesore due to being rusty or damaged, and argues there are more suitable locations.
Tony Waterston, from the St Andrews Space for Cycling group, said it was "very disappointing" to see opposition.
"Our view is that, frankly, cycle parking provision is essential because there isn't that much of it in St Andrews," he explained.
"We've got a plan for another ten places that we've put to the council, and these cycle parking points are in places where they will be well used.
"A lot of people use bikes and we would like to see many more using bikes, and cycle parking is essential for safety, neatness and encouraging people to use bikes.
"The council has tried quite hard to do it attractively and I find it hard to understand the opposition.
"We've written to all the councillors and we hope they are in favour of it."
St Andrews Labour councillor Brian Thomson said: "The lack of cycle parking in the town centre has led to bicycles being randomly chained to poles and railings – such as next to the flats at the West Port – which is unsightly, insecure, and does little to encourage more people to cycle.
"The locations have been selected, primarily, due to there being clear evidence that they are locations where cyclists wish to park their bikes.
"The proposed stands would be stainless steel, and the simple, minimalistic design, is compatible with the conservation area setting.
"Similar stands have been in place directly adjacent to Blackfriars Chapel – a scheduled ancient monument – for a number of years, and illustrate how well such stands can fit into a historic streetscape.
"Encouraging more people to shop in the town centre, using an environmentally-friendly means of transport to travel to and from there, is surely something that should be encouraged, and I hope that the proposals are supported and planning permission is granted in due course."