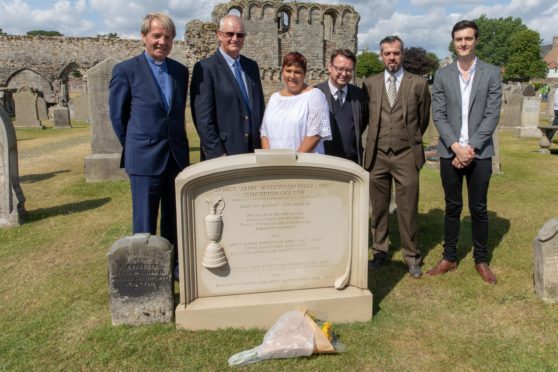 Golfing legend Sandy Lyle paid tribute as the grave of an unsung triple Open winner was finally marked more than a century after his death.
The grave of Jamie Anderson has lain unmarked, except for a small memorial to his baby son, since his death at the age of 63 in 1905.
Thanks to an effort led by golf historian Roger McStravick, author of St Andrews In The Footsteps of Old Tom Morris, a headstone has now been dedicated in the historic grounds of St Andrews Cathedral.
Mr Lyle said: "I was an Open Championship winner way back in 1985. This is going back a hundred plus years, when this man won the trophy three years in a row.
"It was almost never recognised and I think this is an appropriate time. The family and the historians have got together and realised he was born and bred in St Andrews and how fitting that he has a headstone like he has now."
Despite his achievements on the course – winning the Open Championship in 1877, 1878 and 1879 – and running a business making golf clubs, Anderson died in a poorhouse in Thornton having struggled with a drink problem and fallen on hard times.
"Golf, the way he played and doing all the repairs and things, it wasn't as big a deal as it is now," said Mr Lyle, who is competing in the Senior Open currently taking place at St Andrews.
"If you're in the club business and you design clubs and make clubs, there's a lot of money to be made. I suppose it wasn't really recognised as much in the 1800s, it was more a hobby.
"Golf was his main thing, and he tried to make a business of it."
Attending the service led by the Very Rev Dr Russell Barr was Anderson's great-great-granddaughter Sharon Allan, 49, and her son David, 31.
Ms Allan said her mother had often talked about their gifted ancestor.
"It's a little bit emotional because mum isn't here and she would have loved this," she said. It's quite moving."
Local stone mason Mark Ritchie crafted the headstone, which also bears the names of Anderson's wife, son, sister and parents, and a carving of the Claret Jug.
Mr Ritchie said: "It was amazing to be involved in something so historic and have the chance to create a headstone for St Andrews Cathedral. It doesn't happen very often."
Mr McStravick added: "When I wrote the book on St Andrews and I studied the cemetery, I found there were so many Open champions here.
"I couldn't believe that Jamie didn't have a headstone. People have walked past this spot for the last 100 years.
"The lovely thing was on Monday, there were people stopping and reading the headstone and that's the whole point. People will start reading about Jamie now. He's not forgotten."